Advertisement

Before the Charminar, he also visited the historic Chowmahalla Palace and toured the US-supported Mitr Transgender Clinic….reports Asian Lite News
Newly-appointed US Ambassador to India, Eric Garcetti paid a visit to the iconic Charminar on Saturday and savored a cup of tea while admiring the monument. During his visit, Ambassador Garcetti made a stop at the famous Nimrah Cafe, which is famous for its Irani chai and Osmania biscuits and also offers stunning views of the monument.
"Nothing symbolizes #Hyderabad quite like #Charminar and it's easy to see why it stands as #Telangana's most iconic monument. From its 500-year history to its beautiful views of the Old City, it's a breathtaking testament to this historic city. Oh yes, and the chai was great too," Mr. Garcetti wrote alongside pictures of him posing in front of the monument.
Internet users loved the pictures and suggested more places for Mr. Garcetti to visit. One user wrote, "Evenings are for Chai & Karachi biscuits, for lunch it's Paradise Biriyani pack with a chilled beer watching a Telugu movie with English subtitles, nice fun." Another wrote, "Excellency, looks like India is treating you with warmth and you are enjoying every bit of it."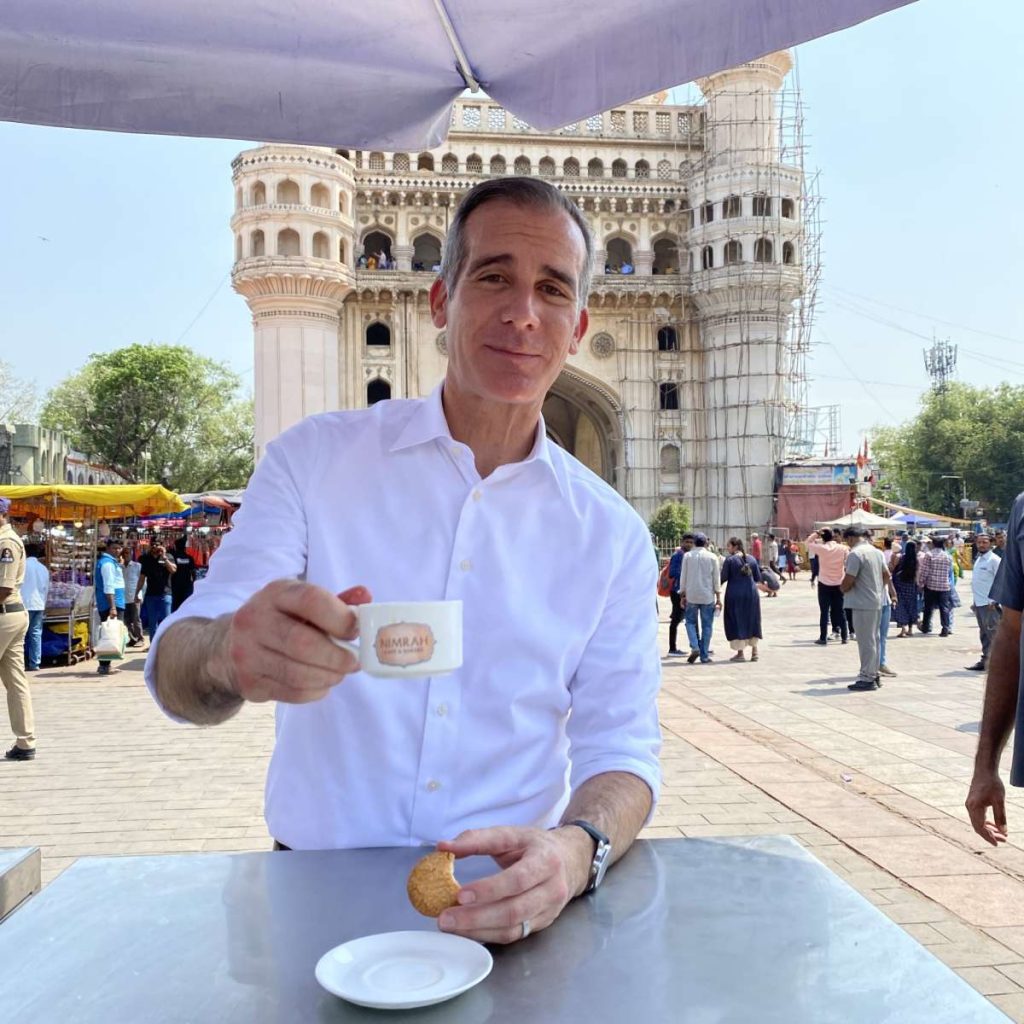 A third added, "There you go, Sir! Now you have officially visited Hyderabad. And Nimrah chai completes the experience!"
A day before, he inaugurated the US Consulate in Hyderabad during a gala celebration of the 247th anniversary of American Independence. The event took place as a part of Ambassador Garcetti's first official visit to Hyderabad since assuming his duties as the top US diplomat in India.
Before the Charminar, he also visited the historic Chowmahalla Palace and toured the US-supported Mitr Transgender Clinic. There, he met with students at the Y-Axis Foundation, joined a lunch at the Indian School of Business, and visited T-Hub's facility in Raidurg.