Advertisement

In the discussions that will be held at the White House, there would be a laser focus on aligning Washington and New Delhi's strategic, commercial and scientific approaches specifically in the field of technology..writes Reena Bhardwaj
India's National Security Advisor Ajit Doval on Tuesday participated in a Track 1.5 event hosted by the the US-India Business Council at the US Chamber of Commerce, with his American counterpart Jake Sullivan and US Secretary of Commerce Gina Raimondo.
The round table discussion was held on the sidelines of the official high-level dialogue of the Initiative on Critical and Emerging Technologies (ICET) on Tuesday. Participating in the event on Monday were top industry representatives from both India and the US.
Doval, who arrived in Washington on Monday morning and was welcomed by Ambassador Taranjit Singh Sandhu. The Indian envoy is also hosting a reception for Doval at India House and Sullivan is also likely to attend.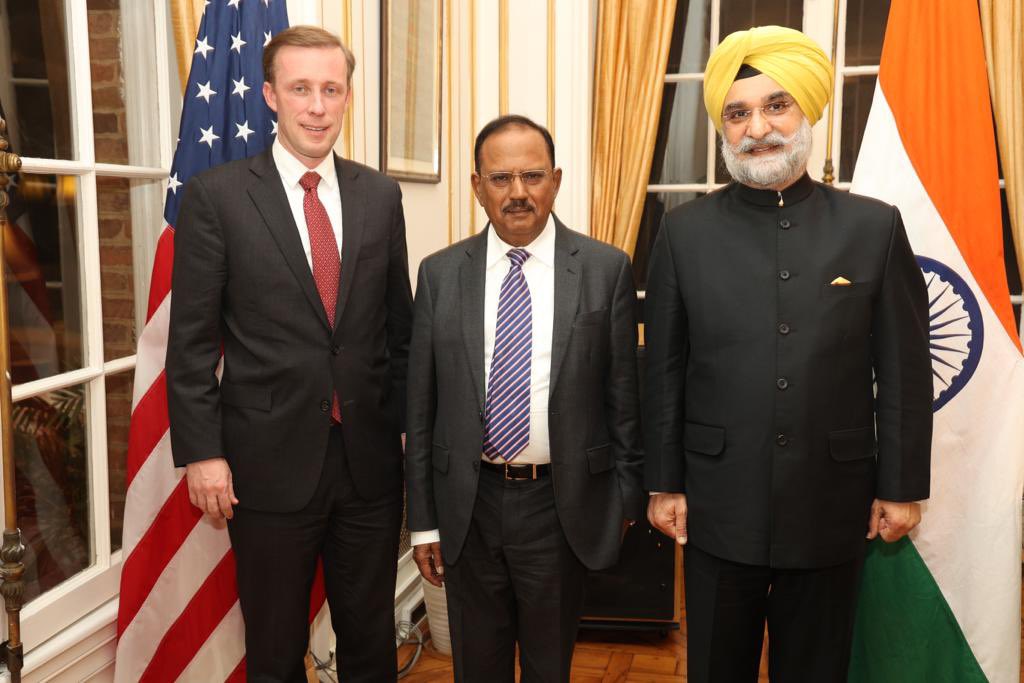 The official dialogue between Doval and Sullivan will take place on Tuesday afternoon. In the discussions that will be held at the White House, there would be a laser focus on aligning Washington and New Delhi's strategic, commercial and scientific approaches specifically in the field of technology.
"iCET is the next big milestone in India-US Strategic Partnership with a simple objective to take bilateral cooperation to the next level but specifically in areas of interest to India," an official familiar with the India-US deliberations told ANI.
The NSA is accompanied by a high-powered delegation. India's Principal Scientific Adviser, ISRO chairman, Scientific Adviser to the Defence Minister, Secretary of the Department of Telecommunications, and DG of DRDO, are five high-profile members of the delegation. From the US side besides Sullivan, Secretary of Commerce Gina Raimondo, NSC Indo-Pacific Kurt Campbell, Senior director for national security and technology Tarun Chhabra and State Department's deputy envoy for the office of critical and emerging technologies Seth Center will be a part of the dialogue.
iCET was first mentioned in a statement after a meeting between Prime Minister Narendra Modi and US President Joe Biden in Tokyo in 2022 on the sidelines of the Quad Leaders Summit.
"Through iCET, India would send a message out to the broader industry that India can be a 'trusted partner' and that the two democracies could discuss how to build a trusted partner ecosystem between US and India where there's a free flow of R&D and other information pertaining to technology specifically," the official said.
Experts say that there is a hope that both India and the United States will be able to specify priority areas of cooperation.
iCET has no explicit reference to China but the Biden administration sees technology development vis-a-vis China as a zero-sum game that the US cannot lose. iCET initiative could be one way forward.
"As China makes extremely fast progress when it comes to technology and one sees an aggressive penetration from the Chinese side across the world, if not stemmed and matched by something aggressive, the world will find it as a fait accompli… So if one has to roll that progress back, then everybody else has to work together," another official told ANI. (ANI)