Advertisement

Almost 28 million people in Afghanistan require humanitarian aid and protection assistance, including 15 million children…reports Asian Lite News
The World Food Programme (WFP) of the United Nations has vowed to carry out its mission in Afghanistan regardless of any political gap, Afghanistan-based Khaama Press reported.
Head of the UN World Food Programme in Afghanistan, Hsiao-Wei Lee, stated on Thursday in Berlin, Germany, that the organization had no plans to leave the country. "Humanitarian aid is vital to most vulnerable people, including women, children and people with disabilities," she said, as quoted by Khaama Press.
Recently, a UNICEF representative in Afghanistan said the organisation, despite all challenges, stands with the women and children of Afghanistan.
According to the UNICEF representative in Afghanistan, 28 million people in Afghanistan require humanitarian aid and protection assistance, including 15 million children, Khaama Press reported.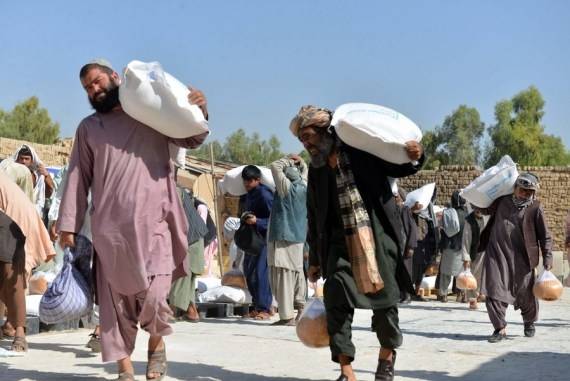 The Afghanistan government banned the UN aid workers from working, which has backlashed globally. The UN agencies urged the Taliban to lift the restriction on women working for humanitarian organizations, saying that it would be difficult to provide help to the country without female aid.
Earlier, the UNICEF representative in Afghanistan remarked that the organisation supports Afghan mothers and children despite all difficulties.
The UNICEF representative in Afghanistan estimates that 28 million people in Afghanistan, including 15 million children, need humanitarian aid and protective support, Khaama Press reported.
Earlier in January the World Food Programme underlined that an estimated 875,000 children are expected to suffer from severe acute malnutrition in 2023 in Afghanistan, TOLOnews reported. The WFP report also stated that 2.3 million children as well as 840,000 women are also on the verge of suffering from moderate acute malnutrition.
The economic and political situation of Afghanistan has only gone worse since the Taliban took control of the country in mid-August of 2021.
Afghanistan is currently grappling with a serious humanitarian crisis as according to international assessments, the country now has the highest number of people in emergency food insecurity in the world.
Additionally, the Ukraine crisis has had a massive impact on the rise in food costs and how it was out of reach for many Afghans. Afghan children and women are impacted the most by the atrocities that the Taliban has unleashed in the country since taking control.
The de facto government forbade the UN relief workers from working, which caused a global outcry, Khaama Press reported. The UN organisations encouraged the Taliban to remove the ban on women working for humanitarian organisations, arguing that it would be challenging to aid the nation without female assistance. (ANI)