Advertisement

White House staff reportedly asked to purchase Twitter Blue on "their personal social media accounts using personal funds"
The members of the White House will have to spend on their own in order to keep the blue verification checkmarks on Twitter, the White House informed its staffers on Friday via an email saying that won't be subscribing to Twitter Blue, New York Post reported.
When Elon Musk took control of Twitter as the CEO, a change was announced regarding the blue checkmarks. According to the new policy, Twitter plans to discontinue its long-running verified programme, removing the blue checkmarks from accounts that don't pay the USD 8 monthly subscription fee.
"It is our understanding that Twitter Blue does not provide person-level verification as a service," White House Director of Digital Strategy Rob Flaherty informed staffers via email, according to New York Post.
"Thus, a blue check mark will now simply serve as a verification that the account is a paid user. Staff may purchase Twitter Blue on their personal social media accounts using personal funds," Flaherty wrote in the email.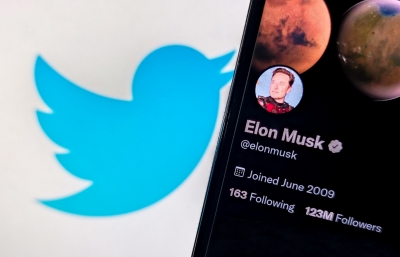 According to media reports, news organisations including the New York Times, Washington Post, and Los Angeles Times have informed staff members that they will not be paying for Twitter Blue.
The White House will join individuals like NFL quarterback Patrick Mahomes, who won the Super Bowl, and NBA superstar Lebron James in refusing to continue paying the monthly price to be verified, New York Post reported.
After taking over the microblogging site, Musk announced the ability for users to purchase a blue tick verified through Twitter Blue.
Despite getting internal warnings from Twitter's own trust and safety staff, Musk's plan resulted in the impersonation of high-profile accounts, including Twitter's advertisers, The Verge reported.
After Musk took over Twitter, the microblogging site has been adding and removing separate, grey checkmarks on high-profile accounts without explaining the reason. (ANI)
ALSO READ: Musk becomes most-followed person on Twitter