Advertisement

The Hyderabad-based company owns the rights to distribute the vaccine in all markets except USA, Japan and Europe.
While the Phase I trials will take place in Saint Louis University's Vaccine & Treatment Evaluation Unit, Bharat Biotech, upon obtaining the required regulatory approval, will pursue further stages of clinical trials in India and undertake large scale manufacture of the vaccine at its GMP facility located in Genome Valley, Hyderabad.
According to Bharat Biotech, this intranasal vaccine candidate has shown unprecedented levels of protection in mice studies; the technology and data having been recently published in the prestigious scientific journal 'Cell' and in an editorial in 'Nature'.
"We are proud to collaborate on this innovative vaccine. We envision that we will scale this vaccine to 1 billion doses, translating to 1 billion individuals vaccinated receiving a single-dose regimen. An intranasal vaccine will not only be simple to administer but reduce the use of medical consumables such as needles, syringes, etc., significantly impacting the overall cost of a vaccination drive," said Krishna Ella, Chairman and Managing Director of Bharat Biotech.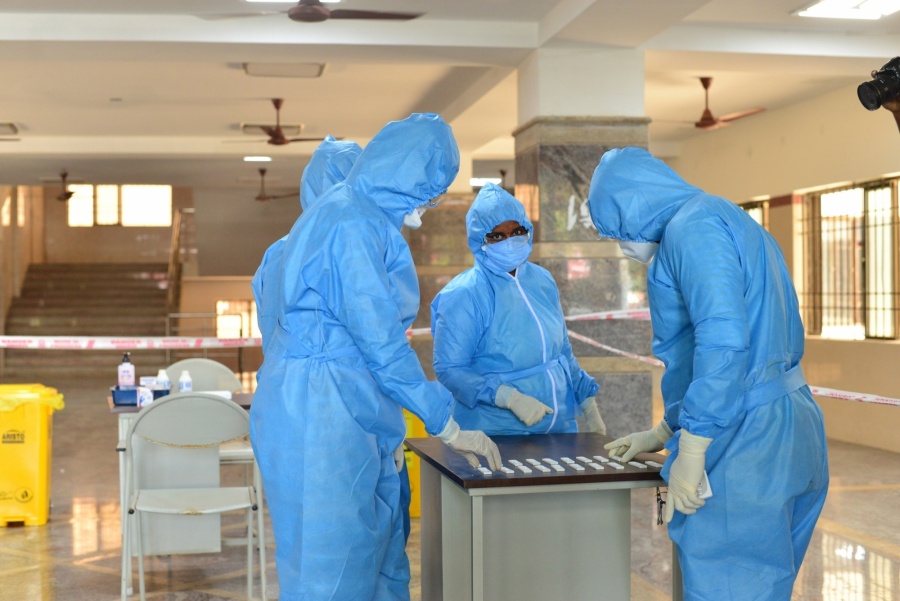 "Our experience in viral vaccines, manufacturing capabilities, and distribution continue to be our strong suit in ensuring safe, efficacious, and affordable vaccines. It is prudent for Bharat to be involved in diverse but tenable projects to provide a much-needed vaccine against Covid-19 reaches all citizens of the world," he added.
David T. Curiel, Director of Biologic Therapeutics Center and Professor of Radiation Oncology at Washington University School of Medicine in St. Louis and Precision Virologics Interim CEO said that the ability to accomplish effective immunization with a single nasal dose is a major advantage, offering broader reach and easier administration.
"An effective nasal dose not only protects against Covid-19, but it also prevents the spread of the disease by offering another kind of immunity that occurs primarily in the cells that line the nose and throat. Most other vaccine candidates currently under development can't do that," he said.
This vaccine expands Bharat's portfolio of vaccines that are currently being developed and are in various stages of clinical development including Covaxin which is currently in Phase II human clinical trials in India, the company said.
India's tally on Wednesday crossed 56 lakh cases following a spike of 83,347 fresh coronavirus infections reported in 24 hours, according to data from the Ministry of Health and Family Welfare.
There were 1,085 new deaths as the toll in past more than eight months reached 90,020 and the total cases mounted to 56,46,010.
India is the second worst hit country by the pandemic just behind the US, where they have recorded 2 lakh deaths.
Out of the total cases in India, 9,68,377 are currently active, and 45,87,613 have been discharged, making the rate of recoveries best in the world.
While the recovery rate stands at 81.25 per cent, the fatality rate has come down to 1.59 per cent.
Maharashtra continues to be the worst-hit with a total of 12,42,770 cases, including 33,407 deaths, followed by Andhra Pradesh, Tamil Nadu, Karnataka and Uttar Pradesh.
According to the data from the Indian Council of Medical Research (ICMR), India conducted 9,53,683 sample tests in a single day on Tuesday, taking the total number of samples tested so far to 6,62,79,462.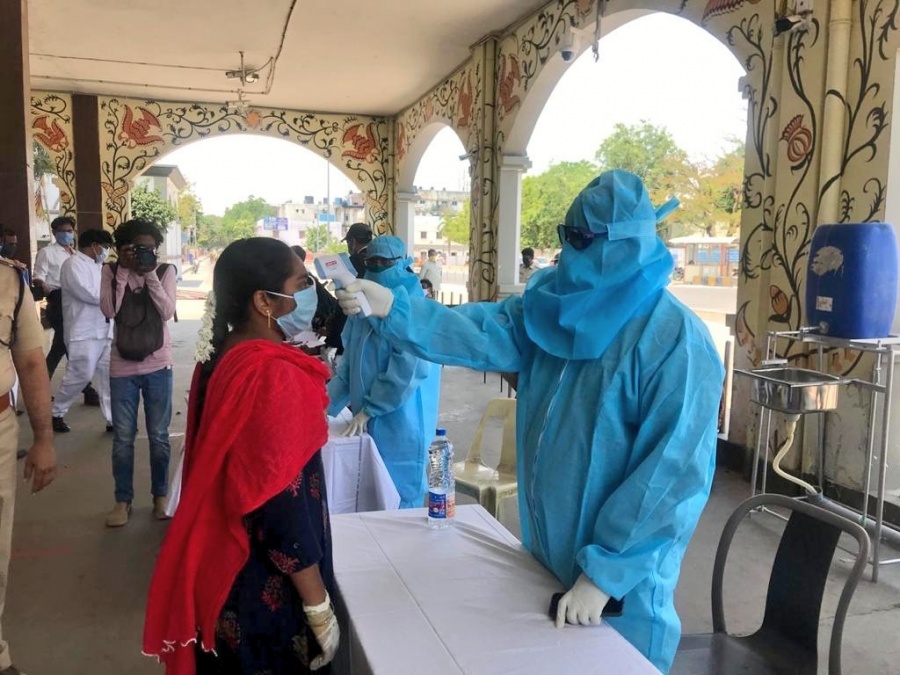 The Union Health Ministry had said that it has increased the testing infrastructure exponentially. Till July 7, India had tested 1 crore samples and it took us 27 days to add 2 crore tests. By August 3, we had tested 3 crore samples. During this period, the laboratories were increased from 1,100 to 1,300 in the country.
On Tuesday, the Indian Council of Medical Research (ICMR) said that the efficacy of the Covid-19 vaccinein India might not reach 100 per cent. "We are aiming for 100 per cent efficacy but may land between 50 to 100 per cent. However, it still would be an effective vaccine against the virus," Balram Bhargava, ICMR Director General said.
Bhargava added that as per the World Health Organisation (WHO), a vaccine having above 50 per cent efficacy is acceptable for administration. "100 per cent efficacy is not achieved in vaccines for respiratory viruses," he said.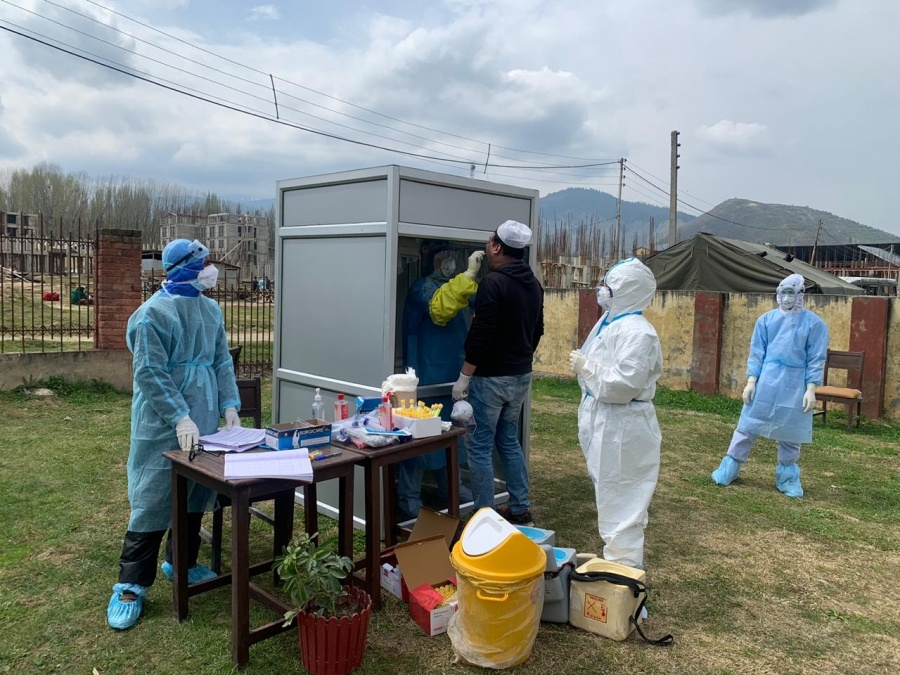 The Drugs Controller General of India released draft guidelines for Covid-19 vaccine on Monday. The 39-page document lists several safety protocols that companies have to follow, including developing adaptive trial designs.
As per the guidelines, the vaccine that will go for approval must elicit superior immune responses compared to no vaccination against Covid-19. An individual who gets the vaccine should be protected from re-infection for at least a year.
Besides, the regulatory approval for the vaccines will come through only if companies demonstrate 50 per cent efficacy in the primary endpoint or more than 30 per cent efficacy in the secondary endpoints. This means a vaccine has to either prevent or decrease the severity of the disease in at least 50 per cent of people vaccinated.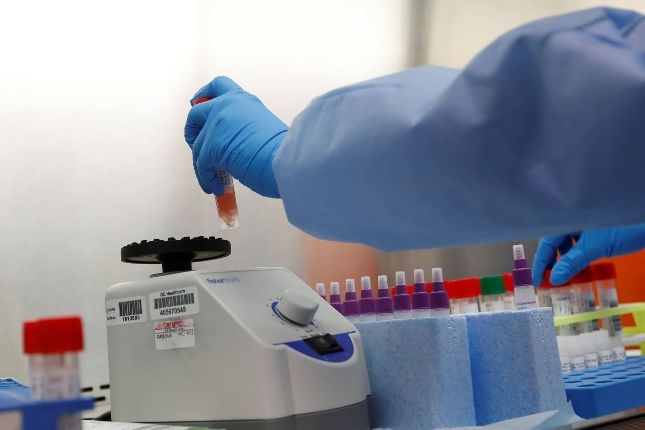 "To ensure that a widely deployed Covid-19 vaccine is effective, the primary efficacy endpoint point estimate for a placebo-controlled efficacy trial should be at least 50 per cent, and the statistical success criterion should be that the lower bound of the appropriately alpha-adjusted confidence interval around the primary efficacy endpoint point estimate is (greater than) 30 per cent," the guidelines stated.
Meanwhile, the regulatory body also clarified in the guidelines that persons who have been infected with the SARS-CoV-2 virus in the past should be included in vaccine testing, as long as they do not have acute Covid-19 or other acute infectious illnesses.
Also Read-Nepal Citizens Protest Against Fresh Chinese Intrusion