Advertisement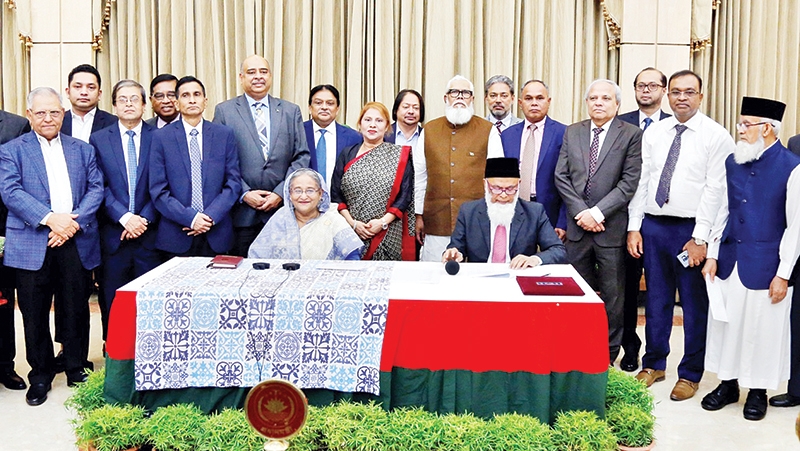 Salman F Rahman, advisor to Bangladesh Prime Minister Sheikh Hasina, and policymakers have asked Chinese entrepreneurs to invest in the country and export products back to Beijing using the duty-free access facility.
The issues came up for discussion on Monday at a virtual opening ceremony of the Mandarin version of a report titled "Destination Bangladesh" prepared by PricewaterhouseCoopers (PwC) Bangladesh.
Rahman was the chief guest and State Minister for Foreign Affairs Shahriar Alam was the special guest.
Also Read – China's Plot For Economic Blackmail
Last July, Hasina had invited Chinese entrepreneurs to explore the full potential of business and trade relations with Bangladesh as the country is marching ahead in various areas of economic growth and development.
Recently the Chinese government provided duty-free access for 97 per cent products manufactured in Bangladesh.
On Monday, Rahman said Bangladesh achieved a sustainable economic growth of over 7 per cent in the last few years, but the rate has declined due to the adverse impact of the COVID-19 pandemic.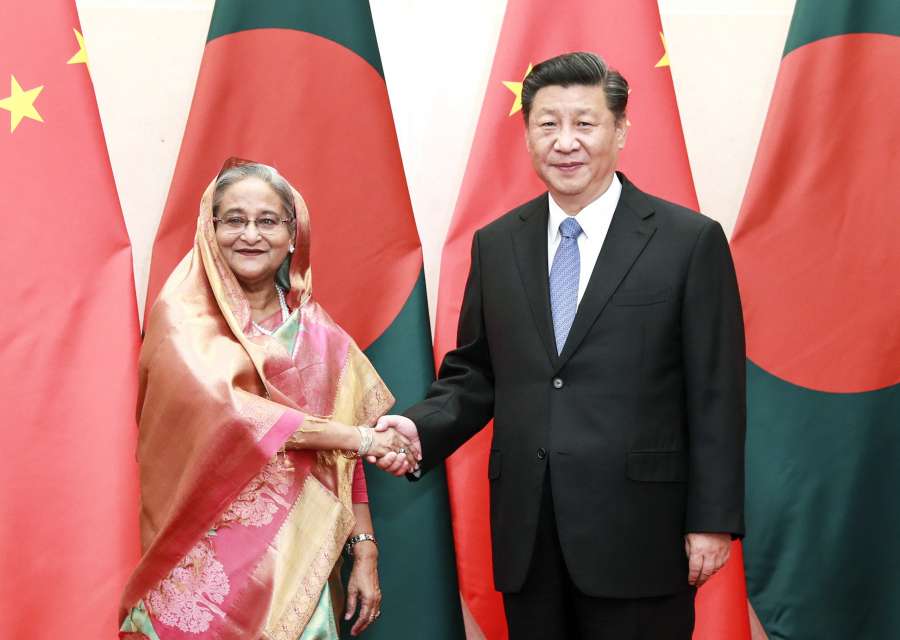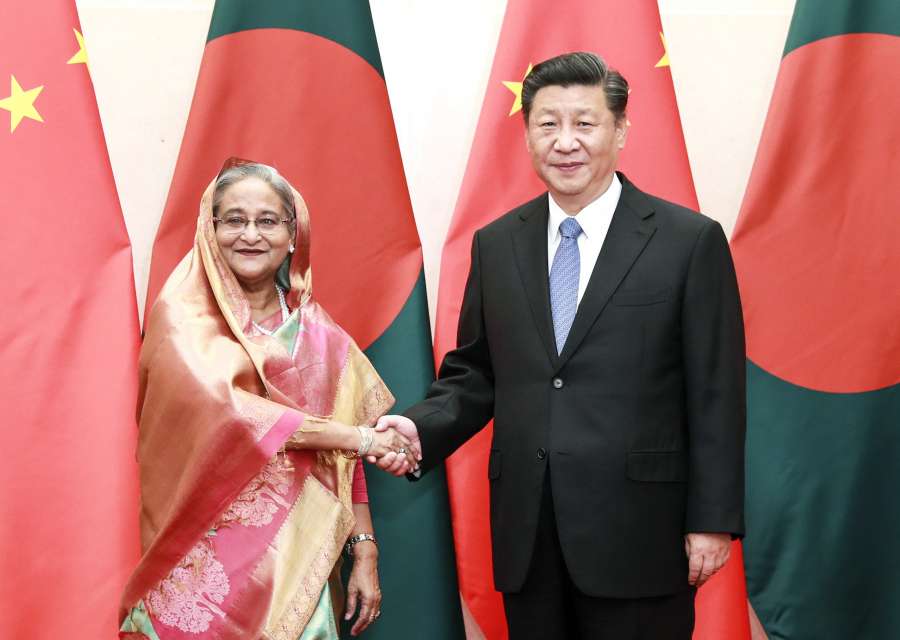 "The country has developed infrastructure both physically and digitally. A large number of people are now earning money using the internet. The country has been working to improve significantly in the ease of doing business index of the World Bank by 2022," Salman added.
Alam said the bilateral relation between Bangladesh and China was at the highest level in history.
"The Bangladesh government has zero tolerance of corruption and terrorism. Investor confidence is increasing. The government has harmonised policies related to tax and business," he added.
Paban Chowdhury, executive chairman of the Bangladesh Economic Zone Authority (Beza), said the country currently has no scarcity of land for industrialisation.
Also Read – China Cornered Over Cyber Crimes
The Bangabandhu Sheikh Mujib Shilpa Nagar at Mirershorai in Chattogram has 40,000 acres of land.
Major General Salahuddin Islam, executive chairman of the Bangladesh Export Processing Zones Authority, said 119 companies from China have invested over $1.1 billion in export processing zones.
Bangladesh Ambassador to China Mahbub Uz Zaman, and HSBC Chief Executive Officer Mahbubur Rahman and Managing Partner of PwC Bangladesh Mamun Rashid also spoke at the event.
The country's Prime Minisiter Sheikh Hasina had on Thursday urged the authorities to work hard for making the country's investment environment more attractive while overcoming the problems caused by the COVID-19 pandemic.
"Bangladesh achieved the Millennium Development Goals (MDGs), announced by the United Nations, with competence and is now making efforts to attain Sustainable Development Goals (SDGs)" Hasina said while adressing a video conferencing meeting 'Gono Bhaban' from her official residence.
About the coronavirus impact on the investment and economy in the country, the Prime Minister said all the nations of the world are facing the same crisis.
"We have to advance by combating this problem. We have to bring more investments. We have a huge population and created many facilities including development of lands for investors," said Hasina.
"So we've to work hard to make the investment atmosphere more attractive by utilising these facilities to build 'Sonar Bangla' as dreamt by the 'Father of the Nation' Bangabandhu Sheikh Mujibur Rahman," she added.
Sheikh Hasina said her government is also taking various steps, including waiving interest in the import of capital machinery to woo more investment.
"We've made arrangements for training to create skilled manpower and we're making these arrangements in every Upazila," she said.
Haisna said her government is giving importance to development of infrastructures, roads and bridges, river, rail and air communication to attract more investment.
"Wooing more investment is not possible without the development of infrastructures," the Prime minister added.
"Bangladesh witnessed a severe crisis of electricity in the past, but the country has surplus power now thanks to various pragmatic steps of our government," she said.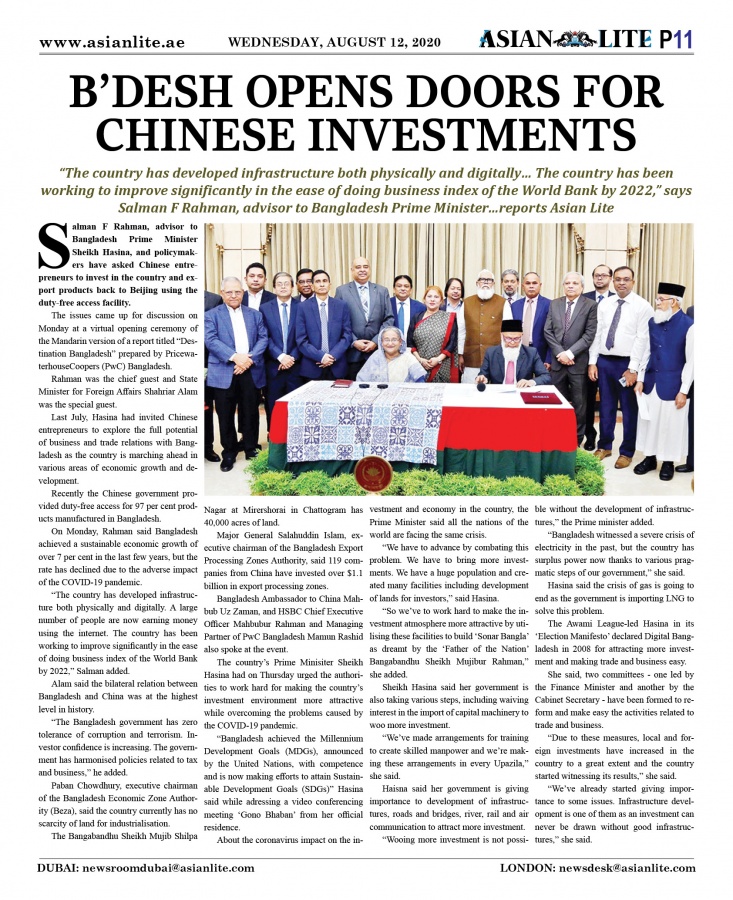 Hasina said the crisis of gas is going to end as the government is importing LNG to solve this problem.
The Awami League-led Hasina in its 'Election Manifesto' declared Digital Bangladesh in 2008 for attracting more investment and making trade and business easy.
She said, two committees – one led by the Finance Minister and another by the Cabinet Secretary – have been formed to reform and make easy the activities related to trade and business.
"Due to these measures, local and foreign investments have increased in the country to a great extent and the country started witnessing its results," she said.
"We've already started giving importance to some issues. Infrastructure development is one of them as an investment can never be drawn without good infrastructures," she said.