Advertisement

The deliberations included Mithila's glorious past, dynamic present and glowing future, during which dignitaries from the fields of art, academics, economy, politics, finance, and technology have highlighted various challenges and potential solutions, a report by Asian Lite
The first-ever International Mithila Summit was organised recently by International Maithil Diaspora, for which Maithils from diverse sectors across the globe have joined hands to create a positive ecosystem for the sustainable development of the region. The deliberations included Mithila's glorious past, dynamic present and glowing future, during which dignitaries from the fields of art, academics, economy, politics, finance, and technology have highlighted various challenges and potential solutions.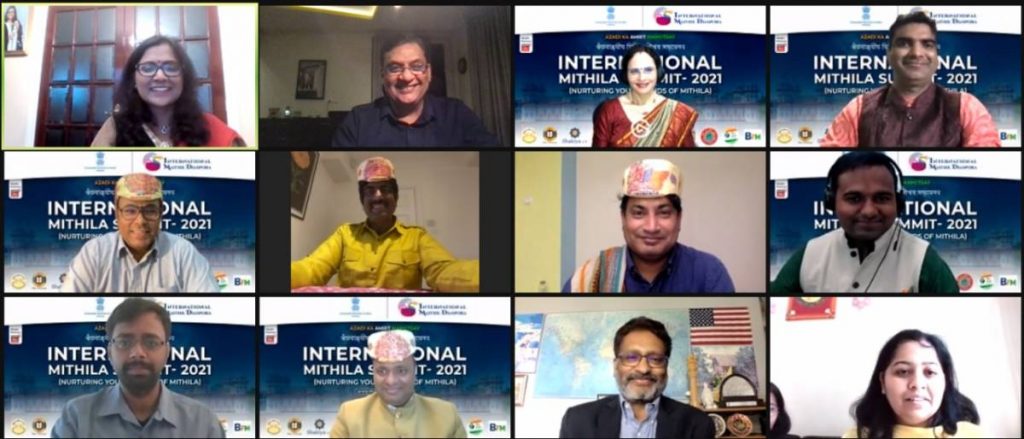 Luminaries at the summit included Sanjay Kumar Jha- honorable WRD and IPRD Minister, Govt of Bihar, India, Dr. Sanjay Mahavir Ram Paswan- former HRD Minister, Govt of India, Padma Bhushan Dr Bindeshwar Pathak, Shri Kapileshwar Singh- grandson of the Maharaja of Darbhanga Shri Kameshwar Singh and Consul General of India (Hamburg, Germany) H.E. Gulshan Dhingra.
At the outset, flute recital by Malaika Jha and Vidyapati song by Pallavi Jha, Anamika Jha, and Meenu Mishra from Germany were presented, followed by welcome remarks by Dr. Rajesh Kumar Mishra- President, Shaktya Foundation, Germany, and inaugural address by CGI H.E. Gulshan Dhingra. Chief Guest Shri Sanjay Kumar Jha highlighted several initiatives taken by the government for developing Mithila region such as Darbhanga airport, University for Mithila Painting and Museum for ancient heritage. He has also welcomed investors and investments into Mithila. Dr. Bindeshwar Pathak spoke on his social entrepreneurial initiative of Sulabh and emphasised on it as the need of the hour. Dr. Sanjay Paswan underscored the scholastic achievement of Mithila and Shri Kapileshwar Singh highlighted the glorious past of industrial feat of Darbhanga Maharaj and how we could possibly revive it.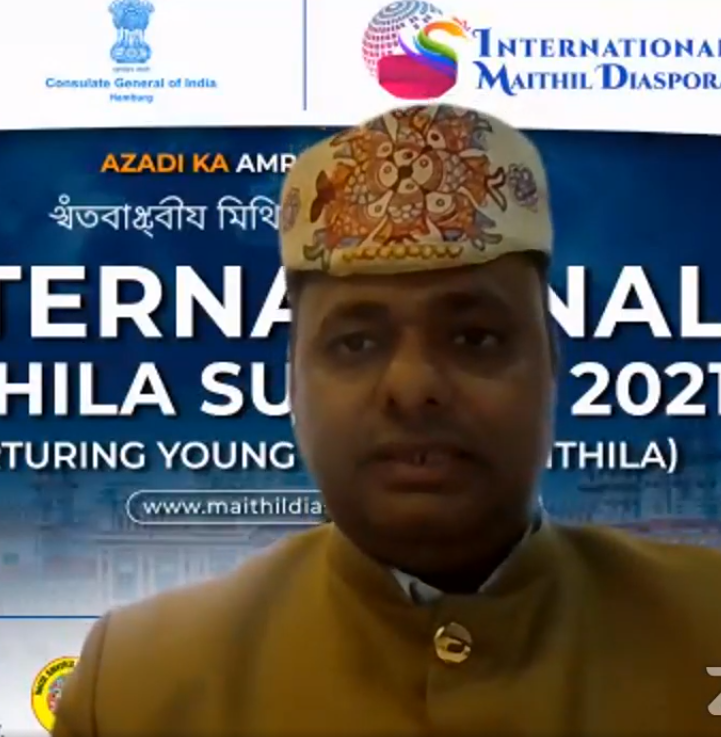 The summit had three main sessions on Economic Development, Culture and History, and Social Change and Development, moderated by social entrepreneur Chandra Prakash Jha (Germany), Cllr Sharad Kumar Jha (UK) and Dr. Himanshu Jha (Heidelberg University, Germany) respectively.
Speakers of the first session included Manish Anand (Founder Mithila Makhana), Rajesh Jha (CEO, Adani Group), Vibhuti Jha (Investment Banker, New York), Dr. Ajay Jha (Director, IGATT-USA), Arvind Jha (Founder, Mithila Angel Network), and Maneesh Choudhary (MD, Kantar Group Ltd., Beijing), who have all emphasised on the economic development of Mithila and its dynamics.
Speakers of the second session included Dr. Ajeet Kumar (Faculty, Delhi University), Dr. Savita Jha Khan (Faculty, Delhi University), Mithila Vibhuti Pt. Ajay Nath Shastri (Mithilaskshar Sakhsharata Abhiyan), Brajesh Kumar Singh (Editor- News 18) and Md. Mukhtar Alam (Curator, Online Maithil Classes) who have all emphasised on the importance of culture, language, and history of Mithila.
Speakers of the third session included Aditya Jha (Social entrepreneur, Canada), Usha Jha (President, Bihar Mahila Udyog Sangh), Anuj Choudhary (Head- HR, Aarti Group, Nigeria), Sachin Kumar (Founder, Sattuz), Mamta Mandal (Social activist, Singapore), and CA Ashish Niraj (National General Secretary, Karn Kayasth Mahasabha), who have all emphasised on the role of community, people and society in branding and developing Mithila.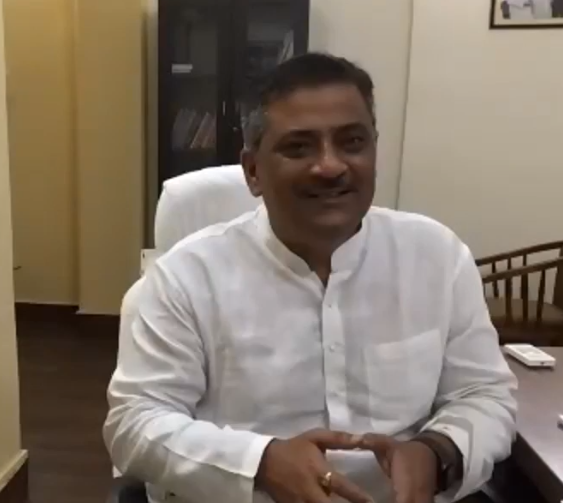 Classical dance by Dr. Ragasudha Vinjamuri (Founder- Sanskruti Centre for Cultural Excellence, UK) and Sankhnaad presentation by Dr. Bipin Mishra, India have delightfully captivated the global audiences. Upcoming events such as International Mithila Women's Summit, International Mithila Youth Summit, and felicitation of 75 Maithil personalities marking 75th year of Indian Independence were also announced.
Technical support was rendered by Anjani Chaudhary, an IT professional based in Singapore and Dr. Pankaj Gupta, a Scientist based in Canada. Vote of thanks was proposed by Dr. Prakash Kumar Jha, Agricultural Scientist.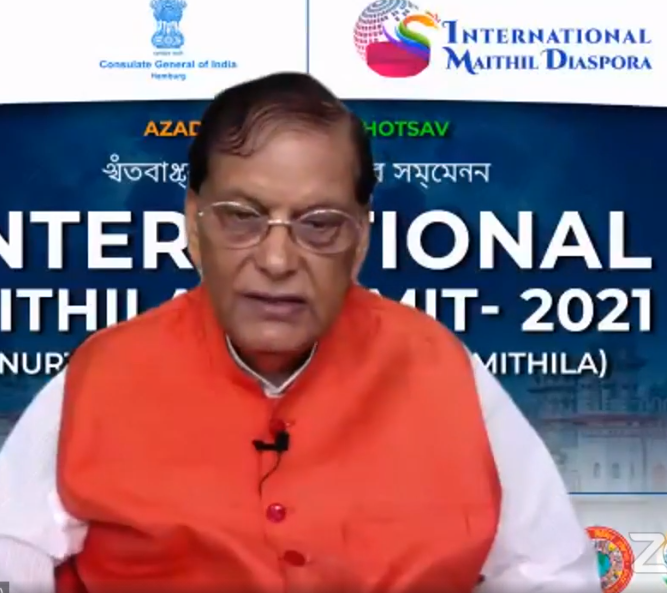 Advertisement