Advertisement

The cotton capital of the erstwhile British Empire Commemorates Mahatma Gandhi's 152nd Birth Anniversary with an Interfaith Service and UK Book Cover Reveal of 'Atmasiddhi Shastra'
Mahatma Gandhi's 152nd birth anniversary was celebrated in Manchester through an interfaith service honouring his teachings of peace, unity, non-violence, compassion and hope.
Celebrations commenced with a flower offering ceremony at Mahatma Gandhi's statue in front of the prestigious Manchester Cathedral. The impressive 9-foot bronze statue was a gift from the Kamani family to the City of Manchester in 2019 to commemorate Gandhiji's 150th birth anniversary, organised by Shrimad Rajchandra Mission Dharampur, and unveiled by the Mission's founder, Pujya Gurudevshri Rakeshji.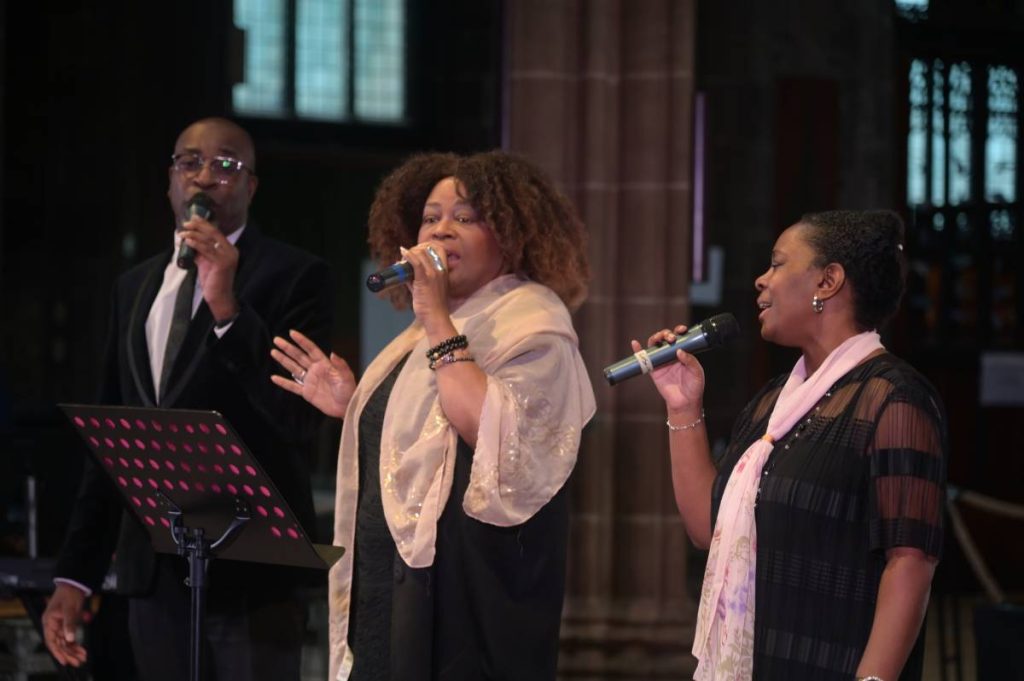 Distinguished guests in attendance included the Lord Mayor for the City, Cllr Tommy Judge, Diane Mary Hawkins JP DL, High Sheriff for Greater Manchester, Amish Tripathi, Director of the Nehru Centre, Esme Ward, Director of the Manchester Museum, The Very Reverend Rogers Govender MBE, Dean of Manchester Cathedral and various other officials from the UK Government, the Government of India and The University of Manchester.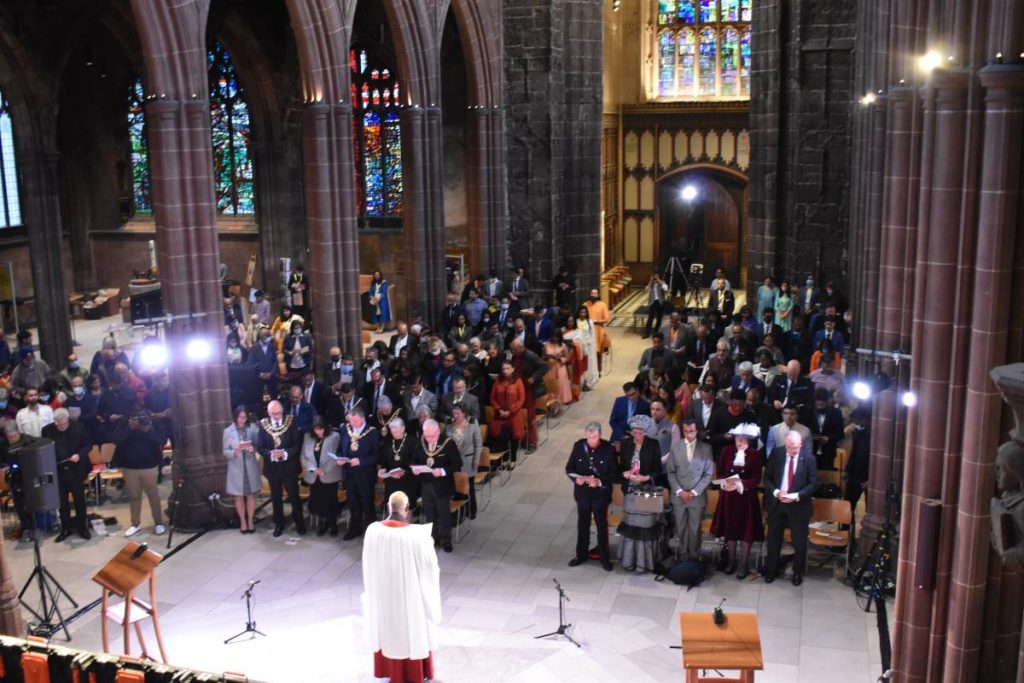 The interfaith service held at the majestic Manchester Cathedral included recitals by the Yvonne Shelton Choir, dance and musical performances, readings by diverse faiths and speeches by prominent dignitaries. The service celebrated the wonderful interfaith cohesion in Manchester by bringing together representatives of Hinduism, Islam, Jainism, Sikhism and Christianity.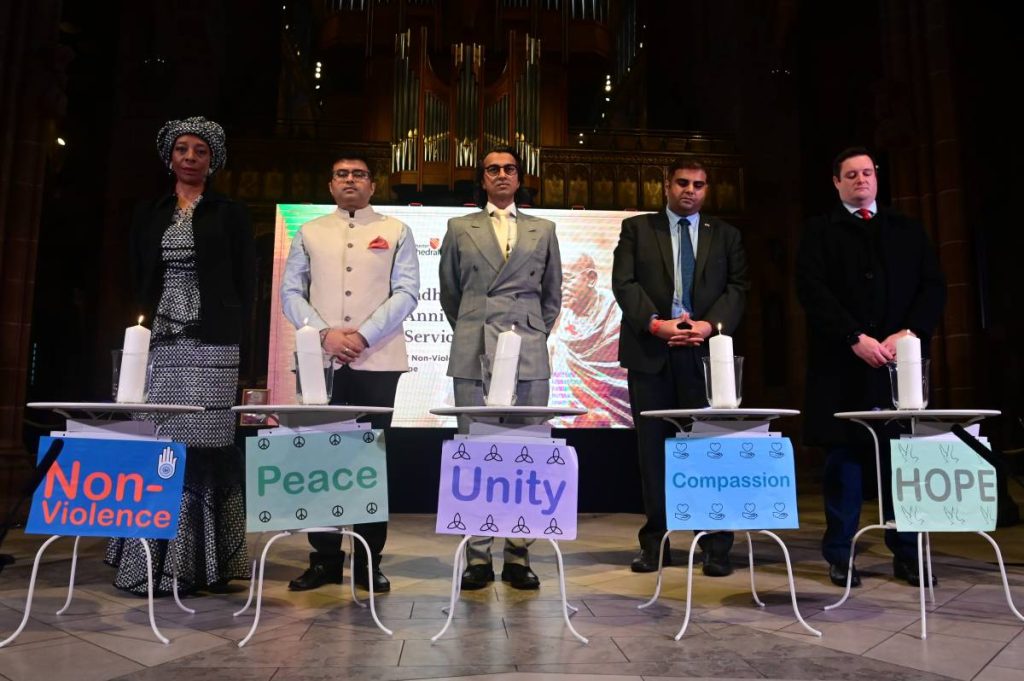 The occasion also marked the UK Book Cover Reveal of "Atmasiddhi Shastra: Six Spiritual Truths of the Soul," a new book authored by Pujya Gurudevshri Rakeshji comprising a Commentary in English on Shrimad Rajchandraji's magnum opus, Atmasiddhi Shastra. Many enthusiastic audience members took this opportunity to place pre-orders for the book, just a few weeks away from its much-awaited global launch across Amazon websites on 21st October.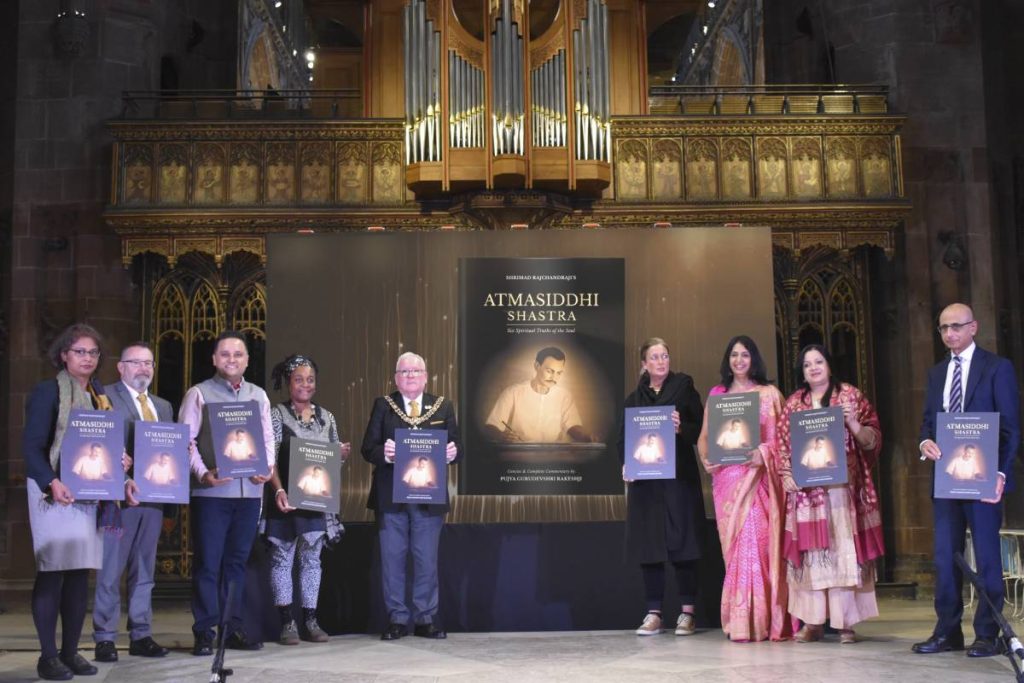 When Gandhiji had visited London to put forward the plight of the Indians in South Africa, he carried a copy of the original Atmasiddhi Shastra, the 142-verse poetic masterpiece by his spiritual mentor, Shrimad Rajchandraji. Deeply impressed, Gandhiji had even translated the treatise entirely into English, but unfortunately lost the translation on a bus ride in London.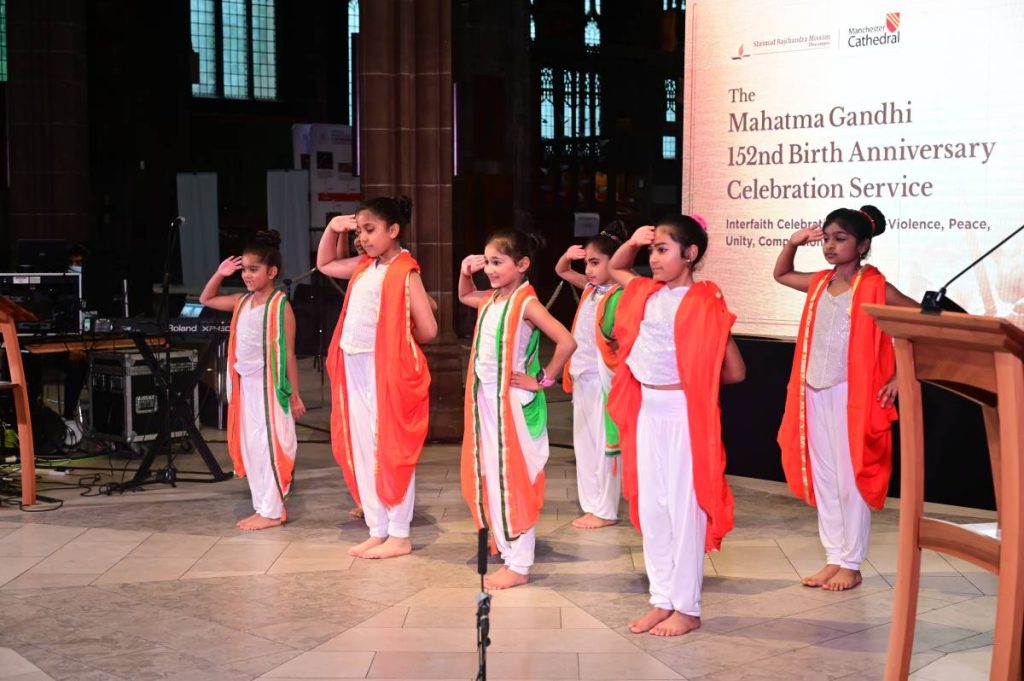 Atmasiddhi Shastra is a practical guidebook that makes universal spiritual wisdom accessible to every modern seeker. It will provide readers a deeply personal experience, igniting the inner quest to discover a higher purpose, reclaim one's true identity, and experience eternal bliss.
Owing to the massive demand from readers worldwide, a dedicated website for the book – www.atmasiddhishastra.com was also launched.
The interfaith service culminated with Ms. Erinma Bell, Deputy Lieutenant for County of Greater Manchester, Dr Shashank Vikram, Consul General of India, Birmingham, Mr. Vikas Shah, Deputy Lieutenant and CEO of Swiscot Group, Mr. Navendu Mishra M.P. for Stockport and Mr. Alastair Cobley, Head of Kamani Family Office lighting candles for peace, unity, non-violence, compassion and hope in Manchester, a welcome reminder of the enduring nature of Mahatma Gandhi's life and teachings in our conflict-ridden and polarised modern world.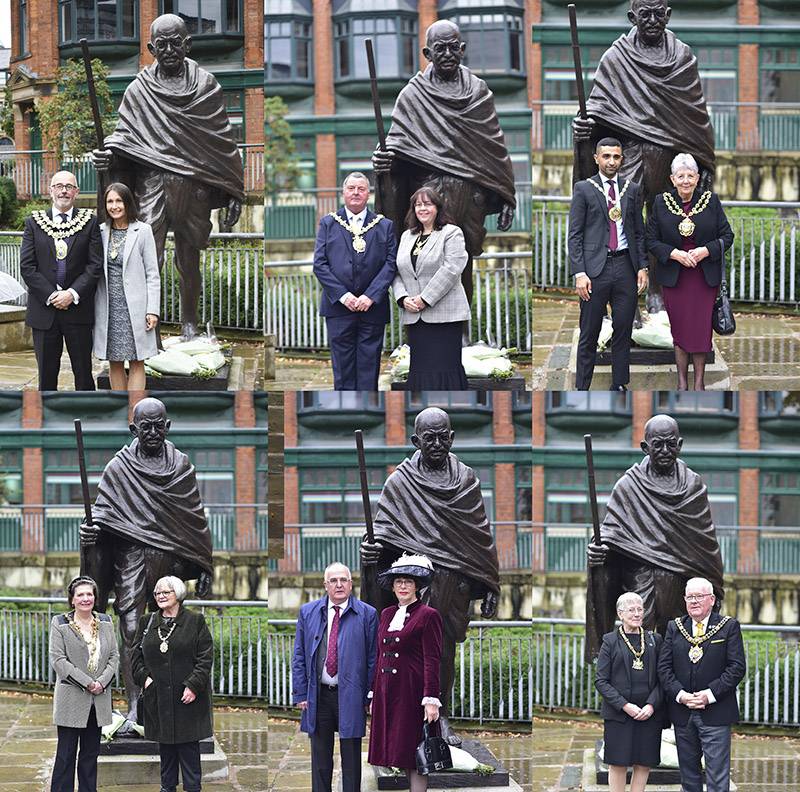 Through the service, Esme Ward, Director of the Manchester Museum, spoke about Gandhi's visit to Lancashire in 1931 to speak about the plight of Indian cotton workers. While trouble was expected, Gandhi received a warm welcome in Darwen and it is Gandhi's stories like this which focused on building understanding and empathy amongst communities and our connectedness to each other that are needed now more than ever.
Professor Erinma Bell MBE DL JP, Deputy Lieutenant for County of Greater Manchester, shared her experience of the occasion, "It was very enlightening, interesting and soothing. I found the event peaceful and hopeful and got a feeling of the way Mahatma Gandhi was level headed, patient and calm. What inspired me the most today was the book cover launch. It is going to be an absolutely fantastic book to read, very insightful and after watching the video about the book, it made me feel like I wanted to buy 5 or 10 copies!"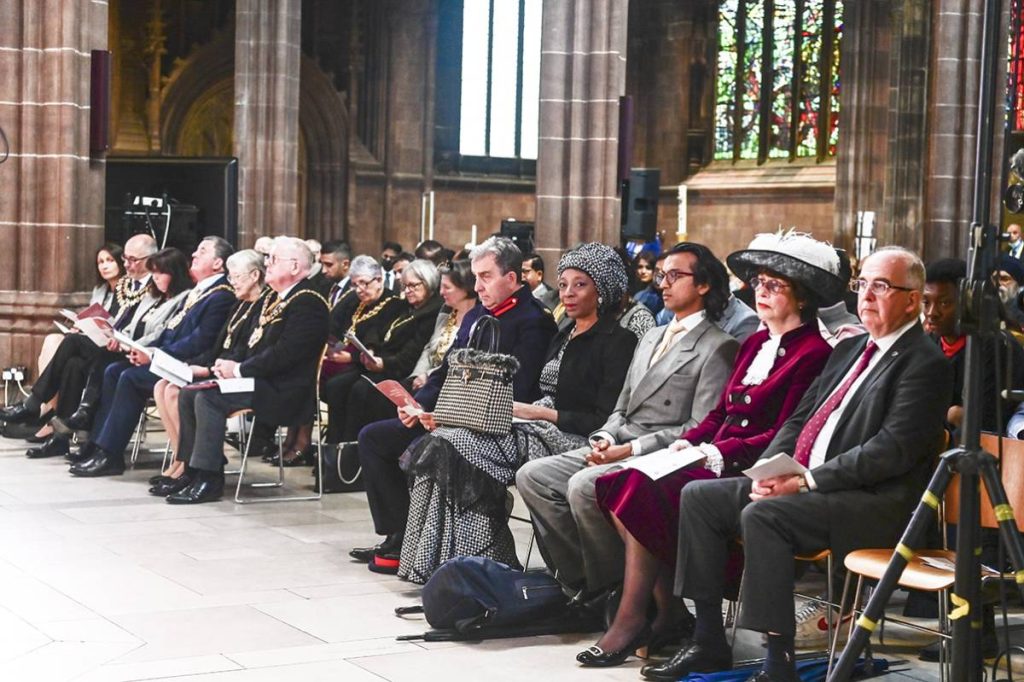 On revealing the book cover in the UK, Amish Tripathi shared "Atmasiddhi Shastra is universal wisdom for all faiths. All of us want peace and a sense of purpose. The book speaks of the core philosophy in a succinct and simple manner structured as a conversation. There is a disciple asking his master questions and the master answering and clarifying the doubts of his disciple. This makes the book a lot easier and that is where the full genius is."
ALSO READ-Manchester City unveils Expo Dubai 2020 as new Training Kit Partner
READ MORE-Manchester unveils plans to forge better ties with India