Advertisement

A total of 47,045,391 million vaccines were administered between 8 December and 26 April, including 33,843,580 million people with their first dose and 13,201,811 million with their second, reports Asian Lite Newsdesk
A quarter of all adults in the UK have received both coronavirus vaccine doses – that's more than 13m people.
The milestone means one in four adults in the UK has received the strongest possible protection against COVID-19 and it comes as the NHS is now inviting 42 and 43 year olds to get their jab.
But the Prime Minister Boris Johnson has warned Cabinet colleagues the UK is "not out of the woods" yet as virus variants of concern continue to emerge.
Meanwhile, another 2,685 people in Britain have tested positive for Covid-19, bringing the total number of coronavirus cases in the country to 4,409,631, according to official figures released on Tuesday.
The country also reported another 17 coronavirus-related fatalities, taking the national death toll to 127,451. These figures only include the deaths of people who died within 28 days of their first positive test.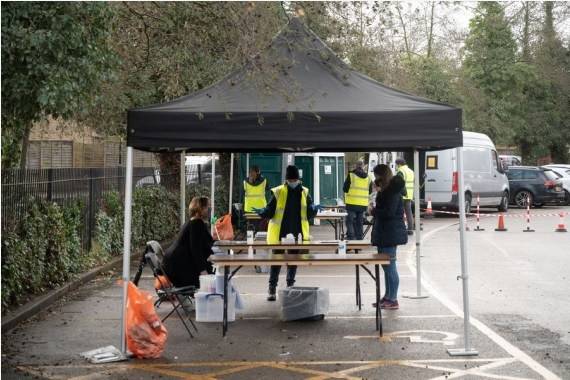 A total of 47,045,391 million vaccines were administered between 8 December and 26 April, including 33,843,580 million people with their first dose and 13,201,811 million with their second, according to official figures.
"This latest milestone is a terrific cause for celebration – over a quarter of all adults across the UK, including those most vulnerable to COVID-19, have now had two jabs, meaning they have received the strongest possible protection," said Health Secretary Matt Hancock.
He also thanked the "brilliant NHS, volunteers, local authorities, armed forces and civil servants who continue to work tirelessly to vaccinate people as quickly as possible."
"There is undeniable evidence that vaccines are saving lives, significantly reducing hospitalisations and deaths. I urge all those who are offered an appointment to get their jab and join the millions of people who now have protection from this terrible disease," Hancock added.
The government has already hit its target of offering everybody in cohorts 1 to 9 – those aged 50 and over, the clinically vulnerable and health and social care workers – a first dose of the vaccine by 15 April and remains on track to offer a jab to all adults by the end of July.
According to health officials, vaccinated people are far less likely to get COVID-19 with symptoms. They are far less likely to get serious COVID-19, to be admitted to hospital, or to die from it and there is growing evidence that vaccinated people are less likely to pass the virus to others.
Death toll falls
Recent data from Public Health England shows vaccines are already having a significant impact in the UK in reducing hospitalisations and deaths, and saved more than 10,000 lives between December and March.
Data from the ONS and Oxford University shows that COVID-19 infections fell significantly by 65% after the first dose of the Oxford/AstraZeneca or Pfizer/BioNTech vaccines, rising further after the second dose.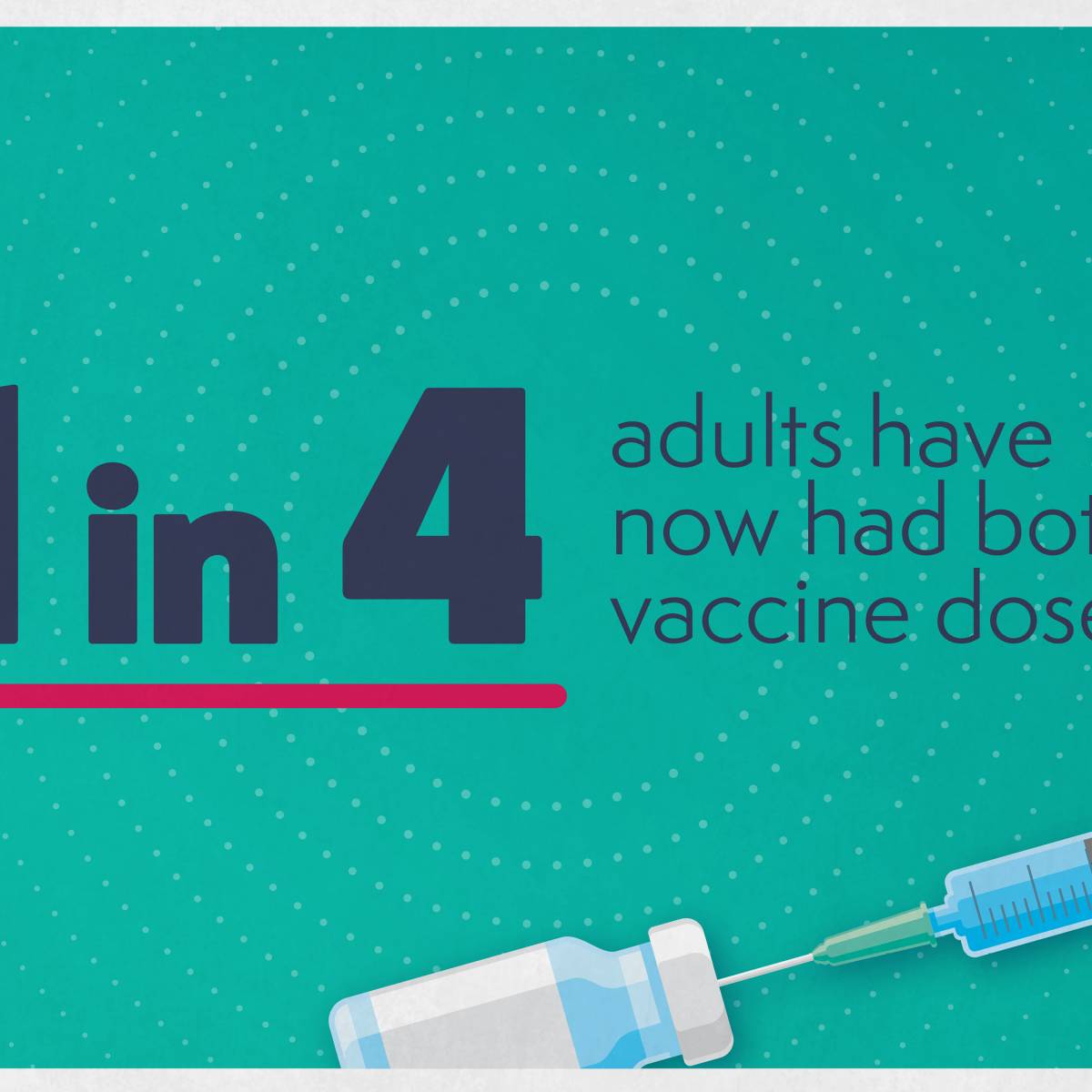 The latest vaccine effectiveness data from PHE show that in those aged over 70, both the Pfizer/BioNTech and Oxford/AstraZeneca vaccines reduce the risk of getting symptomatic disease by around 60% after a single dose. This protection lasts for several weeks.
In those aged over 80, protection against hospitalisation is around 80% and the Pfizer/BioNTech vaccine is 85% effective at stopping people aged over 80 dying from COVID-19.
To date, more than 33.7 million people have been given the first coronavirus vaccine jab.

On Monday, non-essential shops, gyms, swimming pools, pubs, restaurants reopened in Scotland as the region further eases its lockdown.

Under the new measures, travel restrictions were scrapped and people in Scotland are allowed to travel to other parts of Britain for non-essential reasons. Meanwhile, nail salons, museums and holiday accommodation can also reopen in Scotland.
Unlike England, pubs and restaurants will be able to open indoors until 20:00 BST (1900 GMT), but alcohol will have to be served to customers sitting outside.

Scotland has been in Level Four lockdown, the toughest coronavirus restrictions, since December 26 last year, with all non-essential shops, leisure facilities, and hospitality venues closed.
Prime Minister Boris Johnson has acknowledged that the majority of scientific experts are of the view that there will be another wave of coronavirus at some stage this year and Britons must learn to live with the virus.

However, he said there was nothing in scientific data to suggest Britain would have to deviate from the roadmap out of lockdown.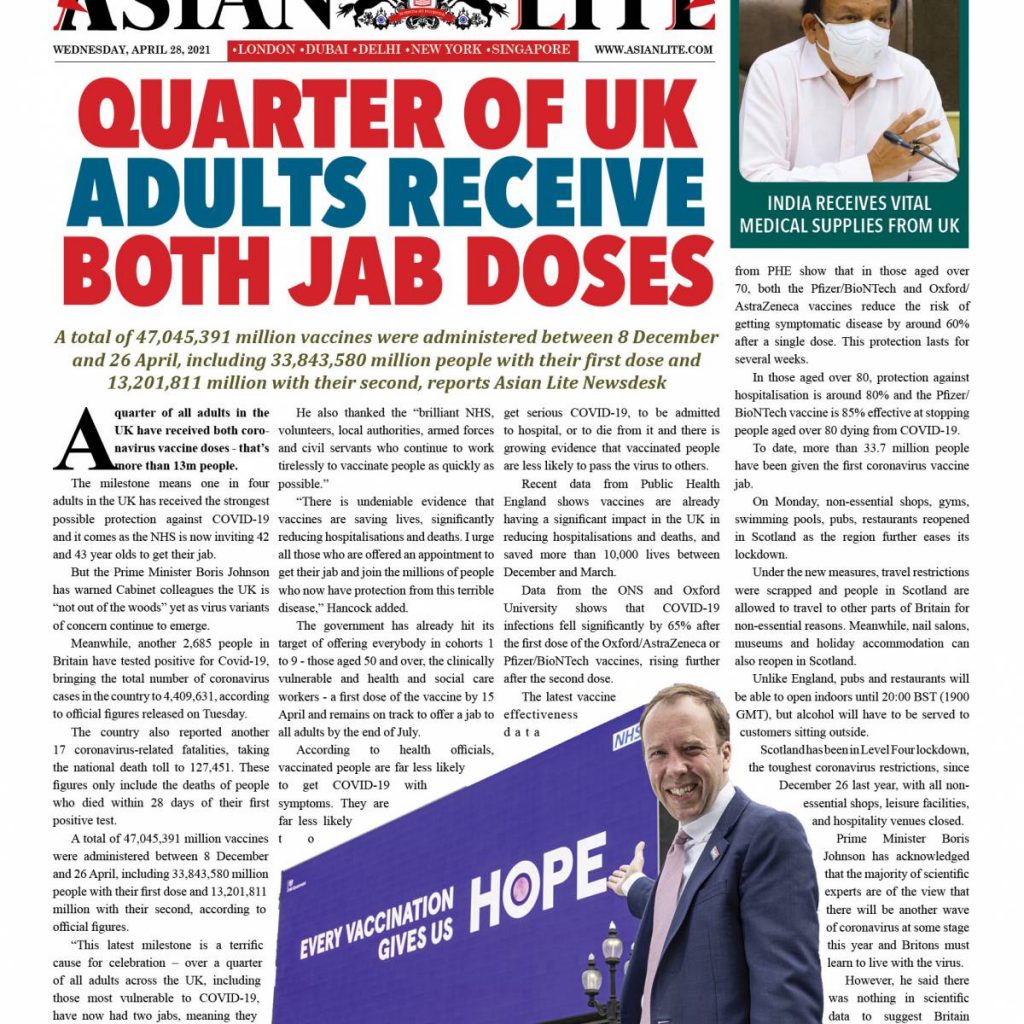 In England, all shops reopened from April 12 as lockdown eased, along with hairdressers, beauty salons and other close-contact services.

Restaurants and pubs were allowed to serve food and alcohol to customers sitting outdoors. Meanwhile, gyms, spas, zoos, theme parks, libraries and community centres can all open.

On May 17, restaurants and pubs are expected to be allowed to resume indoor service and see most rules on gathering outdoors lifted.

The British government's four-step plan is expected to see all legal restrictions in England being removed by mid-June.
Also read:Indian companies' contribution to UK economy grows