Advertisement

The details of the trade deal are expected to be announced on Tuesday morning, reports Asian Lite News
The United Kingdom and Australia have agreed the broad terms of a trade deal, according to a media report, adding that formal announcement is expected on Tuesday.
Prime Minister Boris Johnson and his Australian counterpart Scott Morrison agreed the deal over dinner at Downing Street, the BBC reported.
This is the first trade deal to be negotiated from scratch since the UK's divorce from the EU. It is seen as an important step towards the UK joining a wider Asia Pacific free-trade agreement, according to the report.
The BBC reported that the new trade deal is expected to give UK and Australian food producers and other businesses easier access to each other's markets – an ambition perhaps alluded to by the meal served up to the pair on Monday evening – Welsh lamb and Scottish smoked salmon, washed down with Australian wine.
The UK government says membership of the Comprehensive and Progressive Agreement for Trans-Pacific Partnership (CPTPP) could provide British farmers with huge opportunities.
On Monday afternoon, Foreign Secretary Dominic Raab met the Australian PM to discuss the opportunities for both countries to support open trade, economic development and security in the Indo-Pacific region.
"They discussed their shared focus on being a force for good across the world, including in supporting human rights, media freedom and freedom of religion or belief," a Foreign Office spokesperson said.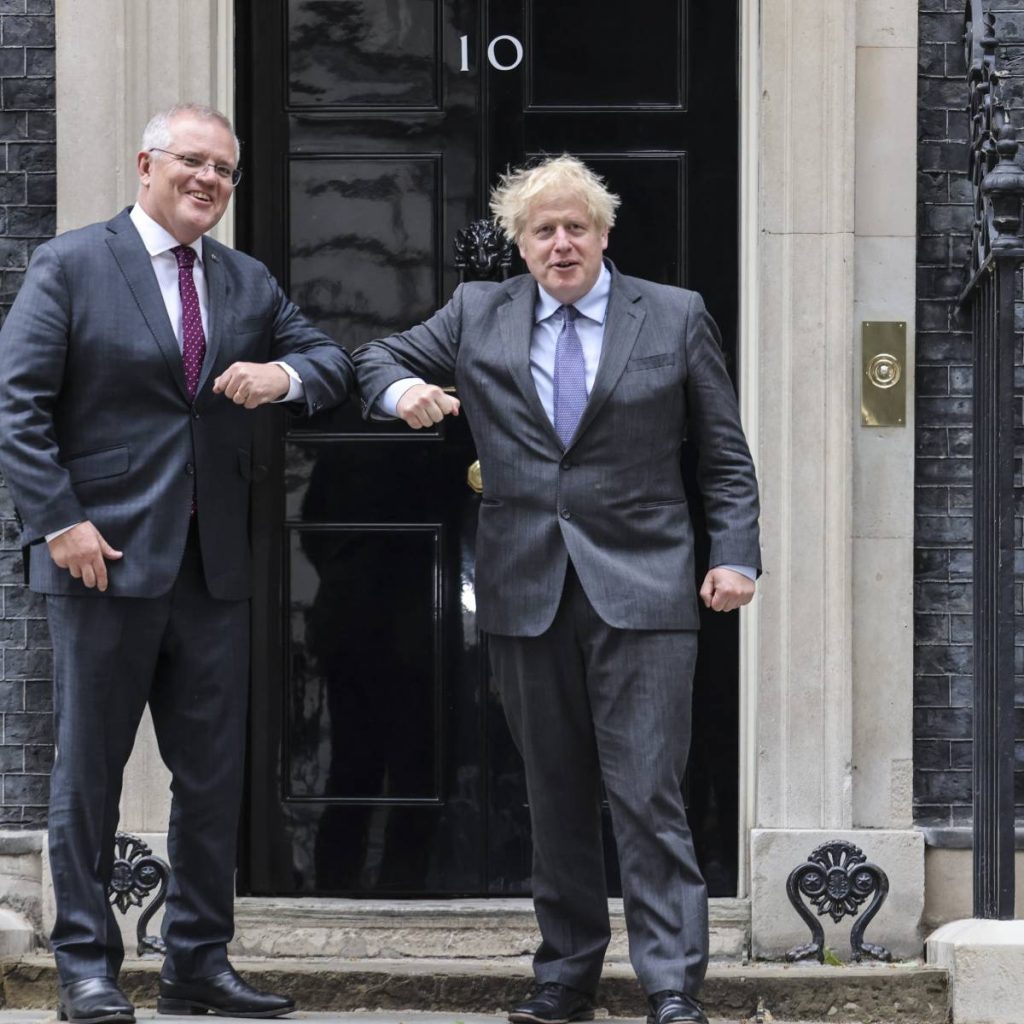 "They underlined UK and Australian commitment to work together to promote open societies and economies, protect our values and confront coercion."
The pair also discussed future opportunities for collaboration to tackle the global threat posed by climate change, the spokesperson added.
Some of the Britain's most famous exports could enjoy major wins from a UK-Australia trade deal, the Department for International Trade has revealed.
UK negotiators are working to remove tariffs impacting our car, train, fashion, and food and drink industries, making it cheaper and easier to sell goods to Australia, supporting jobs and boosting the economy.
The Government's latest research estimates that 6.5m jobs were supported by exports in 2016 and were generally higher paying, with wages in jobs directly and indirectly supported by exports around 7% higher than the national average.
From Northamptonshire-based footwear company Trickers to Mason's of Yorkshire gin, a deal with Australia could be a boost to all parts of the country, supporting the 15,000 British businesses who already export £4.1 billion of goods to Australia.
Iconic brands like Mr Kipling, Cadbury's Mini Rolls and Bradbury Cheese are already enjoyed by households across Australia, but are subject to tariffs of up to 20% – these could be slashed under any trade deal.
The deal could also benefit the UK car industry by removing the current 5% tariff on cars, which last year alone cost the sector an estimated £17 million in duties paid. Cheaper exports could also help support the 162,000 people estimated to be working in the automotive manufacturing sector, across more than 3,400 businesses. 
ALSO READ-UK's June 21 lockdown lifting to be delayed