Advertisement

The minister added that the state government has already mobilised 1.05 lakh volunteers including swimmers, snake catchers, and tree cutters for rescue and relief operations….reports Asian Lite News
Tamil Nadu Minister for Revenue and Disaster Management KKSSR Ramachandran has said that 12 people have died in various parts of the state due to heavy rain in the past three days. He said that 11 companies of the National Disaster Response Force (NDRF) and 7 companies of the State Disaster Response Force (SDRF) have been deployed in the rain-affected areas.
The minister told IANS on Wednesday: "The government is ready to face any eventuality due to rain and has already deployed 11 teams of NDRF in various parts of Chennai and adjoining districts while 7 companies of the State Disaster Response Force are ready to join the operations. Fishermen have been warned not to venture into the sea following the IMD alert for the next three days and all 33,773 boats that were in the sea off Tamil Nadu coast are back home and no boat is in the sea now."
The minister added that the state government has already mobilised 1.05 lakh volunteers including swimmers, snake catchers, and tree cutters for rescue and relief operations. Senior IAS and IPS officers have been deputed to monitor the functioning of district collectors and district superintendents of police.
He said that 12 IPS officers have been posted in Chennai for coordination and 15 IAS officers for each of the zones of Greater Chennai Corporation.
The Indian Meteorological Department (IMD) has issued a red alert in Chennai and adjoining districts for Thursday. The red alert is an indication that heavy to very heavy rain would lash the city and adjoining areas on Thursday.
The IMD in a statement on Wednesday said that a low-pressure system over the Bay would intensify into a deep depression and reach North Tamil Nadu coast by November 11. The red alert, according to IMD, is applicable to several coastal districts of the state as extremely heavy rain (200mm) is likely in the coastal areas of the state.
The IMD regional centre said that the well-marked low-pressure area over the southeast Bay of Bengal is likely to concentrate into a depression in the next 12 hours. This depression would move northwestwards and reach Northern Tamil Nadu by the early morning of November 11 leading to heavy showers in the area.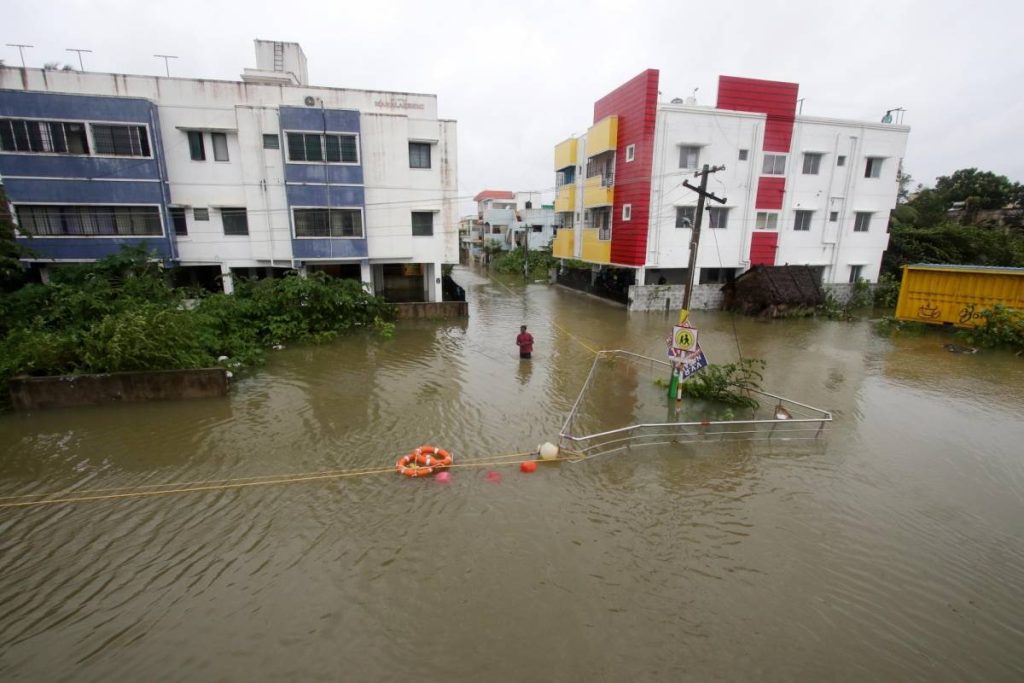 Heavy rain continues to lash Chennai
Heavy rain continued to lash Chennai on Thursday morning since the previous night due to the depression over southwest Bay of Bengal, which according to the IMD is expected to cross northern Tamil Nadu and the adjoining south Andhra Pradesh coasts by the evening.
As a result, several homes in the city have been inundated, while the power supply has been cut off in many localities.
According to the weather department, the depression over southwest Bay of Bengal is currently about 170 km east-southeast of Chennai and 170 km east of Puducherry.
It continues to move west-northwestwards.
Localities like T.Nagar, Mylapore, Velacherry, Adyar, Ekkattuthangal and others are waterlogged.
While the Greater Chennai Corporation is pumping out water with motors, the water level remains the same.
"Wind is also blowing and the possibility of trees getting uprooted is also one of the fears," a milk supply boy said.
Several subways have been closed for traffic as they are filled with water.
According to Chennai Airport, flight operations are continuing as per schedule.
Suburban train services from Chennai to Tiruvallur have been suspended due to waterlogging on the tracks and in other routes the services were delayed.
According to the Railways, in the case of long distance trains, only marginal delays can be expected in arrivals and departures, especially for those trains going towards and coming from Arakkonam and Gudur.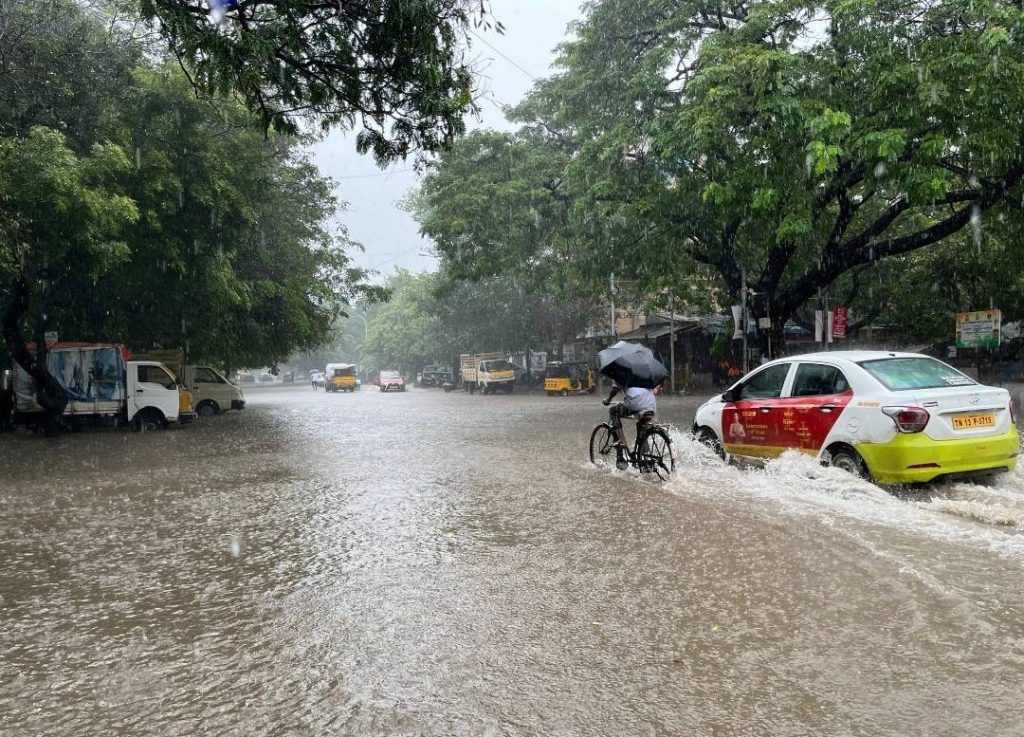 Eight flights cancelled in Chennai
Eight flights have been cancelled due to bad weather in Chennai airport, officials said on Wednesday.
Four arrivals and four departures have been cancelled after the Met Department predicted heavy rains and gusty winds in Chennai and adjoining districts.
Indigo Airlines flights to Madurai (4.10 p.m.), Mumbai (7.55 p.m.), Trichy (7.55 p.m.) were the domestic flights from Chennai that stand cancelled. An international flight operated by Air Arabia to Sharjah, scheduled to depart at 9.30 p.m., was also cancelled.
Indigo flights from Madurai at 7.30 p.m., Trichy at 10.30 p.m., Mumbai at 1 a.m. on Thursday and an Air Arabia flight from Sharjah to Chennai were also cancelled.
The Airport Authority of India, in a statement, said that the decision to cancel the flights, all operated on ATR aircraft, was taken based on the weather forecast as the small ATR aircraft will have difficulty in landing due to windy conditions.
Heavy rains send vegetable prices soaring
Heavy rains and waterlogging across Chennai have sent vegetable prices soaring in the wholesale Koyambedu market, while prices in the retail vegetable markets too have catapulted.
Tomatoes were priced at Rs 100 per kg, lady's finger touched the Rs 150 per kg mark, while beans were being sold for Rs 100 per kg in Chennai's retail markets after heavy rains led to soaring prices of vegetables in the wholesale Koyambedu market.
Almost all the vegetables that were selling at less than Rs 25 per kg are selling for more than Rs 50 per kg now. Carrot is selling at Rs 130 per kg, while capsicum is priced at Rs 120 per kg.
M.K. Abdullah, a wholesale merchant at the Koyamdedu market, said, "The heavy rains that lashed Chennai city have led to a spiralling process. Even locally-grown vegetables have become costlier as there is shortage of labour and most of the crops are under water. Most of the local supply comes from within 100 km radius of Chennai city and vegetables that reach from Karnataka are not expected as trucks are not moving in due to waterlogging in many parts of the city."