Advertisement

Hasina, the longest serving Prime Minister in the history of Bangladesh, having served for a combined total of over 17 years and four terms….reports Sumi Khan
Bangladesh Prime Minister Sheikh Hasina has been ranked 43rd in the Forbes magazine's list of 100 Most Powerful Women in the world.

"During what she believes will be her final term, Hasina plans to focus on issues such as food security and access to education and healthcare," the magazine mentioned.

Hasina, the longest serving Prime Minister in the history of Bangladesh, having served for a combined total of over 17 years and four terms.

She won the fourth term after her ruling party, Bangladesh Awami League, won 288 of the 300 parliamentary seats in the 2018 elections.

In the list, philanthropist MacKenzie Scott, US Vice President Kamala Harris and President of the European Central Bank Christine Lagarde have been ranked first, second and third, respectively.

Every year, the magazine releases a list of 100 powerful women of the world.

This year, the 18th annual list included 40 CEOs, the most since 2015, who, according to the magazine, "oversee a record $3.3 trillion in revenue".
Meanwhile, during her address at the closing ceremony of the two-day "World Peace Conference-2021" held in Dhaka, Hasina stressed the need for building a peaceful world by abandoning arms races and urged the global community to use their resources in ensuring universal sustainable development.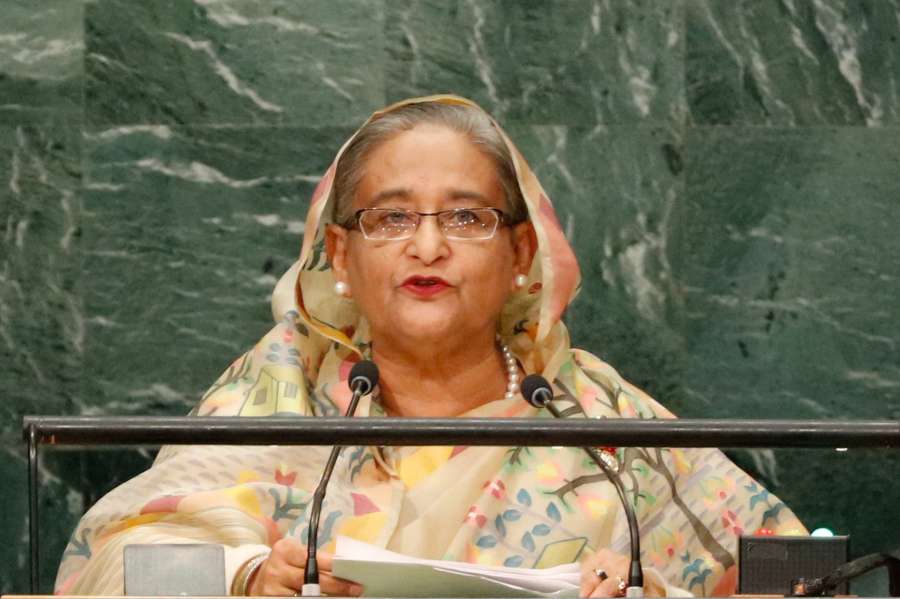 "At this critical juncture in the world, I urge people to use their resources to achieve universal sustainable development without spending resources on the arms races. Let's take action and commit to universal peace," she said.
A 16-point Dhaka Declaration was adopted at the conference.

Noting the coronavirus pandemic has plunged the entire world into a new crisis, she said: "This crisis has proven that not one of us is isolated. There's no alternative to building an accountable world order based on partnership to live peacefully in this world."

Quoting from the speech Bangabandhu, Sheikh Mujibur Rahman delivered while receiving the award in Dhaka on May 23, 1973 Sheikh Hasina said: "Let me mention here that world peace has been one of the fundamental principles of my philosophy of life. I've always been with the oppressed, the exploited and the peace-loving and freedom-loving people in any part of the world. We want peace to reign in every part of the globe. We want it to consolidate."

Bangabandhu had also called for upholding a policy of non-alignment and the establishment of friendly relations through ending warfare and arms races to maintain world peace, she noted.