Advertisement

The Foreign Secretary said the India-Japan relationship also has a growing salience on India's Act East Policy….reports Asian Lite News
Foreign Secretary Harsh Vardhan Shringla on Tuesday said India and Japan are continuing to enhance their ability to work with other partners in the Indo-Pacific region and beyond.
"We are looking at deepening our cooperation in third countries, moving beyond India's immediate neighbourhood to the Russian Far East and the Pacific Island States," Foreign Secretary Shringla said in his remarks at the opening session of the India-Japan Forum.
He said Japan's participation as the lead partner in the 'connectivity pillar' of the Indo-Pacific Oceans' Initiative launched by Prime Minister Narendra Modi in 2019 is greatly welcome and "will provide significant impetus" to this initiative.
The Foreign Secretary said the India-Japan relationship also has a growing salience on India's Act East Policy.
"Connectivity and other developmental projects being implemented under the India-Japan Act East Forum, which the Japanese Ambassador and I co-chair, are contributing to the development of the North Eastern region of India. This assumes greater significance given that the North East is India's gateway to South East Asia," Shringla added.
He informed that India and Japan are taking initiatives to re-work supply chains to make them more reliable.
"An important step in this direction has been the Supply Chain Resilience Initiative that India and Japan, in partnership with Australia, have launched recently. The three countries have started working-level interactions on a range of issues under this framework," the Foreign Secretary said.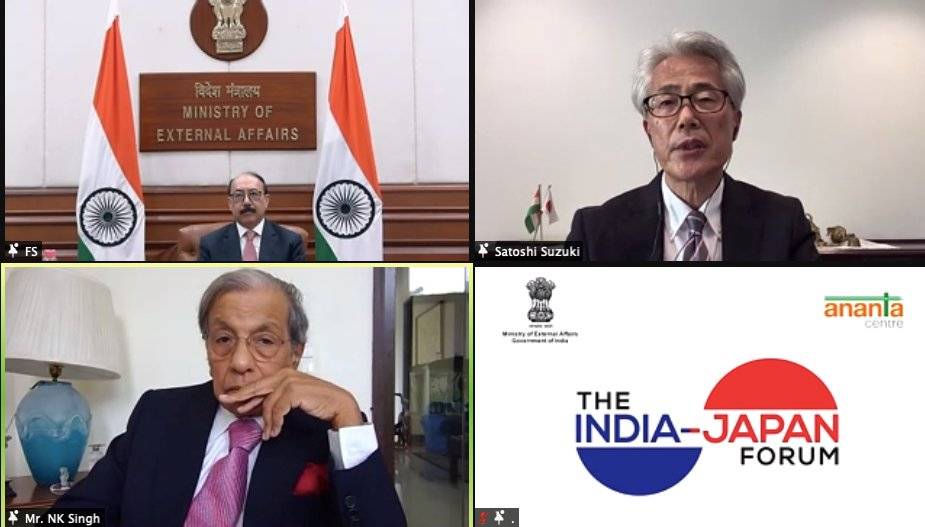 He added that there is a scope for creating new partnerships in the economic domain, including in manufacturing, agriculture, digital technologies, start-ups and clean energy.
Stating that people-to-people linkages are a critical pillar of India-Japan relationship, he said, "Our partnership in Skill Development has gained prominence in recent years, with Japanese companies establishing 16 Japan-India Institutes of Manufacturing and 5 Japanese Endowed Courses to skill Indian youth in Japanese work culture and manufacturing processes."
He said with the signing of the agreement on Specified Skill Workers earlier this year, the movement of skilled human resources from India to Japan will get a further boost.
"The time may have come for the two sides to consider a Migration and Mobility Partnership Agreement to facilitate mobility and migration of professionals and highly-skilled workers, on lines that India has signed with other countries."
As regarding India-Japan defence partnership, he said Japan is the only partner with which India has an Annual Summit as well as a 2+2 Foreign and Defence Ministers dialogue.
"We have signed an Agreement on Reciprocal Provision of Supplies and Services. There is an increasing regularity of exercises between our respective forces. Cooperation between India and Japan on defence, equipment and technology holds immense potential and needs to be deepened further."
In the context of the two countries' partnership in the Indo-Pacific region, he said, "Progress in the economic pillar of our ties has been accompanied by an increasing convergence in our strategic outlook towards the region. This is reflected in our shared vision for a free, open and inclusive Indo-Pacific region. This convergence is not only seen in bilateral exchanges but also in the increasing comfort in working with other like-minded partners through plurilateral forums, involving other partners. In addition, Quad consultations along with the US and Australia provide a platform for these four countries to explore ways to synergize their respective efforts towards the region." (India News Network)