Advertisement

The general impression is that not only the IAS and IPS officers but also the J&k Administrative and Police service officers are above the law', even if found law unto themselves…reports Asian Lite News
With a few exceptions like the former Chief Secretary level officers Ajit Kumar and Iqbal Khanday, there is no tradition of booking or arresting IAS and IPS officers or conducting raids on their premises in Jammu and Kashmir. Sundays raids by the Central Bureau of Investigation (CBI) teams on the residences of two IAS officers, Shahid Iqbal Choudhary and Niraj Kumar, notwithstanding a considerable level of pessimism, makes it clear that membership of the elite All India Services club would be no more an immunity in implementation of the rule of law in the Union Territory.
A 1970-batch IAS officer, Ajit Kumar, was arrested by the J&K State Vigilance Organisation, now known as the Anti-Corruption Bureau (ACB), in 2004 after he went underground following the charges of his involvement in a large scale procurement of jute matting for the government schools at exorbitant rates in 1997-98. In 1999, Vigilance Organisation Jammu had booked Kumar and several others in FIR No: 69. He was subsequently released on bail.
Charge sheet was produced in a court against Kumar and others in March 2015. Thereafter, nobody knows about Kumar who retired silently. None of the accused, who included former Directors of School Education of Kashmir and Jammu, is known to have been convicted.
Iqbal Khanday, IAS-1978, was Principal Secretary Planning when he was arrested by the CBI in 2006 in the infamous 'Srinagar Sex Scandal'. Months later, he was released and reinstated. Subsequently, the CBI's witnesses turned hostile and Khanday was appointed as Chief Secretary in 2013. He retired in 2015 and died in 2018.
Saji Mohan (IPS-1995) is the only IPS officer of the J&K cadre who was arrested and dismissed from service, in a drug peddling case of 2009, and convicted with 15-year imprisonment in August 2019. Another IPS officer of 1997 batch was booked and arrested over allegations of bribery during his inter-State deputation in Bihar. He was soon repatriated to J&K where he is now working as IGP. Nothing is on record about his prosecution. One more IPS officer of IGP rank has been placed under suspension multiple times.
The general impression is that not only the IAS and IPS officers but also the Jammu and Kashmir Administrative and Police service officers are �above the law', even if found law unto themselves. The CBI proceeding against some of them, significantly after the State's reorganisation into UT, is believed to have been sanctioned by the Union Ministry of Home Affairs which regulates the IPS as well as the IAS.
A highly placed source revealed that the CBI's demand of searches on some IAS officers' residences and offices was discussed and cleared early this year in a high level meeting presided over by the Union Home Secretary AK Bhalla. According to the source, it was flagged that one IAS officer, allegedly involved in J&K's 'gun licence scam' had a track record of impressive performance and had also received awards from the Prime Minister.
The consensus was over permitting the CBI to hold its investigation without interference from any side. So, when the CBI teams swooped down on the 40 premises on Sunday, none of the officers or arms dealers had an inkling of the raids. Officers in the J&K Police and the CRPF, who provide escort to the Central investigation and enforcement agencies, were completely tight lipped with regard to the locations under the crackdown.
It was some time in 2016-17 that a J&K Police intelligence wing learned about the gun licences being issued to a large number of 'outsiders' by different District Magistrates (DMs) and additional DMs.
There were reportedly three categories of the beneficiaries. Some of the applicants were genuinely working in Army, CRPF and other armed forces who wanted to obtain arms licences so as to get the job of security guards in private companies in their home States after retirement. Some of the applicants lived in different States, and never worked with the security forces. They invariably produced forged letters of recommendation from different Commanding Officers. A smaller category of the applicants included criminal elements from outside J&K.
A secret investigation pointed out that a network of agents was managing everything from the forged letters at DM's office to conversion of the licence into a document of the all-India validity at the State Home Department. However, there was no follow up action. Subsequently, ATS Rajasthan caught hold of a man who had transferred huge amounts of money to some bank accounts in J&K. During his sustained interrogation, he divulged that he had been obtaining arms licences from his relative Kumar Rajeev Ranjan, a 2010-batch IAS officer, who had served as DM of Kupwara.
The ATS Rajasthan filed an FIR and sent a questionnaire to the officers who had surfaced as suspects during the investigation. J&K's Vigilance Organisation filed two FIRs but the government did not cooperate with ATS Rajasthan. Consequently, DGP Rajasthan recommended a CBI investigation which was approved by the government and subsequently ordered by the Centre. On Governor NN Vohra's orders, the investigation was finally assigned to the CBI which registered its own FIRs in 2018. It alleged that during 2012-2016, DMs of 20 districts, had "fraudulently and illegally issued bulk arms licences in lieu of monetary consideration".
In March 2020, CBI arrested Ranjan and the former additional DM of Kupwara, Itrat Rafiqui. In a statement, CBI claimed that the two officers, one each from IAS and KAS, had fraudulently issued a large number of the gun licences from 2013 to 2016. In December 2019, CBI conducted a series of raids and searched as many as 17 locations in J&K, Punjab and Delhi NCR.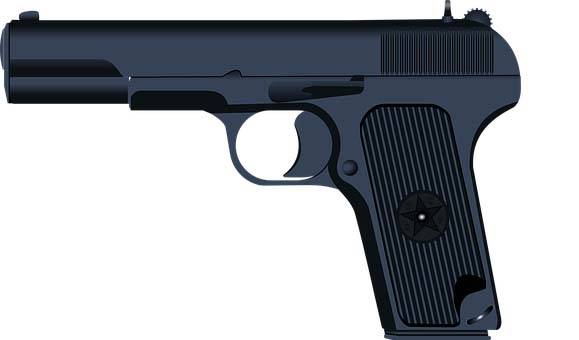 The agency statement said: "CBI conducted searches at locations spread over Srinagar, Jammu, Gurgaon, Mohali and Noida at the premises of then DC/DM Kupwara, Barmula, Udhampur, Kishtwar, Sopian, Rajouri, Doda, Pulwama, in an on-going investigation of the two cases related to allegations of issuance of around two lakh arms licences from different Districts of Jammu & Kashmir by their respective DC/DM." The searches were carried out at three places in Kashmir, 11 places in Jammu and one each in Gurugram (Haryana), Mohali (Punjab) and Noida (Uttar Pradesh).
On July 12, 2018, then J&K Governor Satya Pal Malik revoked individual gun licences issued between January 2017 and February 2018, citing unearthing of fake gun licensing rackets through "various investigating agencies, particularly ATS and SOG Rajasthan."
According to the Rajasthan officials, 1,32,321 of the 1,43,013 licences in Jammu division's Doda, Ramban and Udhampur districts had been issued to non-State subjects. They established that, in all, 4,29,301 gun licences had been issued during the period under investigation in J&K and only 10 per cent of the beneficiaries were the State subjects.
A sample survey of licences in Kupwara showed that no files or registers had been maintained and most of the licences had been issued to outsiders on forged documents.
While the second major crackdown was underway on Sunday, 25 July 2021, the CBI said in a statement that the operation was part of the investigation of FIRs No.18 of 2018 of Vigilance Organisation Kashmir and FIR No. 11 of 2018 of Vigilance Organisation Jammu. It said that in 2012-16, over 2.78 lakh arms licences had been issued to non-entitled persons.
"The Central Bureau of Investigation is today conducting searches at around 40 locations including at Jammu, Srinagar, Udhampur, Rajouri, Anantnag, Baramulla, Delhi at the official & residential premises of certain then public servants (including IAS, KAS Officers, then DM, then ADM etc.), around 20 gun houses/dealers in an on-going investigation of a case related to arms licence racket", said the CBI statement.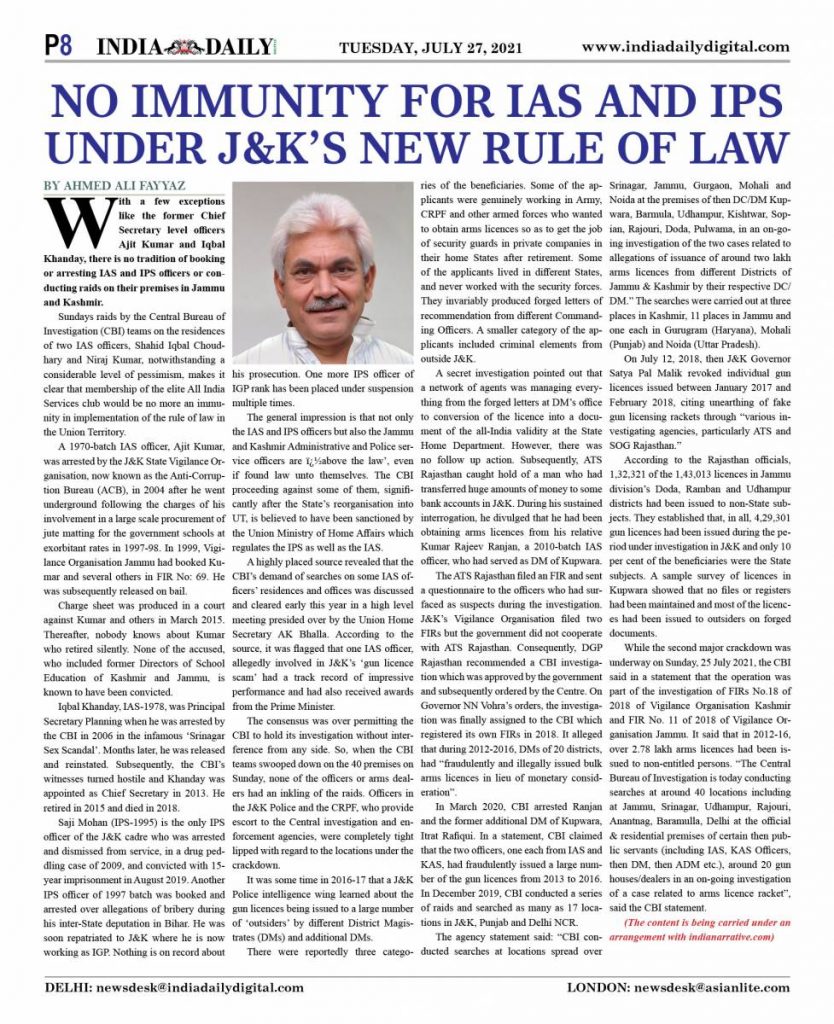 It added: "During investigation and scrutiny of documents, the role of certain gun dealers was found who in connivance with the public servants i.e. the then DM and ADM of concerned District had allegedly issued such illegal arms licenses to the ineligible persons. It was also alleged that the persons who got these licenses were not residents of the places from where the said arms licenses were issued".
Early this year, CBI has launched an extensive investigation, on the direction of a bench of the Jammu and Kashmir High Court, into the irregularities pointed out in vesting of proprietary rights over the State lands in the occupation and possession of thousands of the beneficiaries of the infamous Roshni scam. According to the insiders, over 40 IAS and KAS officers, including former DMs — some of them currently posted as Secretary to Government of India or the Government of J&K — have been allegedly involved in criminal violations of the laws in the two investigations.
Even as many people in J&K believe that most of the highly placed and influential IAS and KAS officers — retired as well as in service — would be spared and eventually taken off the hook, sources insist that all the accused would be interrogated, arrested and prosecuted as per the evidences available against them.
(The content is being carried under an arrangement with indianarrative.com)