Advertisement

Amit Shah's maiden 3-day visit to Jammu and Kashmir after the abrogation of Article 370 has assumed significance in the backdrop of recent attacks on civilians by militants in the Valley, reports Asian Lite News
Union Home Minister Amit Shah on Saturday said that after the delimitation process, there will be elections in Jammu and Kashmir after which statehood would be restored.

Giving the roadmap for the restoration of the democratic process in J&K, which was stalled after the resignation of Mehbooba Mufti led PDP-BJP coalition in 2018, Amit Shah told a large gathering of youth here, "First the delimitation process will be completed after which elections will be held. This will be followed by restoration of statehood."

"I have said this on the floor of the Parliament".

The union home minister said curfew restrictions were placed following the abrogation of Article 370 were important to save lives of "our brothers and sisters in Kashmir".

"It was like a bitter pill prescribed by the doctor for our long term betterment", he said.

Shah asserted that August 5, 2019 would be written in gold letters in the history of J&K.

"On that date ended the exploitation of the innocent people, dynastic rule, corruption and misgovernance", he said.

He emphasised the fact that after August 2019, the situation has improved in J&K.
"Stone pelting is now a thing of the past", he added.

Describing Prime Minister Narendra Modi's vision about J&K, he said, "Modiji wants Jammu and Kashmir to be a 'giver' and not a 'taker' region of the country.

"Before August 5, 2019, what did the 70 years of Independence give J&K — 87 assembly, 6 Lok Sabha seats and three families?

"I do not need to name those families", Shah told a youth gathering in Srinagar on Saturday afternoon.

The Union Home Minister said that it was Narendra Modi who decided that while the Ayushman Bharat Yojana entitles the weaker sections of the society for Rs 5 lakh medical treatment in other parts of the country, this facility should be available to every citizen in J&K.

Shah said it is the vision of the Prime Minister that J&K should become a giver rather than a taker region of the country.

"During the 70 years till 2019, only 500 medical seats were available and after 2019, this number has increased to 1,120 and would soon be doubled.

"This did not happen during the 70 years till 2019 because those people were not interested in development, they played politics", he said.

Most of the national flagship programmes have achieved their targets in J&K. Swachh Bharat mission has achieved its complete target and every household in J&K has a toilet today.

He said 100 per cent homes in J&K have electricity and LPG connections.

Talking about the security situation, he said, "Those against peace and normalcy in J&K will be dealt with most strongly."

"No concession will be shown to such forces".

He said employment processes have been made completely transparent wherein merit is the only way to employment.

Old age pensions and other financial support schemes are now implemented through direct bank transfer and there is no question of any middleman interfering with these schemes.

Earlier, addressing a top security review meeting, the home minister told various security forces to show complete synergy and give the final push to end terrorism in J&K.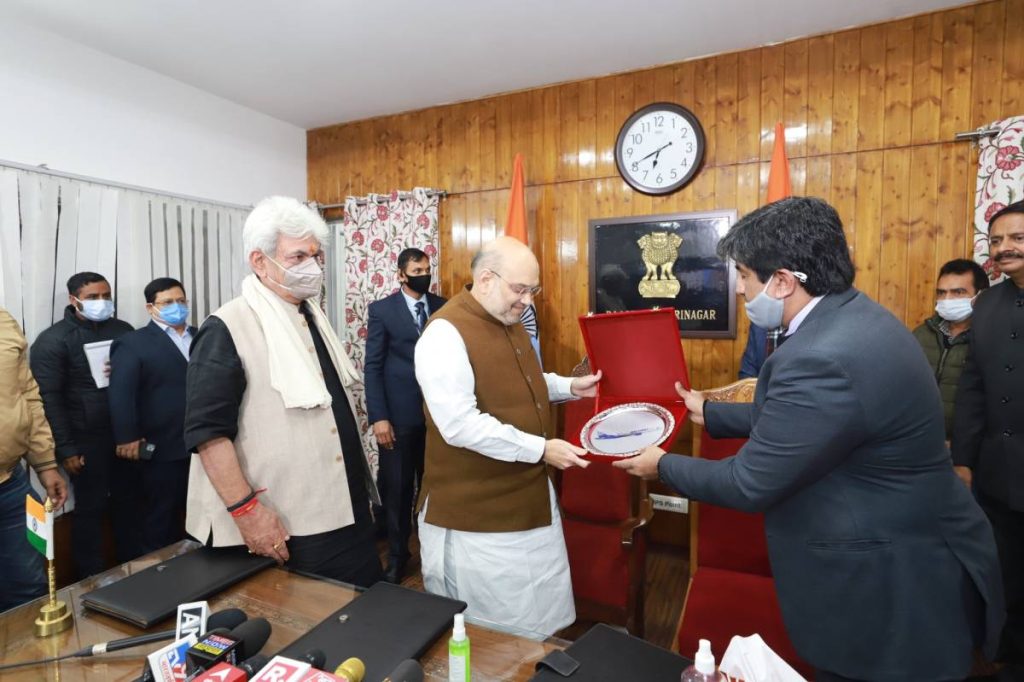 Shah's visit a morale booster

Amit Shah's current J&K visit is a morale booster for the officials and the nationalist people who have been holding tricolor close to their hearts despite facing threats and intimidations from the elements sponsored by Pakistan.

The Union Home Minister's J&K visit is a message to the militant sponsors, handlers and sympathizers that they won't be allowed to succeed in their nefarious designs and if they cast an evil eye towards J&K they would get a befitting reply.

Prime Minister Narendra Modi has emerged as a strong leader and after taking over as the reins of India he has told the world in clear terms that no one will be allowed to interfere in the internal matters of the country. After J&K's special status was abrogated, Pakistan knocked every door to seek intervention, but it didn't get any support from anywhere, not even the Muslim countries.

Recently, the J&K Government signed a Memorandum of Understanding (MoU) with the United Arab Emirates to become a part of the development projects in the Union Territory. The move pinched the neighbouring country.

Former Pakistani diplomat Abdul Basit while reacting to the signing of MoU termed it as a "major success for India."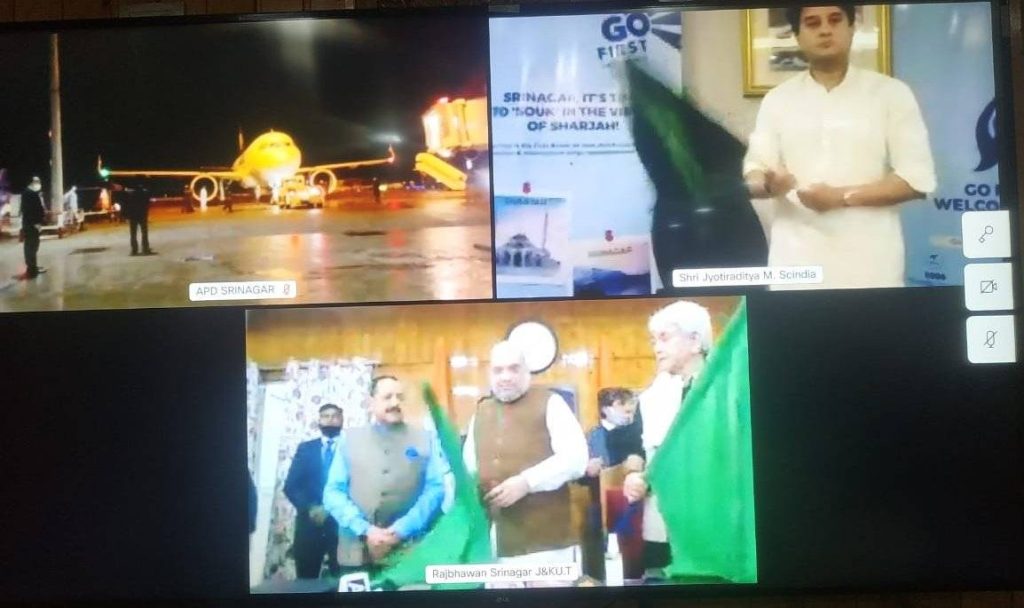 Inaugural Srinagar-Sharjah flight flagged off
The inaugural Srinagar-Sharjah flight was flagged off on Saturday by Home Minister Amit Shah from Sheikh-ul-Alam International Airport.

The flight, operated by Go First, took off for Sharjah at 6.30 p.m. from Srinagar and was scheduled to land in the United Arab Emirates (UAE) around 9 p.m. IST.

The flight revives direct air link between the Valley and the UAE after 11 years.

All passengers travelling to the UAE are required to carry a negative Covid test report obtained less than four hours before the departure of the flight.

Passengers are required to report six hours prior to departure and the Covid test reports will be handed over to them in 30 to 60 minutes from the time of sample collection by the special lab set up by Go First at Srinagar airport.

The flight was virtually flagged off by Shah from the Raj Bhavan.

Go First, formerly known as GoAir, is the first airline to start direct international passenger and cargo operations from Srinagar.

It will operate four flights a week between Srinagar and Sharjah.

The airlines is offering a special ticket price of Rs 5,000 on the flight to Sharjah.

"Having been in operation here for over 15 years, we at Go First share a special relationship with the region and are committed to its growth.

"We are delighted to be the first airline to connect Jammu and Kashmir with the UAE and it bears testimony to our commitment to the region.

"We believe that this connectivity will be pivotal in bilateral exchange of trade and tourism between the two regions", Go First statement said.

The direct flights from Sharjah will offer seamless connections to Srinagar and beyond to Chandigarh, Delhi, Jammu, Leh and Mumbai and vice versa.

"Go First is the only airline appointed for the cargo movement of the horticultural, perishable and agricultural produce of Jammu and Kashmir Horticulture Products, a state owned company", the airlines said in a statement.