Advertisement

Sheikh Nahyan bin Mubarak Al Nahyan, Minister of Tolerance and Coexistence, on Tuesday received in his palace Pavan Kapoor, the Indian Ambassador, whose term to the UAE has ended…reports Asian Lite News
At the onset, he welcomed the Indian Ambassador, stressing that the UAE and India have deep-rooted historical ties that are witnessing further development, thanks to the support of the leadership of both countries.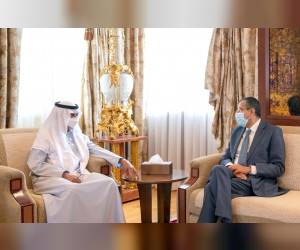 Sheikh Nahyan lauded the significant efforts and distinguished contributions of the Indian Ambassador during his work in the UAE in boosting cooperation ties and wished him success in his future endeavours.
The Indian Ambassador extended his thanks and gratitude to the UAE leadership and people for the warm hospitality, cooperation and support on all fronts, which undoubtedly contributed to making his job a success. He then lauded the visionary approach of the UAE and its efforts in strengthening international cooperation in the areas of peace, tolerance and human solidarity.
Meanwhile, the India Pavilion at Expo 2020 Dubai has hosted over 2,00,000 visitors as on 3rdNovember with various sector and state specific sessions to discuss India's growth roadmap. It also secured investment opportunities for the country and celebrated several cultural events to attract visitors.
"The October month was a huge success for the India Pavilion. We saw a strong visitor turnout and expect this momentum to continue in the coming months," said Dr. Aman Puri, Consul General of India in Dubai & Dy. Commissioner General for India at Expo 2020 Dubai.
"While the India Pavilion will showcase more business opportunities for collaboration and investment, the popularity of India's festivals, food, and cultural performances, have been crucial aspects in attracting visitors from across the globe", he added.
Besides sector specific weeks, the India Pavilion also hosted specific weeks for Gujarat, Karnataka and UT of Ladakh. The state of Gujarat organized events at the India Pavilion where Mr. Bhupendra Patel, Chief Minister, Gujarat virtually showcased the state's vibrant Pharma sector along with its plan for sustainable development.
ALSO READ: Syrian President receives Sheikh Abdullah in Damascus
Similarly, the Karnataka Week also witnessed the presence of Shri Murugesh Nirani, Minister, Large and Medium Scale Industries, Government of Karnataka along with Dr. C N Ashwath Narayan, Minister for Higher Education; IT & BT, Science & Technology; Skill Development, Entrepreneurship & Livelihood, Government of Karnataka.
Additionally, a series of events showcasing opportunities in Ladakh across focus sectors like sustainable infrastructure, connectivity, food processing and tourism were discussed during the Ladakh Week at India Pavilion.