Advertisement

Maharshtra's minister for Tourism, Skill Development and Entrepreneurship and Woman and Child Development BJP loyalist Mangal Prabhat Lodha – a reputed builder and politician will join his wife Dr Manju Lodha to launch her book ''Ankahin Kahaniyan'' at the Nehru Centre, London at 6.00 pm on 4th November, reports Asian Lite's Rahul Laud
Big wigs from trade, industry, government and Indian High Commission offices are expected to attend the launch and rub shoulders with India's Maharashtra state minister. Director of Nehru Centre, renowned author, writer  come diplomat, First Secretary, Culture  Amish Tripathi is also expected to attend the glamorous launch.  
Manju Lodha, a writer, poet, and philanthropist is the Chairperson of the Lodha Foundation which is involved in social activities. Author of 11 books , Manju is an orator and is never short of words. She takes care of Lodha Dham – a religious complex. She is the Founder of Gyan Gangitri Kavya Manch, which is the only women's literary organization for the development of literacy skills for housewives in Mumbai. She is running 3 libraries, which include the world's largest religious library with over six lac religious books and one 'Mobile' library. She has written 11 books in all.
The book 'Ankahin Kahaniyan'' pays homage to India's greatest revolutionaries and freedom fighters and narrates their emotional yet inspiring stories that laid the forefront of India's freedom and constitution. "It is about all the heroes of our country, be it soldiers, warriors, kings, and sultans, revolutionaries, freedom fighters, politicians who have led the country through very tough times and steered the country towards betterment and who are unsung ," says Manju.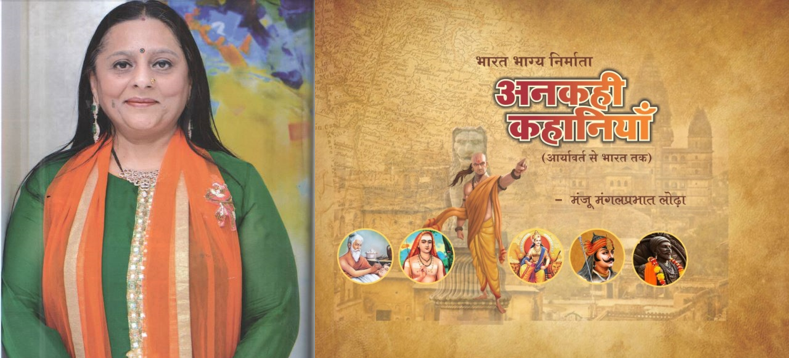 "This book is an ode to visionaries that revolutionised India through social, cultural and industrial reforms and an amalgamation of stories that have inspired me in my journey as an author, poet and philanthropist," Manju added.. From the powerful story of Savitribai Phule that revolutionized the Indian education system, to accounts of General Tatya Tope's rebellious victories, this book aims to inspire the youth of our nation through tales that are left untold.
Later minister Lodha will be joined in London by his core tourism team from Maharashtra – Saurabh Vyas IAS, secretary tourism; Dr B N Patil IAS Director, Directorate of Tourism and Dr Dhananjay Sawalkar, Dy Director, Directorate of Tourism Tourism who will pitch to attract tourists and trade at the World Travel Market between 7-9 November in London.
ALSO READ: Sanskruti-Veekshanam amazes audiences at Nehru Centre