Advertisement

Guest of Honour, Mr Sanjay Kumar Second Secretary Coordination High Commission of India UK graced the occasion on both days…reports Asian Lite News
As India was sleeping after a great celebration of the 73rd Republic Day marked by a historic flag hoisting atop Lal Chowk at Srinagar, the Indian diaspora in England began their evening of celebrations, past midnight IST.
As the Iron man Sardar Patel said once, "Every Indian should now forget that he is a Rajput, a Sikh or a Jat. He must remember that he is an Indian." IIW also celebrated Indian Republic Day 2022 bringing almost 40 kids and nearly 33 performances infusing the patriotic fervour in the atmosphere in the British land.
The remarkable event was hosted by the fascinating Team of IIW [Inspiring Indian Women], online on two days: 26th Jan 2022, 7.00 pm GMT, and 29th Jan, 4.00 pm GMT. A number of cultural performances of dance and songs marked the gaiety and splendour of the Show aptly titled as – 'Maa Tujhe Pranaam '!
Padmashri Bob Blackman, Honourable Member of the British Parliament was the Chief Guest on 26th. He recalled the yeoman services of the Indian community in the United Kingdom across all walks of life and wished everyone a healthy passage through the pandemic period. Lord Meghnad Desai was the Chief Guest on 29th January. He spoke about the supreme sacrifices made by Kasturba Gandhi.
Guest of Honour, Party Venkataramana, noted international Lawyer, award-winning Poet – Philanthropist who famously won many court-battles to safeguard the national wealth and treasures of India gracefully recited a patriotic song in Hindi and pointed out that variety, not diversity, formed the secret of India which is an ancient civilization with sacred principles of Santana Dharma forming the core of the Constitution which was adopted on this day in 1950.
Guest of Honour, Mr Sanjay Kumar Second Secretary Coordination High Commission of India UK graced the occasion on both days.
IIW acknowledged many individuals who gave their time to spread love for Bharat Mata. The Special Guests who attended on 26th and 29th Jan were Shri Amarjeet Singh Bhamra (Secretariat All-Party Parliamentary Group on Indian Traditional Sciences, Smt Sandhya Gandecha (Executive Committee member Lohana Community United Kingdom (LCUK)Lohana Community North London (LCNL) Senior Ladies Secretary), Smt Minal Jaiswal (Founder Indians in London organization), Smt Harsha Trivedi (BSNL) and Smt Sarita Rahul Kannada Organization ( Kaho ). Dr Arpita Ray (Founder trustee of Essex Indians charity and the United Kingdom Bengali Convention charity Director of Basildon Side by Side, a community interest company, founded Maitreya Bengali Club, teaches the Bengali language to the children), Smt Sulochana Sethi Founder Vedicca London Group for Senior Citizens, Smt Jai Verma (Chair Person of Kavya Rang, Director – Nottingham Asian Arts Council), Cllr Prabhakar Kaza (Banker and Labour Party Cllr representing Kenilworth South Borehamwood) and Shri Ambrish Agarwal (MD and CEO Esteema Capital Partner.
Community Leaders also acknowledged for devoting time for Bharat Ma on 29th includes, including Shalini Jain (Rajasthan Association UK), Vandana Jhingan (Midwest Bureau Chief TV ASIA; US Correspondent Hindi Khabar; Dy Treasurer Cook County IL, Chairperson of Media Council of GOPIO International (Global Organisation of People of India Origin), Anju Narang (Vice President Punjabi Society of British Isles), Raj Tiwari (Founder of Mangalam HCRG), Sheila Maharaj (Sheila Maharaj is a third-generation Hindu Girmitya woman. Born In Trinidad Sheila settled in the U.K. and lives in London where she worked until retirement with Children, Families, and Older People. She has been active on various platforms and places promoting Hindu Ekta. She is a student of Swamini Atmaprakasananda of Arsha Vidya U.K.), Geeta Shah (Founder of Women to women Diamond The group aims to entertain, engage, educate, empower and embrace women empathetically worldwide through its activities. ), Ambareesh Agarwal (MD and CEO Esteema Group)
Dr Vivek Kaul (Dr Kaul was named Vivek by Swami Ranganathan of Rama Krishna Mission. Vivek has been a keen student of Swami Vivekananda's vision, working hard to understand the lack of Unity among fellow brethren), Nimit Shishodia, Founder Sohum Foundation
The programme on 26th started with National Anthem sung by 3 years old Riyaanshi.
Others who expressed their patriotism were Akhila Rao, Gaurav Chaturvedi, Angelique Parvez, Iravati Mulmule, Vini Kalia, Monidipa Seal ( Manika Veena) , Dharti Vasani, Aadya Academy of Fine Arts, Deshbhakti Quiz by Microsoft Trainer Raj Rawat, Anashmita Saha,, Raksha Jethwa, Shweta Dhall, Sonia Sharma, Yuvraj sinh Jadeja, Janaki Mehta, Harrow care plus, Pracheeti Dange, Yoga child Prodigy Ishwar sharma, Indira Sharma and the versatile Singer Anamika Agarwal.
Some of the children who expressed their love for Bharat on 29th were-Pavaki Mahendroo, Khrivisha Manikandan, Charvi Roy, Varshith, Mayukhjit Chakraborty , Aarna Chaturvedi , Rohit Sowmy , Vedika Academy Students, Nakshatra, Niharika, Meenakshi, Meera and Harshini, Vedaanshi Srivastava, Prerna Vaideeswaran, Vikram Ashwath, Nia Prakash, Atreyee Debroy, Ryan Gupta & students of Piya's Hindi Class – Shreeja, Biancaa, Atharva, Shreeja, Ali, Vedika, Annanya, Heena with kids, Shreya Ithape, Varshith Kokkonda, Nalan Thiyagarajan, Students of Deega Yoga, Keya Gohil, Parav Chatterjee, Babitha and her son Tanmay, Ananya, Jeshna & Prajna, Vedant, Sunny. B. Lalitchandra, Riyaanshi, Eesha, Praneel Shirish Kabade, Students of Aadya Dance Academy, Students of Abhinaya Fine Arts.
The event was hosted by Darshini Joshi, Deepika Ganesh and Dr Harpal Singh. The backend support was provided by Pavithra Venkatesh, Heena Zala and Raj Rawat.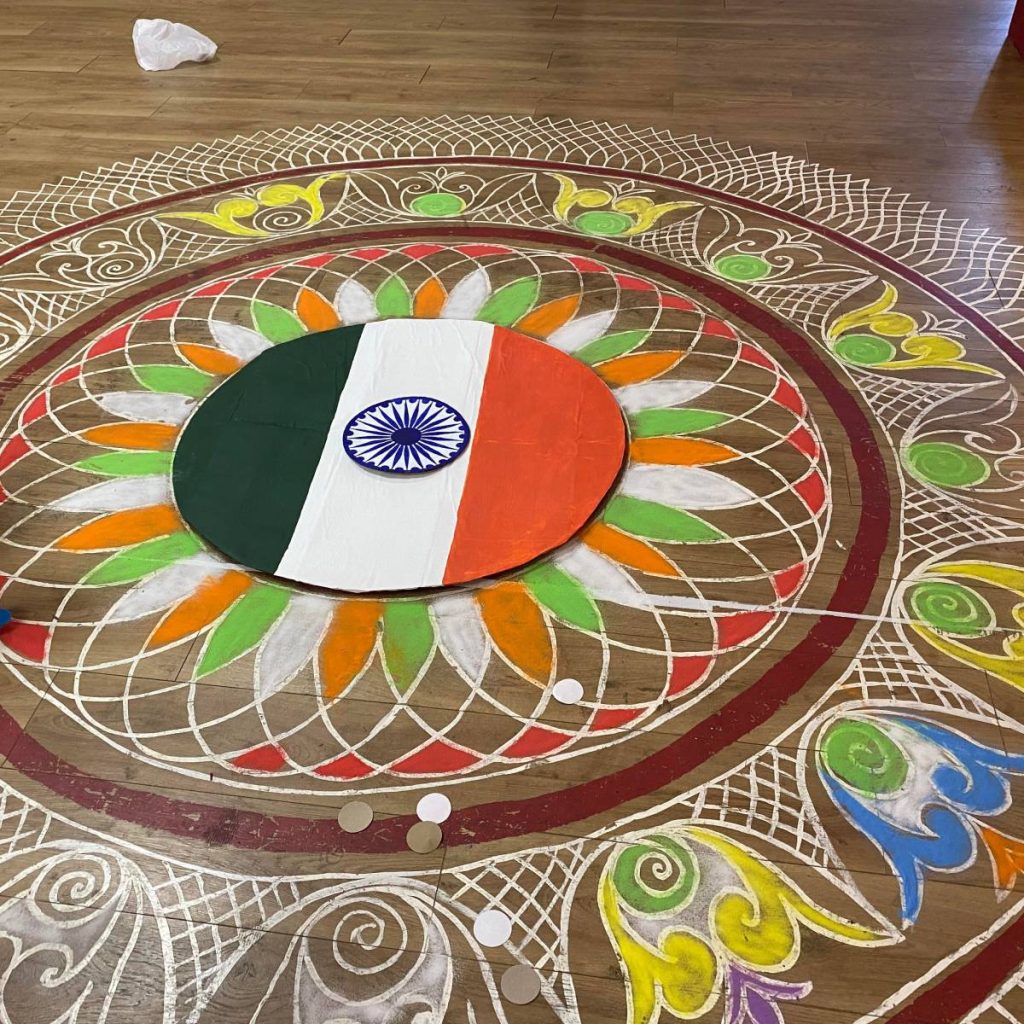 Under #azaadikaamritmahotsav, IIW continued its celebrations by getting ladies especially led by Nivedita Singh, Cllr Pushpa Makwana, Divya Chari and Ruchita Brahmkshatriya to make huge Rangoli in various places like Croydon, Mahalakshmi Temple ( East London) and the Highlight being massive Rangoli at Trafalgar Square.
Nearly seventeen ladies sent Republic Day messages from IIW which were later tweeted by the High Commission of India in the UK. As the Azaadi Mahotsav continues giving a great sense of pride and value to the sacrifices made for this freedom, the famous poem by our beloved Shri Rabindra Nath Tagore rings in our ears,
"Where the mind is without fear
and the head is held high,
where knowledge is free.
Where the world has not been broken up into fragments by narrow domestic walls.