Advertisement

Gehlot also hinted that he shall continue as CM as he asked MLAs to start working for the Budget…reports Asian Lite News
In a meeting of the Congress Legislature Party, Rajasthan Chief MInister Ashok Gehlot has indicated that he will file his nomination for the post of national president of the party.

Addressing the meeting, Rajasthan CM said, "I will try to convince Rahul Gandhi for the last time, if he does not agree, then I will trouble you and follow the order of the high command."

Soon after his announcement, many MLAs were seen requesting him to stay here.

Answering them, Gehlot said, "Whatever I become, but I will not stay away from you, I will serve Rajasthan till my last breath."

In fact, he also hinted that he shall continue as CM as he asked MLAs to start working for the Budget.

Earlier, a dinner of all MLAs was held at the CM House in honour of Vice President Jagdeep Dhankhar. The Congress Legislature Party meeting was held after dinner.

Earlier, the media team of Raj CM announced his Delhi visit plan.

Gehlot, as per the plan, will leave for Delhi on Wednesday morning at 10 a.m. where he will meet some veteran leaders. In the evening, he will take a tour from Delhi to Kochi where he will meet Rahul Gandhi and will join the yatra symbolically. Gehlot may try to persuade Rahul to file his nomination for the post of president. Gehlot himself has indicated this in the meeting.

The CLP meeting on Monday night was called on an urgent basis without any pre planned note. The Assembly session is going on. Generally, such meetings are called before the start of the session, however this time the meeting was called after two days.

Earlier on September 17, in the meeting of the newly appointed PCC members, Gehlot had raised the idea of making Rahul Gandhi the president. All the leaders supported his proposal.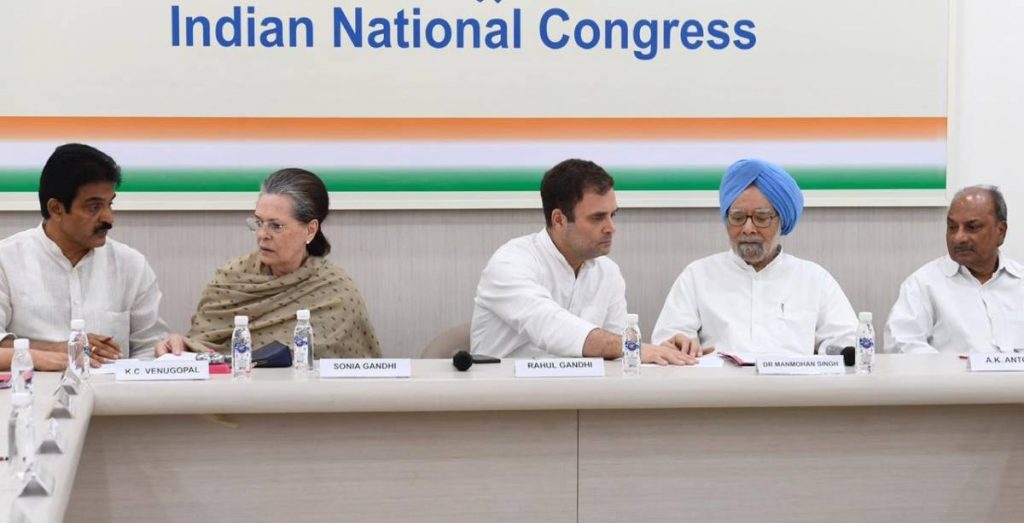 'It's up to Rahul'
Congress General Secretary (Organisation) K.C. Venugopal said on Tuesday that it's up to Rahul Gandhi to decide whether he will contest the election for the party President's post, adding that everything will be clear within a week.

Venugopal, who met interim party chief Sonia Gandhi on Tuesday, said, "I had some pending work of the party so I came to meet her."

However, he also claimed that every party worker wants Rahul Gandhi to be the next Congress President.

Earlier, Venugopal was asked to come to Delhi and meet Sonia Gandhi. The Congress leader was part of the party's 'Bharat Jodo Yatra' since it was launched from Kanyakumari on September 7.

Meanwhile, the Congress on Tuesday reiterated that anyone can contest the Presidential election since it is a democratic and transparent process where no nod is required from the party leadership.

Congress General Secretary Jairam Ramesh tweeted, "The entire party is immersed in making #BharatJodoYatra a success. Even so it's important to reiterate that any member is welcome to contest for Congress President. This is a democratic & transparent process. Nobody needs anybody's nod to contest, especially that of party leadership."

The election to pick the next Congress President will be held on October 17. It is likely that the main contest will be between Rajasthan Chief Minister Ashok Gehlot and senior Congress leader Shashi Tharoor.
Goa Congress backs Rahul
The Congress' Goa unit on Tuesday passed a resolution supporting Rahul Gandhi for party President's post.

"All elected and co-opted members of Goa Pradesh Congress Committee have resolved today that Member of Parliament and Congress leader Rahul Gandhi should be unanimously elected as President of AICC," the resolution stated.

According to Media Department Chairman Amarnath Panjikar, a meeting of newly-elected members from Goa was held here and passed the resolution.

Pradesh Returning Officer for Goa Mohan Joshi, state unit President Amit Patkar, South Goa MP Francisco Sardinha and Senior Vice President M.K. Shaikh were present.

According to GPCC office bearers, Rahul Gandhi has a pre-eminent place in the party and is an acknowledged leader.

"He has been relentlessly and fearlessly fighting against the wrong policies and communal agenda… his message of harmony and kindness has been lauded by all," the resolution said.

The resolution, proposed by Sardinha and was seconded by Shaikh, was passed unanimously.