Advertisement

Tharoor's demand has been backed by Kozhikode MP, M.K. Raghavan, who said that he would send a complaint to Sonia Gandhi and Rahul Gandhi in this matter. …reports Asian Lite News
 After the Youth Congress in Kozhikode reportedly backed off from a seminar for which it had invited Shashi Tharoor, the senior Congress leader and Thiruvananthapuram MP has demanded a probe into the matter by the party leadership.

The seminar titled 'Sangh Parivar and the challenges faced by Indian secularism' has reportedly been assigned to the Jawahar Youth Foundation.

Tharoor's demand has been backed by Kozhikode MP, M.K. Raghavan, who said that he would send a complaint to Sonia Gandhi and Rahul Gandhi in this matter. Raghavan also urged state Congress President K. Sudhakaran to constitute an inquiry commission to probe why the Kozhikode district committee of Youth Congress backed off from Tharoor's seminar.

Tharoor said that being the Member of Parliament representing Kozhikode, Raghavan has the right to intervene in the matter and demand a report from the Congress leadership as to why the Youth Congress district committee backed off from his seminar.

Raghavan also said that Kerala Congress must project Tharoor as its leader to make a comeback into state politics.

Meanwhile, senior Congress leader K. Muraleedharan, who is the MP from Vadakara Lok Sabha constituency in Kozhikode district, told mediapersons that no one can exclude Tharoor from Kerala politics.

Tharoor has commenced a tour of northern Kerala during which he is addressing seminars at different places, which many feel is his bid to make a space for himself among the educated middle class as well as the Muslim community with the support of the Indian Union Muslim League.

Raghavan is fecilitating his travels in north Kerala.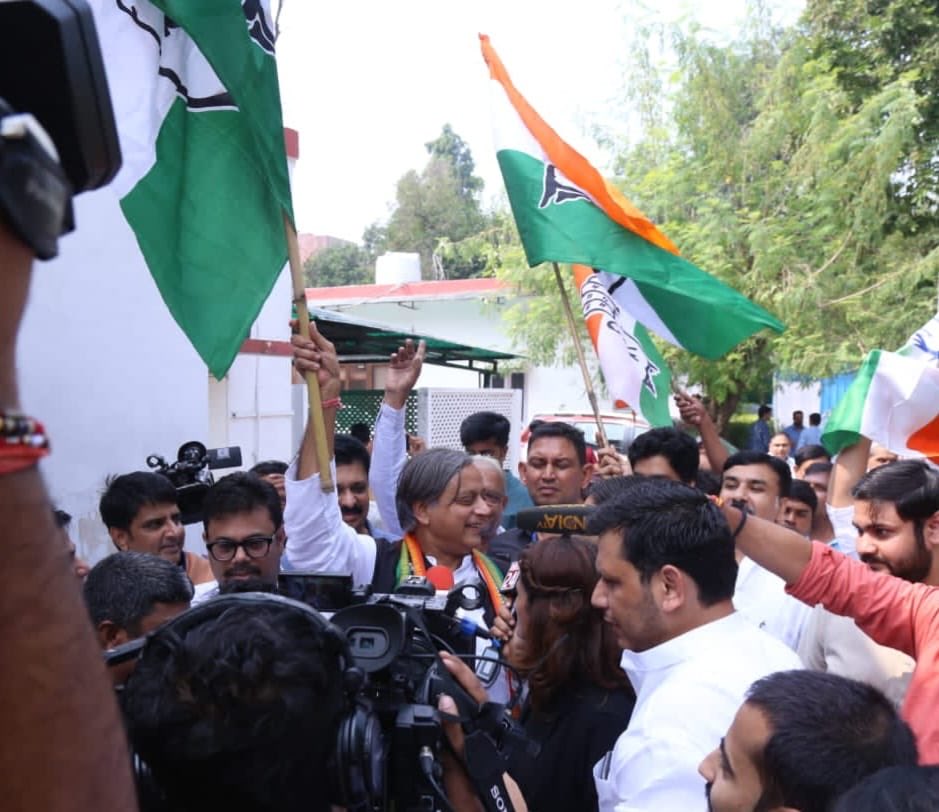 New group emerging
Tharoor, who had received a drubbing in the AICC presidential polls, is now trying to emerge himself as a new power centre in Kerala's Congress party.

He has been receiving flak from the local Congressmen due to his unavailability in the routine party affairs, leaving much of the communication to his team.

With the state Congress slowly showing a revival after the heavy loss it faced in the 2021 assembly elections, a group of leaders led by M.K. Raghavan is trying to catapult Tharoor into the top position if the party comes back to power in the 2026 assembly polls.
Even as most of the state Congress leaders are shying away from Tharoor, the three-term MP is aiming at the educated middle class to support him and to get ample of media support in the state to catapult himself in the big league.

However with K.C. Venugopal, as the powerful organising secretary of the AICC and close to Gandhi family, it has to be seen as to how far Tharoor will be able to move ahead in the Congress' organisational hierarchy.

Meanwhile, after reports of several DCCs keeping a distance from Tharoor's North Kerala tour, the AICC has clarified that it had not given any directive to the district Congress committees to refrain from participating in Tharoor's function.

Tharoor, the former United Nations senior official and three-time Lok Sabha Member from the state capital, has a dedicated fan following in the educated middle class who feels that a leader like him with his vast international exposure will be an answer to the Communist hegemony in state politics.

Dr Santhosh Nair, paediatric surgeon, Kannur, pointed out in a conversation with IANS: "What is the inadequacy for a well-read, well-educated person like Dr Shashi Tharoor who has proved his mettle winning back-to-back elections to Lok Sabha to become the Chief Minister of Kerala. He is the best bet for the Congress party at this juncture to revive itself from the dip it has gone into."

Dr Nair added: "Any right-thinking Keralite would vouch for Dr. Tharoor as we can easily resonate with him. The educated middle-class professionals want a highly reputed and educated individual as our Chief Minister and it is better if the Congress party projects him as their next leader."

Senior Congress leader and former minister Pandalam Sudhakaran, however, said: "Shashi Tharoor is a celebrity who has a global footprint. Still, any leader or cadre has to play within the ring set by the democratic Congress party and is someone is moving individually, then it's not good."

He added: "Tharoor may be having a fan club in state but that fan club is not a votebank and everybody should be under the party hierarchy for catapulting to the big league and individual forays are not accepted." (with inputs from Arun Lakshmanan)