Advertisement

History has proven that aggression and occupation will never lead to order, stability and calm … Iran, Jiordan, Turkey and Sudan condemn Israeli aggression at Al Aqsa
Iran's Deputy Foreign Minister Ali Bagheri criticized some Arab states for normalizing ties with Israel, saying interactions with Israel can't ensure these countries' security.
History has proven that aggression and occupation will never lead to order, stability and calm, Bagheri told a meeting with Iranian army commanders, according to the foreign ministry's website. Because of its occupying and aggressive nature, Israel has caused insecurity and tensions, he noted.
The interactions between some regional governments and Israel are "similar to taking refuge in a wolf's lair to protect oneself from the blissful spring rain," Bagheri said.
Jordan has said Israel bears full responsibility for the "serious repercussions" of the escalated tensions at the Al-Aqsa mosque compound in Jerusalem, according to a statement by the Foreign Ministry.
Israel's continuous steps to change the historical and legal status quo of Al-Aqsa mosque represent a dangerous breach of the international law, undermining all efforts to maintain the cease-fire for regional peace and security, said Foreign Ministry Spokesman Haitham Abu Al-Foul on Sunday.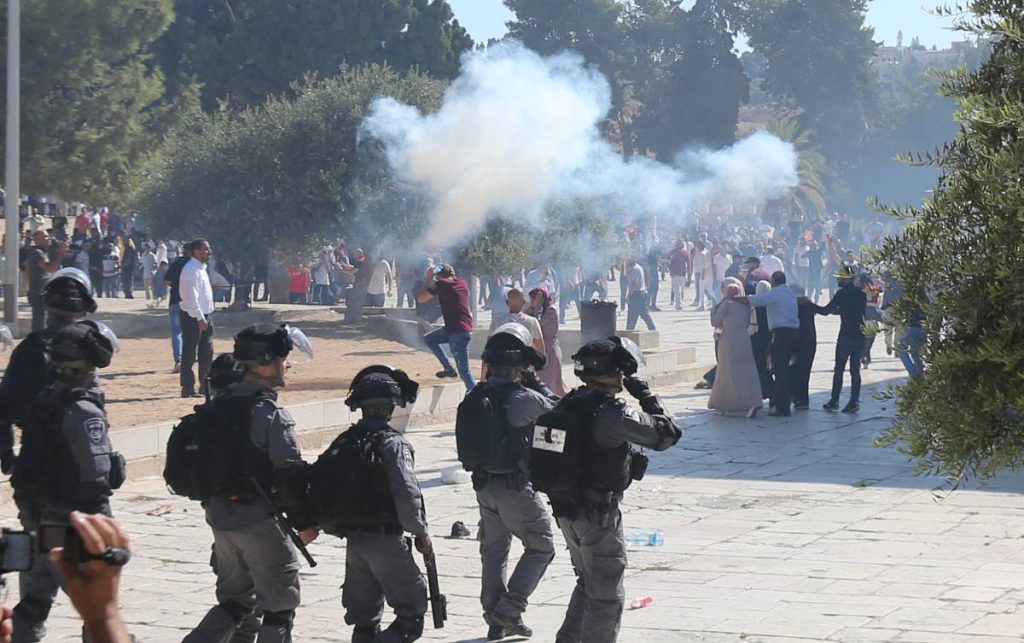 Condemning Israel for raiding Al-Aqsa mosque and banishing worshippers from the mosque, Al-Foul urged the international community to shoulder its responsibility and take immediate actions to pressure Israel to stop such practices, Xinhua news agency reported.
The Al-Aqsa mosque compound is a site holy to both Muslims and Jews, the latter of whom call it the Temple Mount. The mosque is currently under custodianship of the Jordanian royal family.
Turkish President Recep Tayyip Erdogan has condemned Israel's actions against the worshippers in Al-Aqsa mosque in Jerusalem during his phone call with his Palestinian counterpart Mahmoud Abbas.
"During our conversation, I expressed that I strongly condemn Israel's interventions against the worshippers in Al-Aqsa Mosque and that we will stand against the provocations and threats to the status quo and spirituality of Al-Aqsa Mosque," Erdogan said on Sunday on Twitter.
"Turkey always stands with Palestine," he added, noting the events reaffirm the necessity for all Palestinian groups to work toward unity and reconciliation, Xinhua news agency reported.
The relations between Turkey and Israel were strained in 2010 when a Turkish-led flotilla attempting to break Israel's blockade on the Gaza Strip clashed with Israeli forces, leaving 10 Turks on board dead. In a more recent spat in 2018, Turkey expelled the Israeli Ambassador to Turkey after the US moved its embassy to Jerusalem.
The two countries have been working on a rapprochement in recent months. On March 9, Israeli President Isaac Herzog paid a visit to Ankara, during which Erdogan said he "clearly expressed Turkey's sensitivity on the issue of Palestine."
 Meanwhile, Sudan on Sunday condemned Israeli forces' raid on Al-Aqsa Mosque.
ALSO READ: Jordan slams Israel for tensions at Al-Aqsa mosque
Sudan called on the international community to play its role in holding Israel fully responsible for the repercussions of such crimes and violations against the defenseless Palestinian people, their land and the holy sites, according to a statement by the country's foreign ministry.
The ministry also demanded the Israeli government immediately stop the violations and its continued attempt to Judaize Jerusalem by imposing what it called a fait accompli policy.
Sudan reaffirmed its stance toward the right of the Palestinian people to self-determination and the establishment of an independent state with East Jerusalem as its capital.