Advertisement

"I wish to translate Bharat Bhagya Vidhata book into English and release it in the UK in collaboration with Sanskruti Centre for Cultural Excellence. I also wish to felicitate some senior and young cultural ambassadors in the UK to express appreciation. I am very glad to associate with Sanskruti Centre which has been doing great work in highlighting the cultural and linguistic diversity of India."
Poetess and well-known philanthropist Manju Lodha has always been a keen promoter of literature and culture. She has been consistently taking initiatives to improve literacy & public speaking among women. She now collaborates with Sanskruti Centre, UK for cultural and literary initiatives in the UK.
In a conversation with Asian Lite, she outlines her ideas and plans for the foreseeable future.
AL: Tell us how you feel about visiting London periodically.
ML: London and Londoners give me so much affection and warmth, that I always feel I am only visiting my second home. I made several friends here over a period of time. When I attend occasions such as Holi and Gangaur. I do note that people in the UK are very passionate about celebrating traditions.
AL: You are keen on promoting art and culture. What is your vision?
There is an immense delight in bringing out our art forms, giving us huge inner satisfaction. The link between arts and happiness is well known. For example, when Lord Krishna played the flute, it made everyone around him happy. Similarly, Lord Nataraja's dance is the touchstone for delight and joy. As I hail from Rajasthan, I am keen that the art forms of Rajasthan such as majestic Ghoomar and Kalbelia should be showcased to wider audiences, especially through arts organisations such as Sanskruti Centre for Cultural Excellence. As there is also Rajasthan Association in London, we can all come together and do wonderful programs.
AL: What is your most cherished memory?
ML: Our Foundation has organised the 50th year of Ai Mere Watan Ke Logon song in Mumbai in 2014. Lata Mangeshkarji, Kavi Pradeepji's daughter, honorable Narendra Modiji, and other dignitaries were in attendance, with about 150 000 audiences. I have invited the soldiers, decorated officers, and families of the deceased to attend this function. Felt really blessed when all the 150 000 sang this song, which overwhelmed the soldiers. After this event, I published a book exclusively on all the Param Veera Chakra recipients and other officers.
AL: You have actively been authoring books and published several so far. Tell us about your upcoming book.
ML: My next book is ready. Titled Bharat Bhagya Vidhata, the book is in Hindi and includes the stories of freedom fighters and patriots who laid down their lives for the nation. I have especially included some unsung heroes so that their sacrifices are made known wider. In fact, we should have statues erected as a mark of respect, and as a way of raising public awareness about them. We are in an environment where the young generation can name 25 film heroes but cannot even name 5 real heroes who lived and led by example. It is our duty to highlight selfless efforts of such people in getting independence and pay tributes to them in the way we can.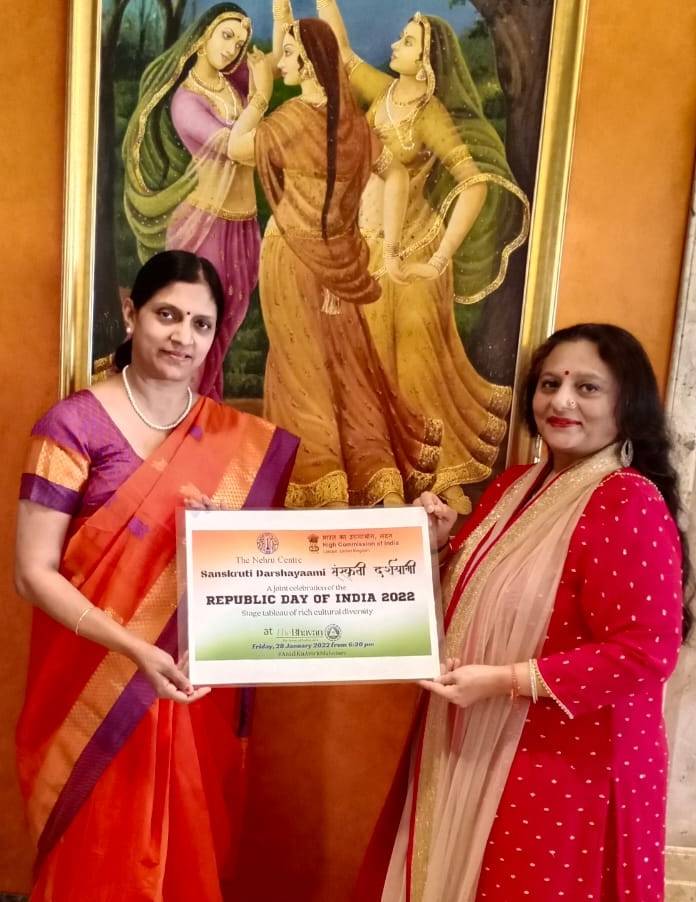 I wish to translate Bharat Bhagya Vidhata book into English and release it in the UK in collaboration with Sanskruti Centre for Cultural Excellence. I also wish to felicitate some senior and young cultural ambassadors in the UK and express appreciation. I am very glad to associate with Sanskruti Centre which has been doing great work in highlighting the cultural and linguistic diversity of India. I wish to do some joint programs whenever I visit Britain henceforth.
AL: What would be your message for others?
ML: There is always a payback time to society and to the country, and we should do our part. Thanks to leaders such as honorable Modiji under whose able leadership India is becoming Vishwa Guru again. Why not we too contribute our bit and make the world a better place.
ALSO READ: Sanskruti Darshayaami – Captivating Republic Day celebrations in London