Advertisement

Saudi King Salman Bin Abdul Azis, UAE President Sheikh Mohamed bin Zayed Al Nahyan, Sultan of Oman Haitham Bin Tarik, Qatar Emir Tamim bin Hamad Al Thani were among the Arab leaders congratulate India on its 76th Independence Day…reports Asian Lite News
Saudi Arabia's King Salman led the Arab leaders to congratulate Indian on its 76th Independence Day. The main event took place Red Fort in New Delhi where Prime Minister Narendra Modi addressed the nation. He called for moving India forward with five pledges to achieve the dreams by 2047. Modi said that India must be a developed nation in 25 years.
"The Custodian of the Two Holy Mosques King Salman and HRH Crown Prince Mohammed bin Salman congratulate President of the Republic of India on Independence Day," said an official tweet.
Other Arab leaders also congratulate India on its 76th Independence Day. Sultan of Oman Haitham Bin Tarik sends a cable of congratulations to President Droupadi Murmu. Qatar Emir Tamim bin Hamad Al Thani was among the Arab leaders who congratulated India on its landmark day.
President His Highness Sheikh Mohamed bin Zayed Al Nahyan has sent a congratulatory message to President Droupadi Murmu. His Highness Sheikh Mohammed bin Rashid Al Maktoum, Vice President, Prime Minister and Ruler of Dubai, also sent similar messages to President Murmu and to Prime Minister Narendra Modi on the occasion.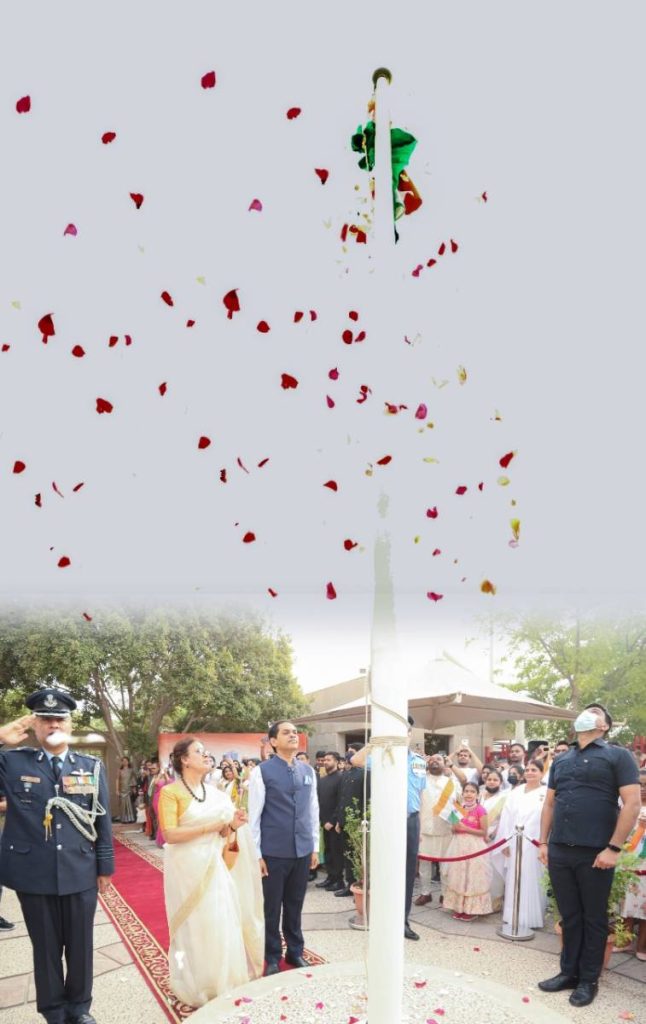 Five Pledges
"In the coming years, we have to focus on 'Panchpran' (5 pledges)," said Modi in his speech. "First: to move forward with bigger resolutions and resolve of developed India; second: to erase all traces of servitude; third: be proud of our legacy; fourth: the strength of unity; and fifth: the duties of citizens that also includes the PM and CMs."
"Working towards a Viksit Bharat, remember the time before Independence… yes, people had different methods of working but the goal was the same and the goal was big – the freedom of India. In this Amrit Kaal we have to come together and work towards another big goal of a Viksit Bharat," he said.
Modi urged the nation's youth from the rampart of Red Fort to dedicate the next 25 years of their lives to the nation's development. He said that we should work towards the development of the entire humanity.
"When the dreams are big, hard work is important. It needs to be inspired by the pledge and the determination of freedom fighters who dreamt of a free India," PM added in his historic speech.
Modi said that we have to put India first and this will pave the way for a united India.
India – UAE Relations
"While India engaged with all its partners around the globe, the India-UAE relationship has emerged stronger than ever," said Sunjay Sudhir, India's Ambassador to the UAE in his Independence Day message. "As if ordained by destiny, while India celebrated the 75th year of independence, the UAE also celebrated the Year of the 50th, to mark the Golden Jubilee of the formation of the UAE. Furthermore, this is also the year when our two countries complete 50 years of diplomatic relations.
"India and UAE jointly broke new ground with announcement of the I2U2 Group along with Israel and the United States in October 2021. In a matter of months, the I2U2 summit was convened between Prime Minister Modi, President Sheikh Mohamed, President Biden and Israeli PM Yair Lapid. With an outcome oriented approach, the I2U2 Joint statement was full of intent, content and key announcements, including an investment of $ 2 billion by the UAE to develop food parks in India and a USD 330 million joint project to develop renewable energy capacity of upto 300 MW in India. The goal of I2U2 transcends national boundaries and is aimed at harnessing the vibrancy and entrepreneurial spirit of the four societies to tackle some of the greatest challenges confronting the world today."