Advertisement

"Dr. Ambedkar has made indelible contributions to India's progress. This is a day to reiterate our commitment to fulfil his dreams for our nation."said Modi…reports Asian Lite News
President, Vice-President and Prime Minister on Thursday paid homage to Dr Babasaheb Ambedkar on his Jayanti.
Remembering Dr Ambedkar, President Ram Nath Kovind tweeted: "A strong advocate of social justice, as architect of the Indian Constitution Babasaheb laid the foundation of modern India. Let us do our part in building an inclusive society following his ideal of 'Indian first, Indian later and Indian last'."
In a tweet, Vice-President M. Venkaiah Naidu said: "My humble tributes to the architect of the Indian Constitution, Dr B.R. Ambedkar on his birth anniversary today. Babasaheb was a multi-faceted genius- a legal luminary, visionary statesman, outstanding constitutional expert, brilliant parliamentarian & social reformer."
"He was the voice of the socially oppressed and dedicated his life to the upliftment of the marginalized sections of society. His iconic life and noble thoughts continue to guide the nation," Naidu added.
In his tribute to Dr Ambedkar, Prime Minister Narendra Modi said: "Tributes to Dr. Babasaheb Ambedkar on his Jayanti. He has made indelible contributions to India's progress. This is a day to reiterate our commitment to fulfil his dreams for our nation."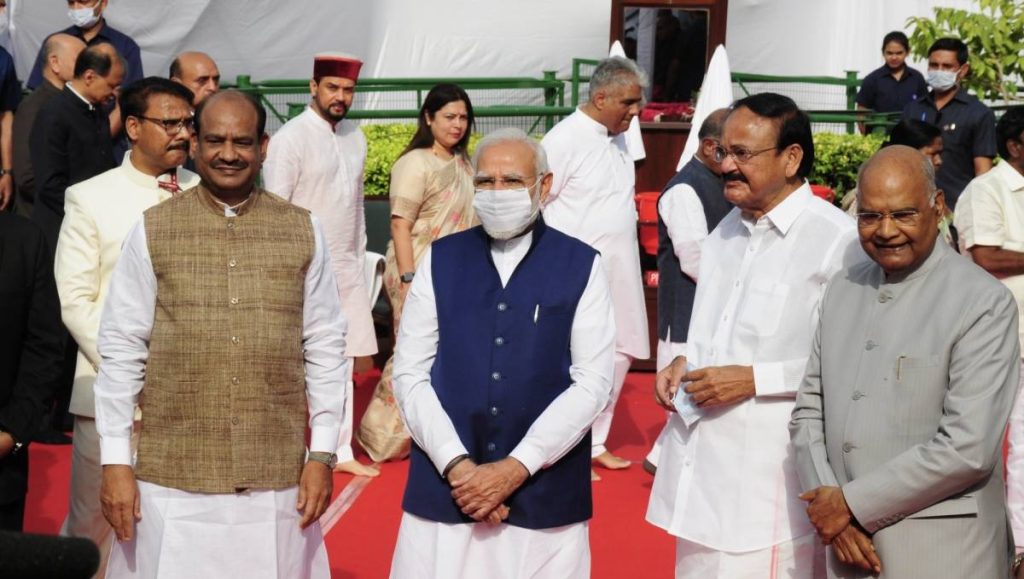 'Great son of India'
President Ram Nath Kovind on Wednesday greeted the fellow-citizens a day ahead of the birth anniversary of BR Ambedkar, architect of the Indian Constitution.
Extending his greetings and best wishes on the occasion of the birth anniversary of Bhimrao Ramji Ambedkar, the President said: "An economist and advocate of human rights and women empowerment, Dr Ambedkar is considered as a leading nation builder of our country. He contributed in promoting harmony and tried to eradicate the evils of the caste system. A true believer in the rule of law, Dr Ambedkar constantly worked for the rights of poor and backward classes."
"We should take inspiration from the life of this great son of India. A true homage to Dr Ambedkar would be to develop our country on the principles of 'Social and Economic Justice' and 'Equality of Status and Opportunity'," a communique from the Rashtrapati Bhavan said quoting the President.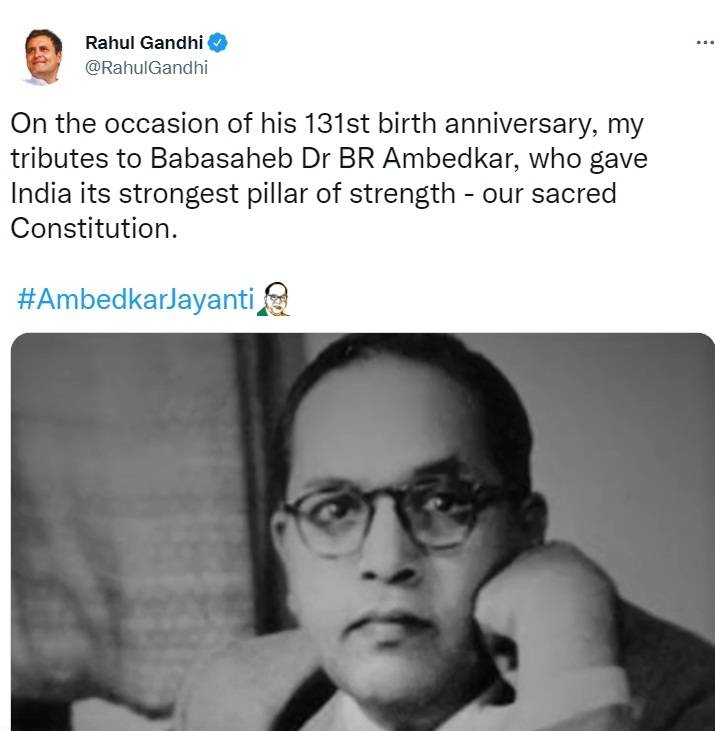 Congress pays tributes
The Congress on Thursday paid tributes to Dr B.R Ambedkar on his birth anniversary saying he gave the country its strongest pillar of strength – the Constitution.
Taking to Twitter, Rahul Gandhi said: "On the occasion of his 131st birth anniversary, my tributes to Babasaheb Dr BR Ambedkar, who gave India its strongest pillar of strength – our sacred Constitution"
The Congress said: "Babasaheb Ambedkar remains a champion of equality, human rights & social justice. His life & actions have been a source of inspiration for crores all over the world. On his birth anniversary, we celebrate the legacy of the man who gave India her Constitution. "
Congress General Secretary Avinash Pande said: "Ambedkar was architect of the Constitution, great economist and saviour of poor."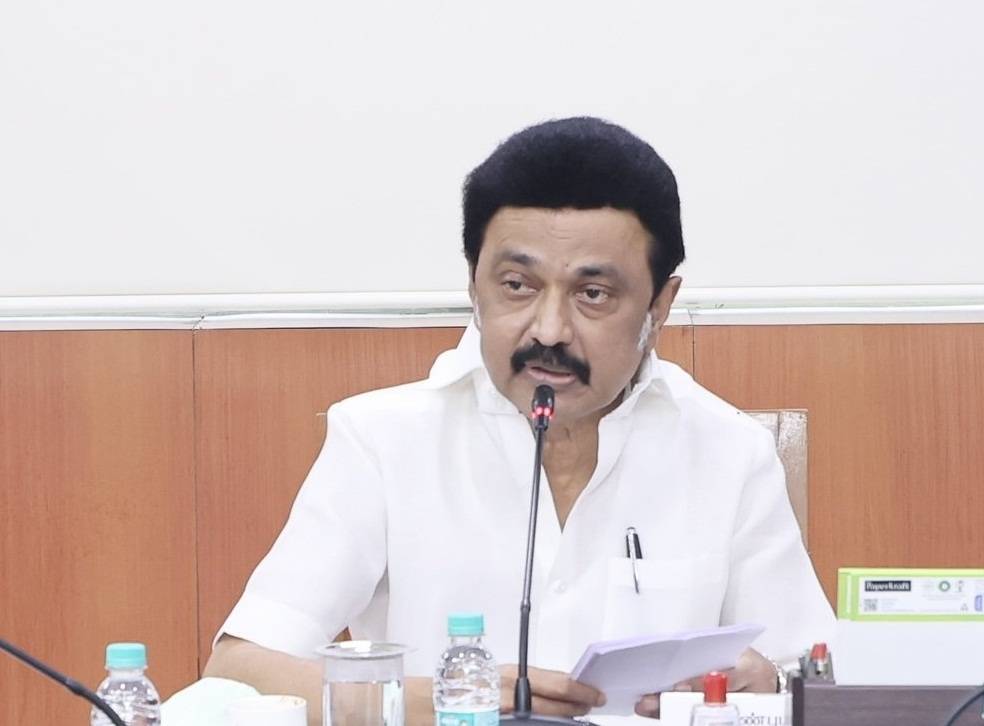 'Equality Day'
Tamil Nadu Chief Minister M.K. Stalin on Wednesday declared April 14, the birth anniversary of Dr. B.R. Ambedkar, would be celebrated as "Equality Day" from this year onwards.
The Tamil Nadu government has already declared September 17, the birth anniversary of social reformer E.V.S. Periyar, as "Social Justice Day".
Making the announcement in the Assembly, Stalin said that a pledge would be taken across the state on this day for upholding and following equality, and eschewingcaste discrimination.
The Chief Minister said that a live bronze statue of Dr Ambedkar would be installed at the Ambekar Manimandapam in Chennai following the request by VCK leader and MP, Thol Thirumavalavan.
He also said that selected works of Dr. Ambedkar would be published in Tamil, adding that the opinions of the great social reformer have relevance and substance and that it was a beacon for the future. He said that the decision came on a representation he received from the DMK MP, A. Raja.
The Chief Minister also said that the goal of social justice is achieving equality and added that the government would intervene in any issue which concern the Tamils. He also warned that any discrimination based on caste would not be tolerated and would be dealt with an iron hand.