Advertisement

India has also rushed 40,000 tonnes of diesel under a $1 billion credit line given to Sri Lanka. The ship carrying the fuel has reached the island nation, reports SPS Pannu
A consignment of Indian rice is being loaded for immediate shipment to Sri Lanka to help the island nation confronted with an acute shortage of food items.
The rice shipments would increase the availability of food and bring down prices, which have doubled in a year triggering street protests and leading to an emergency being clamped by the government to quell riots in the country.
About 40,000 tonnes of rice for prompt shipment to Sri Lanka is being loaded at India's ports in the south which are close to Sri Lanka. This is expected to ensure quick delivery ahead of the festive season in the island nation when demand is expected to shoot up further, according to a Reuters report.
The consignment forms part of the 300,000 tonnes of rice that will be shipped to Sri Lanka in the coming months.
Previous administrations led by the Rajapaksa family had taken Sri Lanka deep into China's fold which resulted in the country landing in a debt trade trap that is behind much of the current economic crisis. Relations with India had soured at the time.
Colombo has now strengthened its friendship with New Delhi and is receiving help from a more reliable neighbour.
India has also rushed 40,000 tonnes of diesel under a $1 billion credit line given to Sri Lanka. The ship carrying the fuel has reached the island nation.
The Sri Lankan economy is on the brink of collapse as it is running out of foreign exchange reserves and cannot import even essential goods such as food, fuel and medicines.
India is the world's biggest rice exporter and had agreed last month to provide the $1 billion credit line to help ease shortages of essential items, including fuel, food and medicines.
Cash-strapped Sri Lanka, with a debt burden of $6.9 billion this year, had sought another credit line of $1.5 billion from India to meet its import requirements.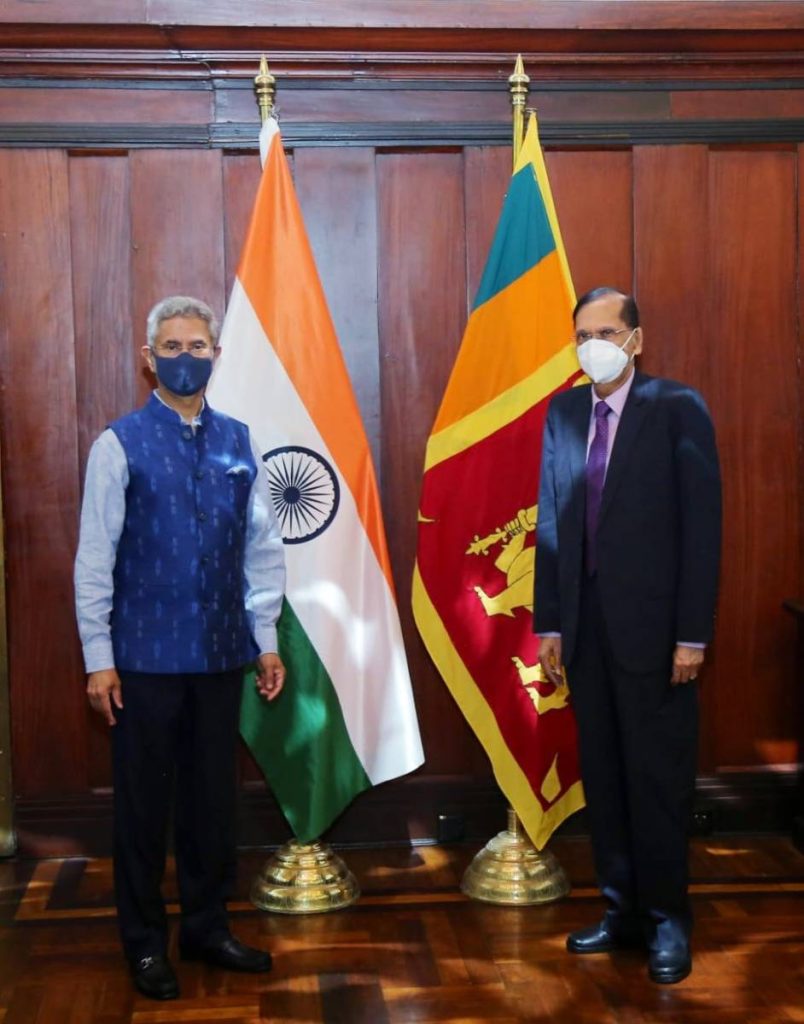 In February, New Delhi provided $500 million to Colombo that helped the island nation in oil purchases. A $1 billion credit line was signed during Sri Lankan finance minister Basil Rajapaksa's visit to New Delhi earlier this month.
Sri Lanka's economy has also been battered due to the Covid-19 pandemic adversely impacting tourism and remittances which played a key role in building its foreign exchange reserves. The crisis has also been exacerbated by government mismanagement.
Jaishankar to apprise PM about crisis
Amid political turmoil in India's two neighbouring nations – Pakistan and Sri Lanka, External Affairs Minister (EAM) S Jaishankar is meeting Prime Minister Narendra Modi in the national capital today.
According to sources, discussions are expected on the current scenario in the neighbourhood.
While speaking to media, MoS MEA Dr Rajkumar Ranjan Singh highlighted the ongoing problems in Sri Lanka and how India has been helping it.
"Indian principles have always been to help others. Situation is very bad in Sri Lanka. There may be several factors but on humanitarian grounds, we're giving food, fuel to at least cope up with some of the issues faced by the people of Sri Lanka," he said.
It should be noted that the Sri Lankan government has imposed a nationwide emergency after protesters took to the streets amid a sharp rise in the prices of commodities. Amidst the crisis, India has extended a helping hand having sent food grains and petroleum products to the island nation in past one week.
ALSO READ-Lanka: Opposition ruins President's move