Advertisement

At the meeting – and later in the Ministerial Session of the Delhi Dialogue XII – Balakrishnan highlighted how the relations between India and the Southeast Asian countries go back not 30 years, but thousands of years. …reports Asian Lite News
Singapore Foreign Affairs minister Vivian Balakrishnan returned home Saturday after delivering a strong message in New Delhi that the "longstanding, wide-ranging, multifaceted relationship" with India continues to be excellent, full of opportunities and is expanding healthily despite minor blips recently.
With Singapore being India's Country Coordinator, Balakrishnan co-chaired the just-concluded Special ASEAN-India Foreign Ministers' Meeting (SAIFMM) in New Delhi along with host External Affairs Minister S Jaishankar. The meeting was also attended by Foreign Ministers of Brunei, Cambodia, Indonesia, Malaysia, Vietnam and representatives of Foreign Ministers from Laos, the Philippines and Thailand along with the Secretary General of ASEAN.

At the meeting – and later in the Ministerial Session of the Delhi Dialogue XII – Balakrishnan highlighted how the relations between India and the Southeast Asian countries go back not 30 years, but thousands of years.
A trained ophthalmologist, the Singapore Foreign Minister showed that he has an eye for detail when he told his regional counterparts to watch the Indian economy – which he said is "maturing quickly, leapfrogging, taking advantage of digital opportunities" – more closely and look for opportunities to invest and collaborate.

"If you think about India's strength, one area which I think not enough people pay attention to is the fact that 65 percent of the population are below the age of 35. At a time when many parts of Asia are ageing, and ageing rapidly, the demographic dividend in India has not yet been harvested," he told the Singapore media in a hybrid doorstop interview after arriving in New Delhi on Thursday.

Strategic partners since 2015, the close partnership between India and Singapore hit a speed bump earlier this year when India had termed as "uncalled for" Singapore Prime Minister Lee Hsien Loong's remarks about the large number of pending criminal cases against Indian parliamentarians.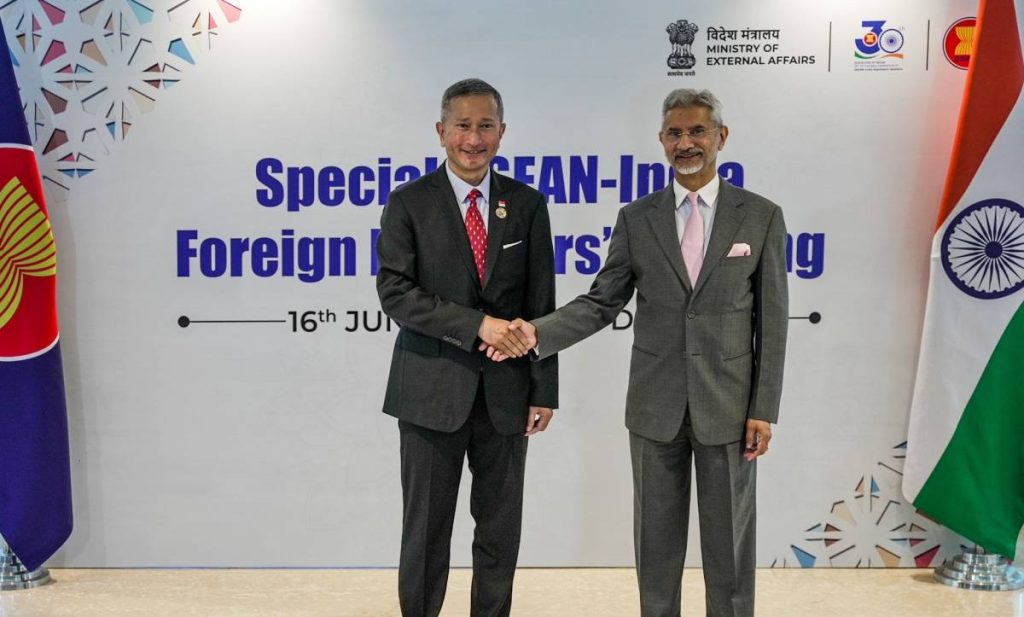 However, in spite of the controversy and the Covid-19 crisis, the trade between the two countries expanded by about 35 percent last year and Singapore remains the largest foreign investor in India with around 30 percent of Foreign Direct Investment.

At the Delhi Dialogue, Balakrishnan told the gathering how the cultural, linguistic, religious, commercial, and people-to-people ties have bound India and Southeast Asian countries together. India and ASEAN, he said, has two billion people – one quarter of the world (and with) a combined GDP of almost USD 6 trillion.
"Even our religions – Hinduism, Buddhism, and Islam either originated from, or vetted through India into Southeast Asia. The Indian classics, the Ramayana, and the Mahabharata, have left deep imprints on our culture, festivals, and in our stage productions in Southeast Asia. Even names like Retno and Balakrishnan are obviously originated from India. I daresay that even Pornpimol have Sanskritic origins," said the Singapore FM.
Not just that, Balakrishnan also said that India will be a "major tent pole" in the emerging multipolar world with both India and ASEAN having the potential to double and quadruple their growth in GDP in the next two decades.

"India is not only a giant. If you look in terms of the modern economy – if I were to ask you, who is likely to be the pharmacy of the world? Who is likely to be the breadbasket of the world? After all, India is already the world's largest exporter of rice, and rice has a sacred meaning in Southeast Asia.

"But beyond rice, just examine India's ability to export agricultural products. If you ask yourself, which giant is likely to be the capital of digital services of the world? You know the answer to my three rhetorical questions are: India, India, India," stated the top diplomat from the island country.

Singapore also reflected the Indian government's view of ASEAN lying at the centre of the Indo-Pacific, geographically, culturally and strategically.

"I think ASEAN matters even more to India. As the Indian economy grows, as its markets of its exports, and even its need for energy and other resources, India has got strategic interests, not just in the Indian Ocean, but across the Asia Pacific as well. Because ASEAN is right in the middle of it, ASEAN matters even more to India," said Balakrishnan.

Singapore echoing India's viewpoint should not come as a surprise to many as it was at the Shangri La Dialogue in June 2018 that Prime Minister Narendra Modi had outlined his vision of the Indo-Pacific region and reflected India's commitment to promoting peace and stability in the region.