Advertisement

In recognition of their contribution, in October 2021, HH Sheikh Mohammed Bin Rashid Al Maktoum announced a cabinet reshuffle in the UAE, with nine women making up the 32-member strong group….reports Asian Lite News
They helped take the UAE to Mars, led groundbreaking research into Covid-19, worked to engineer solutions to some of our most pressing energy challenges, and helped us get quality education with their patient perseverance. Since its foundation as a country, the UAE has recognised that education is key to the economic empowerment of women.
According to the World Economic Forum's Global Gender Gap report for 2020, the UAE was one of the region's best-performing countries, having closed 65.5 per cent of its overall gender gap.
In recognition of their contribution, in October 2021, HH Sheikh Mohammed Bin Rashid Al Maktoum announced a cabinet reshuffle in the UAE, with nine women making up the 32-member strong group.
UAE's efforts to give women their due, in 2015, the UAE launched Emirati Women's Day (EWD), with Her Highness Sheikha Fatima bint Mubarak Al Ketbi, Mother of the Nation, deciding to celebrate it on August 28 coinciding with the founding of the UAE's General Women's Union which was launched on the same day in 1975.
Last year, the UAE celebrated Emirati Women's Day with the theme, 'Women: Ambitions & Inspiration for the Next 50 Years'.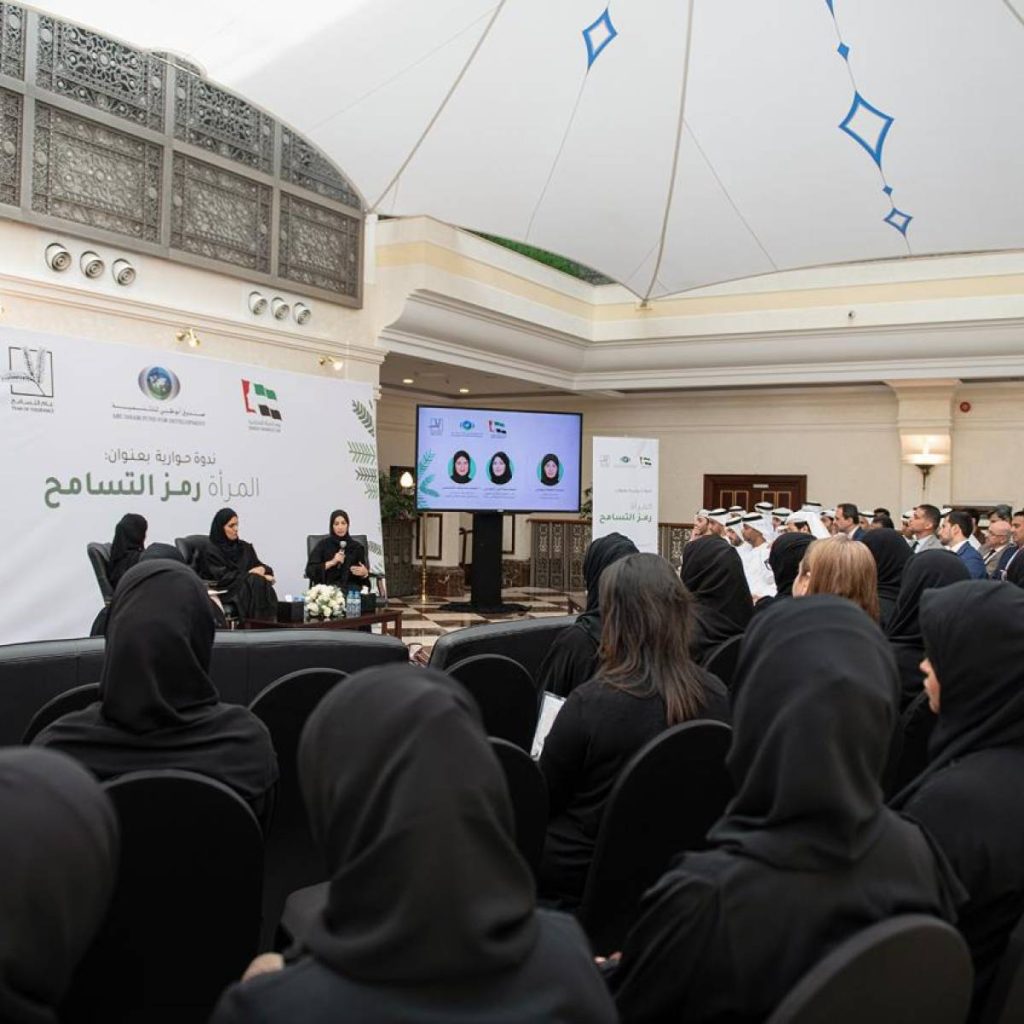 Leading from the front
UAE Minister of State for International Cooperation Reem Al Hashimi who is also the Director-General for the Expo 2020 holds a master's degree from Harvard University. Other female cabinet members are, Noura Al Kaabi, the chairwoman of the twofour54 and Minister of Culture and Knowledge Development; Hessa Buhumaid, Minister of Community Development; Jameela Al Muhairi, the Minister of State for Public Education Affairs; Dr Maitha Al Shamsi; Ohood Al Roumi, Minister of State for Happiness and Wellbeing; Shamma Al Mazrui, Minister for Youth; Maryam Al Mehairi, Minister of State for Food Security and Sarah Al Amiri, Minister of State for Advanced Sciences. Dr Amal Al Qubaisi was the speaker of the UAE Federal National Council (FNC) from 2015 to 2019.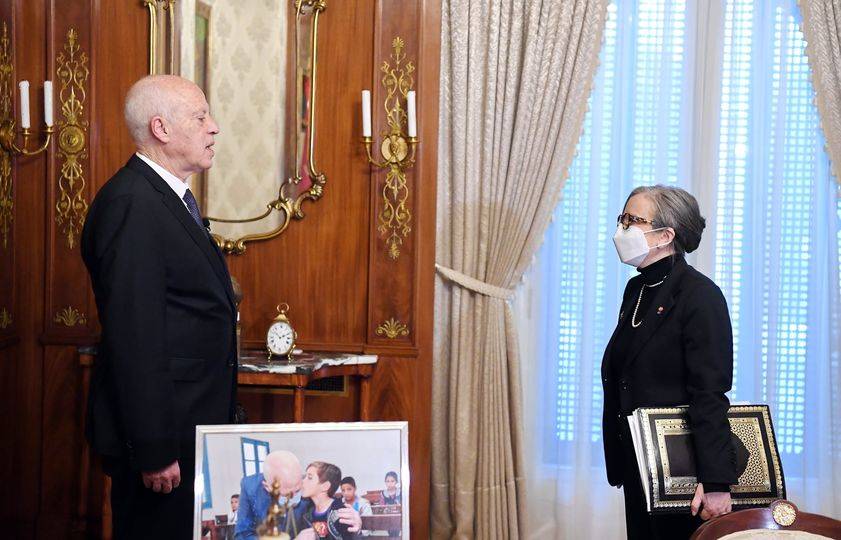 Romdhane a new icon
The Arab world got a political icon when President Kais Saied named Najla Bouden Romdhane as prime minister of Tunisia. With the new role, the silent geologist and university professor became the first female prime minister both in Tunisia and the Arab world.
Najla joined the pantheon of influential figures like former minister Sheikha Lubna Bint Khalid Al Qasimi; federal speaker of the UAE Dr Amal Al Qubaisi; Oman Higher Education Minister Dr Rawya Al-Busaidi; Kuwait Minister Hind Subaih Al-Subaih; Bahraini Minister for Social Development Fatima bint Mohammed Al Balooshi.
Key role in the health sector
Women played a crucial role in creating health and educational infrastructure in the UAE. Mariamma Varkey and her husband K.S. Varkey founded Our Own English High School in 1968, the first school under Gems group which was established by the couple's son Sunny Varkey in 2000. Mariamma was credited to be a pioneer in teaching who brought in a rational change in the education system in the UAE, when it was Trucial States, along with her husband.
There is no parallel to the contributions of Dr Zulekha Daud in the health sector and Omana Menon in the care sectors of the UAE. Dr Zulekha, Founder and Chairperson of Zulekha Healthcare Group, set up Zulekha Hospitals in 1992 in the UAE.
Omana Menon is the 'mother' of over 2000 children. She has nursed their adoption from the first meeting and first official document to the final approval and made couples happy all over the world.
It all began in 1981 when Omana became active in this endeavour and acted as a catalyst in getting a baby adopted for a couple who were very keen but were finding it difficult to navigate the complex and often frustrating process that marks the joining of child and parents. The sense of satisfaction derived from witnessing the sheer joy and pleasure on both sides and then monitoring and mentoring the togetherness was a whole new and elevating experience. She then joined CARA (India's Central Adoption Resource Agency) and has worked with them gently shepherding children to warm and loving homes and being the adhesive in creating whole families.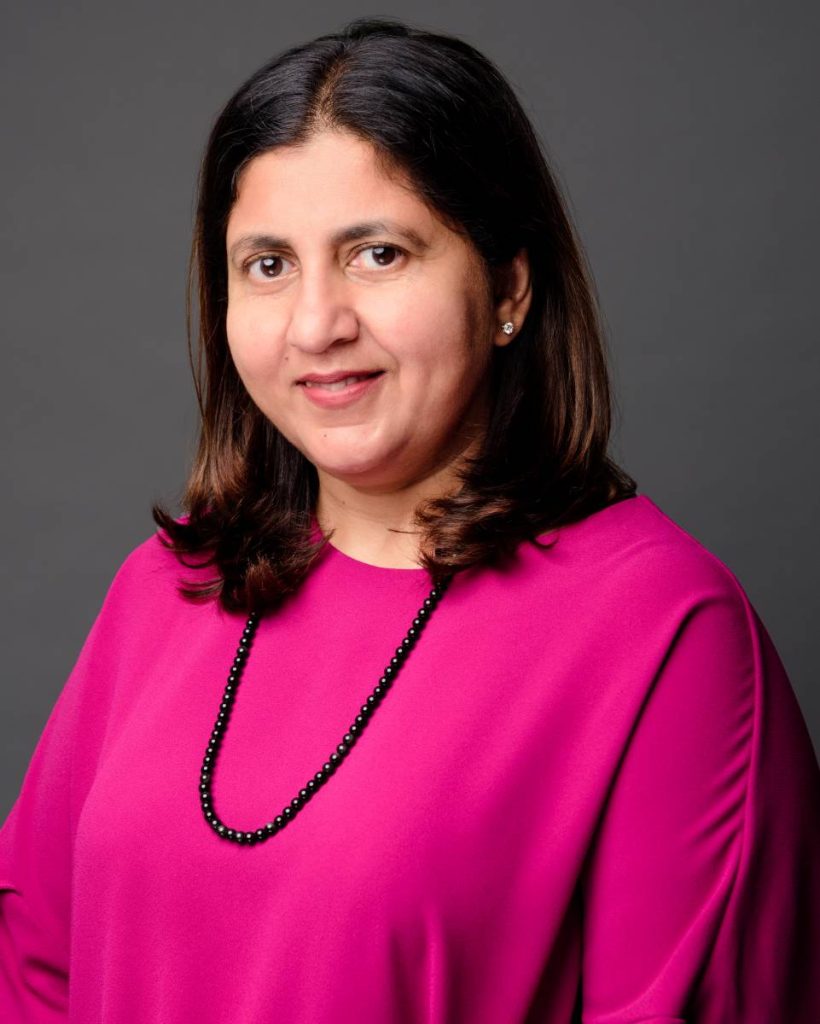 The recent additions to the long list include Shabana Faizal, Vice Chairperson, KEF Holdings, Co-Founder & Vice Chairperson – The Faizal & Shabana Foundation. In her role as Vice Chairperson of KEF Holdings, she is actively involved in guiding the business' growth strategy for various verticals. Over the years, KEF has succeeded in building up KEF Holdings' operations in offsite manufacturing for infrastructure, healthcare development and strategic investments, with the aim of creating disruptive technology-driven business models that create positive social impact for a better future.
Another prominent member of Dubai's thriving women's brigade is Dr. Bubbles Kandhari, the Vice-Chairperson of Guru Nanak Darbar Gurudwara Dubai; Director of Al Dobowi Group; Chairperson, Young Hearts Group; Chairperson Dubai Ladies Group; Board Member of Special Needs Future Development Centre and radio jockey for Dubai Radio Stations. Besides all the caps she dons, she is also a poet and had released an anthology titled Dil Se in 2021.
Another rising star in the health sector in the Middle East is Dr. Tasneem Jamil, Deputy Managing Director & Director Medical Affairs of Prime Healthcare Group.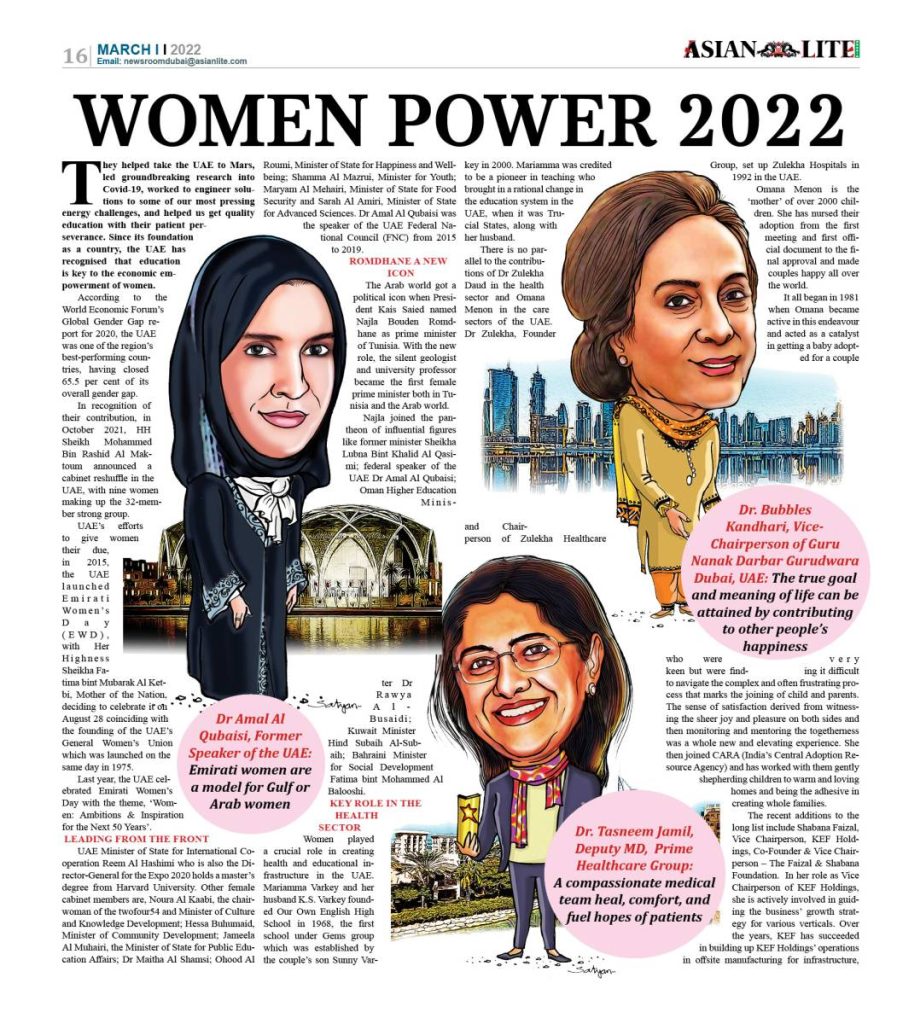 An alumnus of Sri Ramachandra Medical College & Research Institute in Chennai, India, where post obtaining her MBBS degree, she joined the Ministry of Health at the Umm Al Quwain Hospital and Al Rafah Health Center, Dubai, and worked there for almost two decades. In 1999, when PRIME Healthcare was founded by Dr. Jamil Ahmed, Dr. Tasneem, the epitome of a perfect partner and spouse, very adroitly managed 3 full-time jobs for over a decade – that of nurturing the budding organization in addition to her full-time job at MOH and of course a full-time mother to three lovely children.
Dr Tasneem, a doctor and a management leader, is really a philanthropist at heart. She applies the principles of capitalism with a soulful human approach.
Her imprint and efforts of those early years are clearly visible in the organisation even till date, in the conduct of the team members who were interviewed and selected by her and the PRIME culture which continues to stand testimony to the values of compassion, care, and service espoused by her own behaviour and character. It was in those early years that the seeds of the distinct PRIME family culture were sown, which has now blossomed into a full-fledged banyan tree, proving shade, protection, and healing, as it continues to grow and expand.