Advertisement

Anushree is known for her works like 'Unkahee' and 'Pati, Patni aur 'Panga', among others. She joined the entertainment industry as a writer and wrote a few episodic TV shows before she got into producing her first feature film, which was in Bengali language…reports Asian Lite News
'Mrs. Undercover' director Anushree Mehta talked about her upcoming spy comedy film starring Radhika Apte in the lead role of an undercover agent and shared how the idea was conceived and why she found Radhika to be perfect for the role.
She also added about the struggles of female directors to establish themselves in the industry.
'Mrs. Undercover' is a story of Durga, played by Radhika, who was an undercover agent, however, after ten years when she was called back on duty, things are not that easy for her as after marriage, she has forgotten everything as she just gave all the time to family.
When asked about how she come up with the idea, and did the story of Durga have any real-life reference, she told : "I came up with the idea of 'Mrs. Undercover' one fine morning almost five years ago. That very day I shared the same idea with my producing partner, Abir Sengupta, and he jumped at the idea and said it's a banger of an idea and promised me that he would produce the film the moment I finished the script. And he obviously kept his promise."
She continued to talk about the character and if she saw someone in reality like Durga, she added: "A filmmaker always draws references from what he or she sees in their own lives, reads or observes which impact them in some way. I grew up in a middle-class household where my mother is a housewife, a homemaker. And ever since I was a little baby, I've seen her doing so many things at the same time, so meticulously without a day off or without any sort of appreciation, that I always wondered how can one person do so much and still not shy away from doing more?"
"That's when I realised that a housewife, of course, a woman, but especially a housewife, is the personification of Maa Durga in the truest sense. And I have decided that I have to convert this thought into a movie and celebrate homemakers across the globe."
Anushree is known for her works like 'Unkahee' and 'Pati, Patni aur 'Panga', among others. She joined the entertainment industry as a writer and wrote a few episodic TV shows before she got into producing her first feature film, which was in Bengali language.
"Almost eight years later, I finally became director of a Hindi feature film. So, all in all, it's taken me 13 years to make my first film. I think this in itself conveys to you how different a journey it has been for me from the time of entering the industry to finally turning a director. The shifts have been major from a writer to a producer and from a producer to a director, and in the process, I became all three and I continue to be."
Anushree further recalled working with Radhika during the lockdown and interacting with her through Zoom as she was in London and the former in Mumbai.
"I had prepped with Radhika during the lockdown because she was in London and I was in Mumbai, but we were so into the film that all my meetings happened over zoom calls. I actually met Radhika for the second time in my life right at the look test of the film, the first time being when I met her and narrated my film to her at her residence. But when I met her at the look test, I realised how much in sync we both were."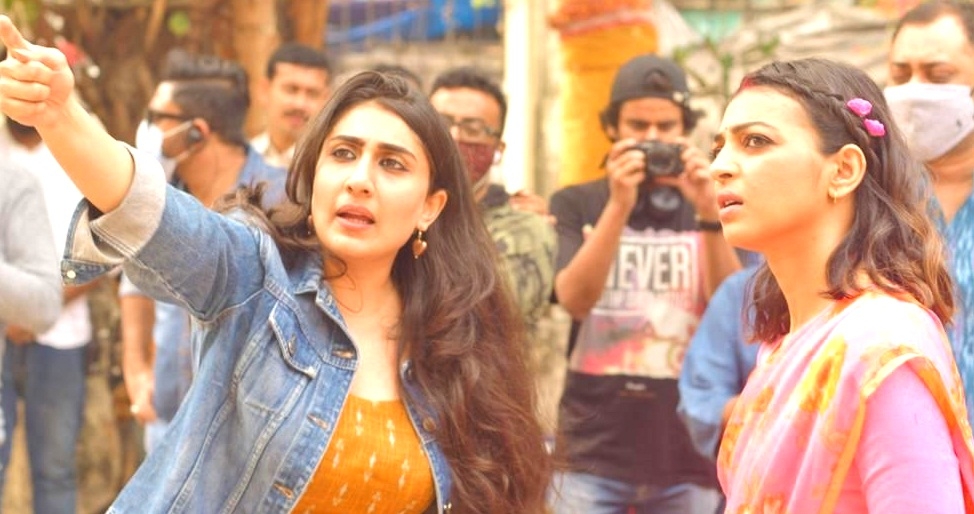 "That time I knew my shoot would definitely be a banger of a shoot. For my first film, I had never imagined that I would have to prepare remotely, and I was genuinely scared. But with Radhika's involvement in the film with me, everything became really, really awesome. And we had a lovely shooting time together," she added.
Lastly, she concluded by sharing what she is looking forward to in the future and said: "I am looking at creating a spy action comedy universe and I actually cannot divulge the details as of now."
'Mrs. Undercover' has been written and directed by Anushree Mehta and produced by Abir Sengupta and Anushree Mehta.
The film releases on April 14 on Zee5.
ALSO READ-Shantnu, Nikhil Mehra flagship store opened in Mumbai
Advertisement