Advertisement

Sanskrit farce Bhagavadajjukam, a humorous drama (prahasana) by Bodhayana Kavi from the 7th century is to be staged by the delegation of Central Sanskrit University, India, reports Asian Lite News
A unique and distinctive event highlighting the theatre and tradition of dramatic literature of India will be showcased at the Nehru Centre (ICCR) in London on 10th February 2023.
Sanskrit farce Bhagavadajjukam, a humorous drama (prahasana) by Bodhayana Kavi from the 7th century is to be staged by the delegation of Central Sanskrit University, India.
Deemed to be the first of its kind to be staged in Britain and Ireland marking Azadi Ka Amrit Mahotsav celebrations, the episode includes the transmigration of souls and witty exchanges in Sanskrit, with an English explanation provided for audiences to grasp the theme.
The philosophical discussion between the Guru and the disciple, deviation of disciple's focus towards the courtesan resulting in satires etc. are to captivate the attendees in laughter.
The event is organised by Sanskruti Centre for Cultural Excellence in the UK and spearheaded by Prof. Rutger Kortenhorst at the School of Philosophy and Economic Science in Ireland.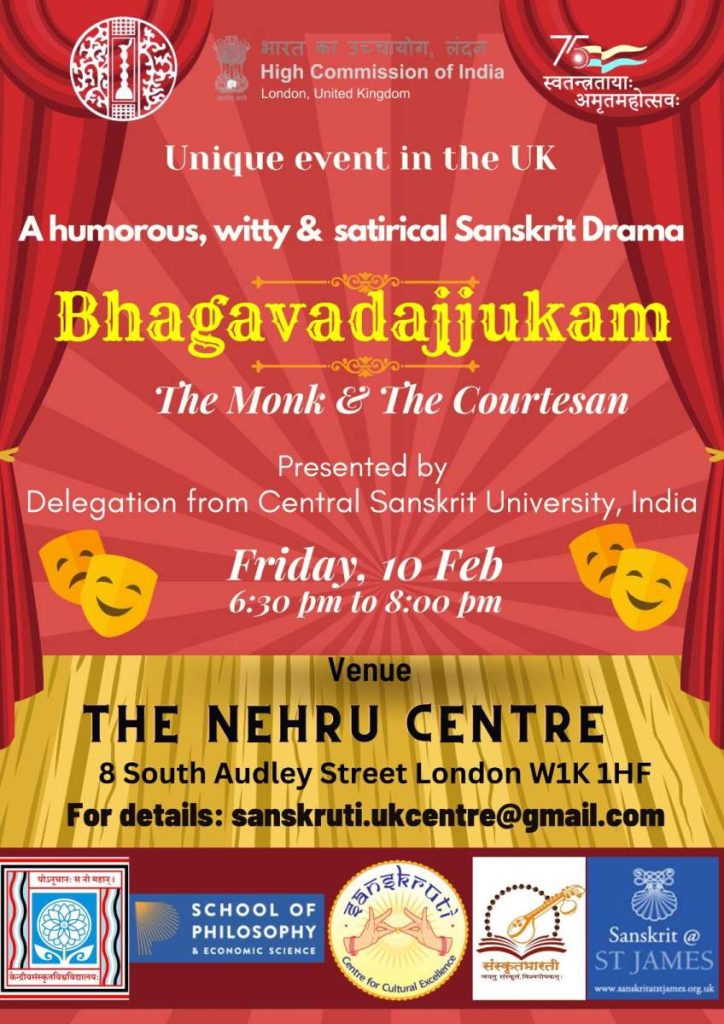 Members of Sanskrit@ St James and Samskrita Bharathi UK shall be taking part. Central Sanskrit University is a premier multi-campus institution established by an Act of Parliament under the Ministry of Education, Government of India.
The delegates have been associated with the study and promotion of Sanskrit language at this University.
It is interesting to note that Bhagavadajjukam was also translated into Italian about 90 years ago, while several Indian language translations have been staged throughout India in the last few decades.
ALSO READ: Utsav – The Celebration hosted at London's Nehru Centre