Advertisement

The illustration comprises five segments which symbolically reflect the different faces of the cultural and social conditions in the lives of the minority tribal sect Ogonis, who are natives of the Niger river valley in the South of Nigeria.…reports Asian Lite News
A contemporary art illustration by the daughter of noted writer and environmental-human rights activist Ken Saro-Wiwa, who was hanged by the Nigerian military dictatorship nearly three decades back, raising inspiring memories of her father is among the notable works on display at the fifth edition of the ongoing Kochi Muziris Biennale, here.

Zina Saro-Wiwa is a firm follower of her father who was martyred on November 10, 1995, for his uncompromising loyalty towards nature and the exploited.

This is evident in the illustration 'Holy Star Boys'.

The illustration comprises five segments which symbolically reflect the different faces of the cultural and social conditions in the lives of the minority tribal sect Ogonis, who are natives of the Niger river valley in the South of Nigeria.

The Niger river valley is notorious for the destruction that came as a result of extreme environmental pollution and exploitation.

Zina brings out the condition of Niger river valley inhabitants through two human forms bearing the mask of the Ogoni people, resembling that of a deer, through her work 'Holy Star Boys', many varied notions and intuitions take shape in the minds of the viewers.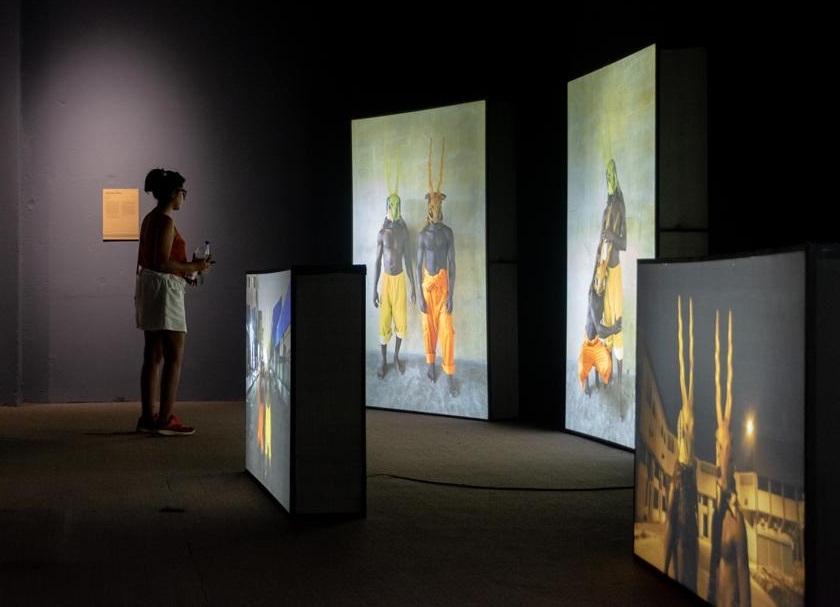 The illustration in Lightbox C-print provokes thoughts on the impact that modernization has on traditional culture, the dilution it causes, the dual standards, estrangement, and the universal biological principles.

"Holy Star Boys' is a blend of those estranged in their homeland," says Zina Saro-Wiwa.

While the memory of Ken Saro-Wiwa lives on through his work as an environmental-human rights activist, poet, writer, and journalist, daughter Zina has attained fame through her video installations, documentaries, music videos, and experimental films.

A former journalist with the BBC, the 47-year-old carries on her activities based out of Brooklyn.
ALSO READ-'ToxiCity' becomes cynosure of all eyes in Biennale
Advertisement