Advertisement

Bengali cuisine. Bengali people eat the leaves, stems, barks, seeds, peels and even flowers of a plant. Like Italian Zucchini flower fritters, Bengalis use a lot of flowers to make bhaja (fritters)…reports Asian Lite News
Chefs across the world are incorporating flowers in their menus. The fragrance, unique flavour and a riot of colours makes it for more than just dining table decorations and presentation. Flowers have been used as an ingredient in Indian recipes for long.
There are many flowers used in Indian recipes, but the most common flowers used in are the banana blossom, papaya flower, palash flowers, neem flowers and rose.
Every state in India has its own method of using their edible flowers, from rasams to curry, from fritters to tea. In Assam, people add night jasmine (xewali) to Khar — a traditional alkaline based dish of pulpy vegetables, which uses a variety of indigenous ingredients.
Jasmine tea is also known to lower blood pressure and give a boost to your system. Tamil Nadu and other states like to use the terribly bitter neem flower, which have excellent blood purifying properties and serve great during the summers as rasam.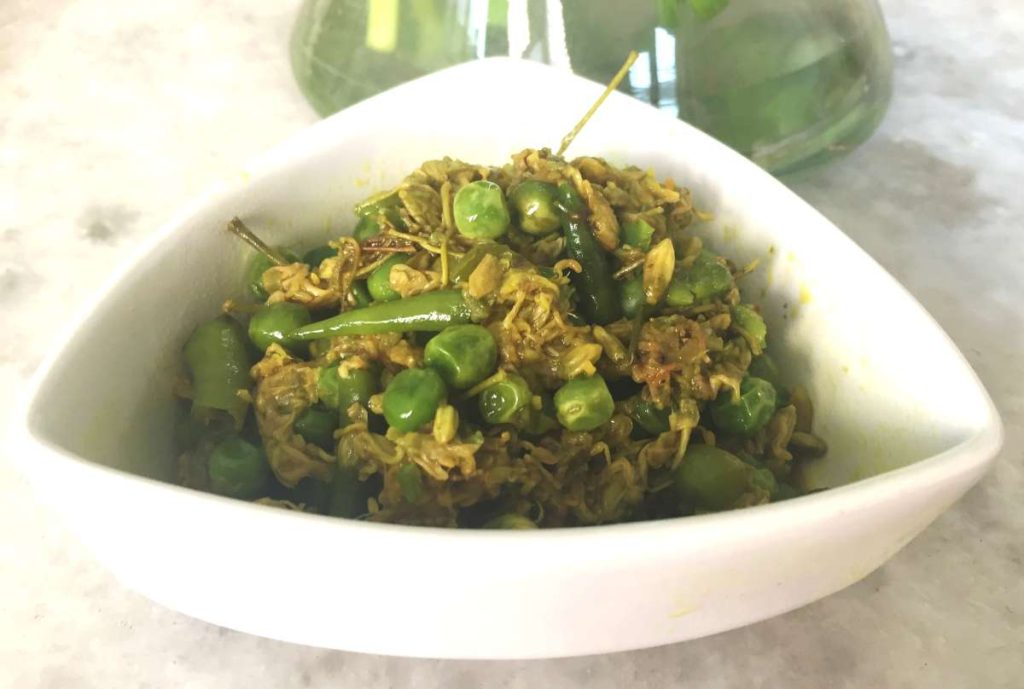 Hibiscus flowers have a citrusy and slightly bitter flavour. They can be used to impart a fresh taste to desserts and also feature in Andhra Pradesh's popular local dish 'Gongura Pachadi'.
Rose petals are used for creating gulkand. Dried rose are used in sweets or creating syrups — not just for their flavours but also for the cooling properties that they have.
Sometimes the presence of these edible flowers in a cuisine simply come to be out of a desire to not waste anything. For example: Bengali cuisine. Bengali people eat the leaves, stems, barks, seeds, peels and even flowers of a plant. Like Italian Zucchini flower fritters, Bengalis use a lot of flowers to make bhaja (fritters).
I've grown up eating 'kumro phool' (pumpkin flower) 'bhaja', 'bok phool' (agati flower) 'bhaja', 'Sojne phool' or Moringa 'bhaja' (drumstick flower, known for its health benefits).
Many of these flowers, however, are seasonal and you have to wait for the right time of the year to obtain them. While fresh bok phool can be used as house decor, they're simply far more wonderful when turned into a plate of bhaja. Perfect with your cuppa. You can use regular besan pakora batter or even rice flour make the texture crunchy.
Bauk Phool (Agati Flower) Bhaja
Ingredients:
Bauk Phool (Agati Flower)
Besan
Turmeric powder
Kalonji
Baking soda a pinch
Sunflower oil for deep frying
Salt to taste
Method:
Remove the flower tentacle that is within the Bauk phool and then wash it gently.
In a bowl take besan, turmeric powder, kalonji (if using), baking soda and salt. Mix well, then add water to make a thick batter.
Heat oil in a pan.
Coat each Bauk phool with the batter.
Deep-fry until golden brown.
Remove and drain excess oil. Serve hot.
Mochar Ghonto (Dry spiced banana-blossoms preparation)
Ingredients:
1 banana blossom (mocha) finely chopped, boiled and mashed
3 tablespoons mustard oil
2-3 bay leaves
1 teaspoon cumin seeds
2 medium potatoes, boiled, peeled and cut into cubes
1 teaspoon red chilli powder
1 teaspoon cumin powder
1 teaspoon turmeric powder
1 tablespoon raisins
Salt to taste
1 teaspoon sugar
1 teaspoon ghee
¼ teaspoon garam masala powder
2 tablespoons scraped fresh coconut
Method:
Heat mustard oil in a pan, add bay leaves and cumin seeds and sauté till fragrant. Add potatoes and sauté till light brown.
Add boiled banana blossom and sauté well. Add chilli powder, cumin powder and turmeric powder and mix well.
Add raisins, salt and sugar. Mix well and cook for a few minutes till everything is combined well. Add ghee, sprinkle garam masala powder and scraped coconut and mix lightly. Served best with plain white rice.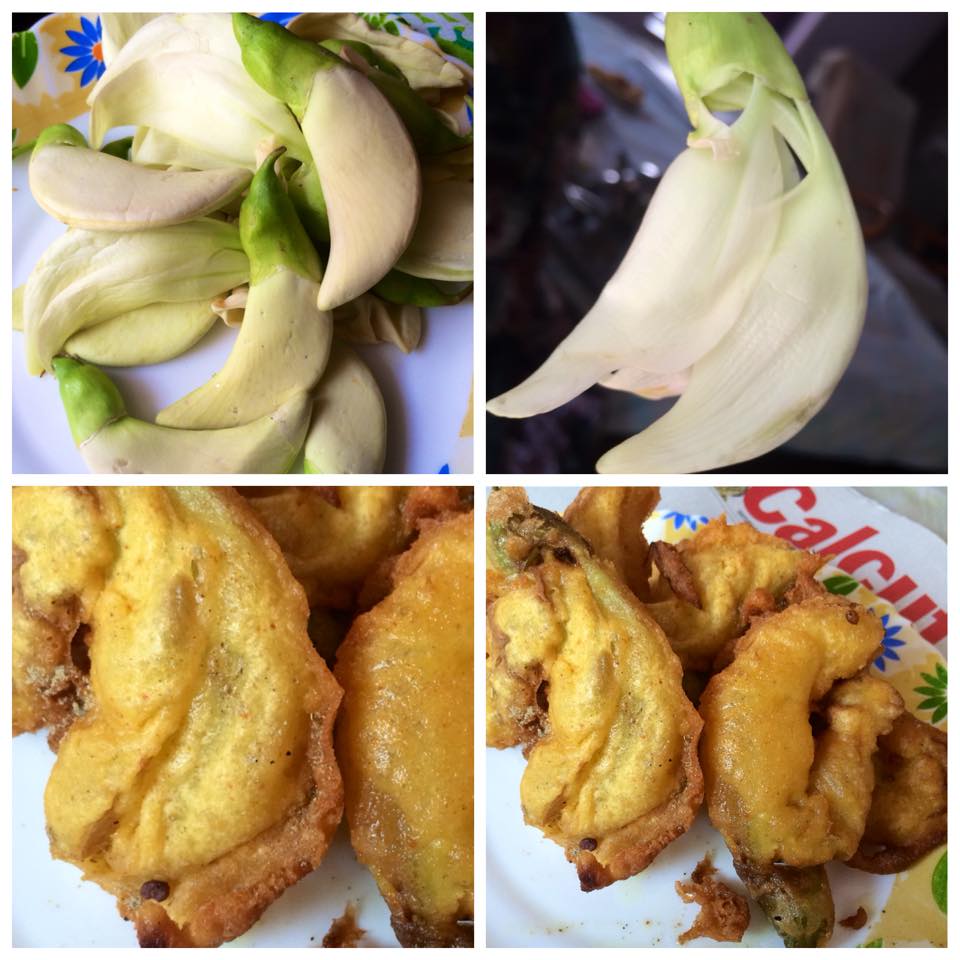 Sojne Phool Baati Chorchori
Ingredients:
2 Cup Sojne (Moringa flowers)
1 Green Peas
1 Tomato, chopped
3 – 4 Green chilies slit halfway
2 tsp Mustard Paste
1 tsp Turmeric Powder
½ tsp Red Chilli Powder
½ tsp Kalonji
2 tbs Mustard oil
½ tsp Sugar
Salt to taste
1 cup Water
Method:
Remove the stalk from the Sojne (Moringa Flower) (stalks makes the preparation bitter). Wash the flowers thoroughly and keep aside.
Place all ingredients in a pot with 1 tsp mustard oil and mix well. Allow the pot to heat. Cover the pot with a lid and slow cook for 10 minutes. Check in between and add few droplets of water if necessary to prevent burning at the bottom. (Ideally it should be cooked without adding water.
Drizzle 1 tsp mustard oil on top. Served best with plain Rice.
Juktiphool Bhaja
Ingredients:
Juktiphool
Salt to taste
Tumeric
Rice
Ghee
Method:
Take out the woody stems from the flowers and wash it thoroughly.
Apply the salt and turmeric to it.
Deep fry till the Juktiphool is crisp.
Serve with hot rice served and ghee.
ALSO READ-Easiest recipes of Seviyan Kheer