Advertisement

The UK delegation that arrived for the conference also called on Gujarat's Higher and Technical Education Minister Rushikesh Patel….reports Asian Lite News
India and the United Kingdom held discussions on capacity building of Gujarat's higher education system at the Higher Education Conference organised in Gujarat, said Gujarat Information Department in a press release.
The UK delegation that arrived for the conference also called on Gujarat's Higher and Technical Education Minister Rushikesh Patel. Various provisions of NEP and issues related to the latest research in the field of education were discussed at the conference.
UK in India hosted a senior-level higher education delegation between September 18-22. The delegation visited Ahmedabad and along with the Department of Higher and Technical Education Government of Gujarat organised a high-level academic consultation on Wednesday to discuss trends and opportunities in Transnational Education (TNE) partnerships between the UK and Gujarat HEIS to promote internationalization, supporting institutions on both sides to develop shared understanding and explore collaboration opportunities, the release said.
As part of the Higher Education mission, the delegation met Minister Rushikesh Patel at Gandhinagar.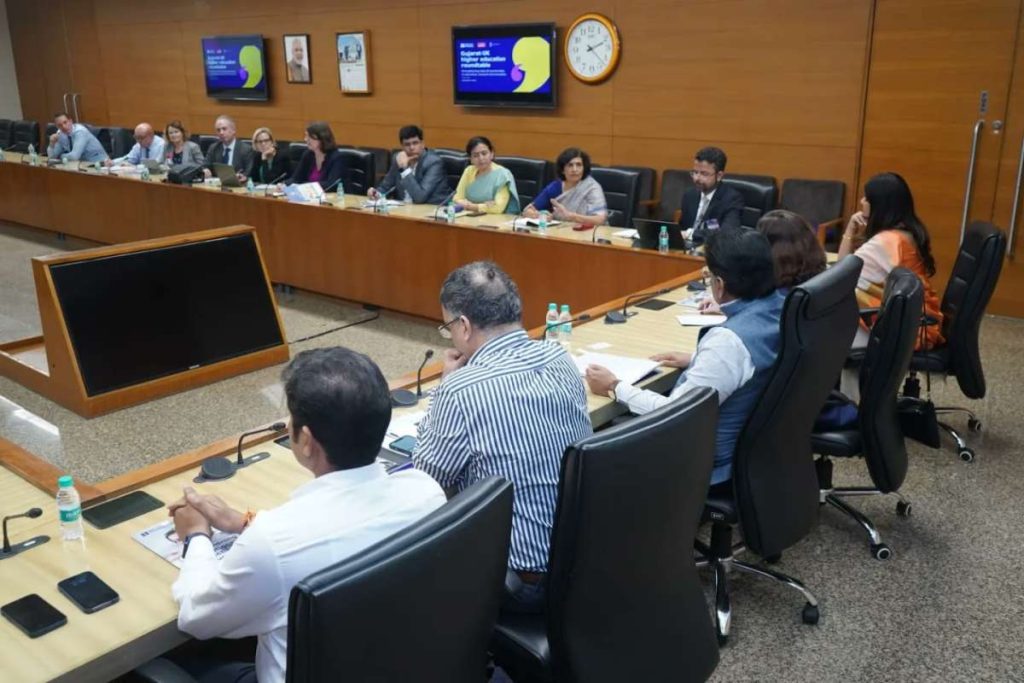 In the delegation, various suggestions related to education, the scope of joint venture with new technology, and opportunities for study in the UK were discussed in detail by the Vice Chancellor of various universities of the UK.
Alison Barrett MBE, Director of British Council India, said, "We are delighted to be in Gujarat with a large delegation of UK universities and bodies to discuss partnership opportunities institutions in the State and those in the UK, showcasing the trust and collaboration that exists between our higher education systems. Institutions from the state and the UK are already working together, and we are confident that our discussions will pave the way for even more mutually beneficial initiatives. This is a moment to celebrate the deep and extensive links that exist between our universities and the numerous opportunities for collaboration and internationalisation."
She also congratulated the Minister for the Gujarat Public Universities Act passed by the Gujarat Legislative Assembly recently, according to the release.
Minister Rushikesh Patel also welcomed all the delegations. He apprised the delegation of the research and innovation opportunities in Gujarat, the work being done in Gujarat in terms of SSIP and start-ups.
Discussions on various topics in this conference will help in achieving new dimensions in the higher education sector and will also help in preparing a roadmap for the reforms being made in the education sector keeping in mind the future needs, the Minister said.
The Minister added that Indo-UK relations will continue to be important in capacity building of the state's higher education system.
It was discussed in the meeting to mark Gujarat on the international stage through various provisions of NEP, to make our universities world class with the implementation of the Gujarat Public Universities Act, to strengthen the education system of Gujarat in the field of NIRF and ICCR through SSIP, the release said. (ANI)
Advertisement