Advertisement

One of the most prominent art organisations in the UK, Kalakar Arts have been producing a series of live musicals titled "Tale of Tawaifs", based on the famous female Indian courtesan's lives and music, for the last 2 years.
Each musical is presented with impeccable music, dance, spoken words and acting and each has attracted a full house audience, wherever they have performed. 
After the resounding success in Leeds on 24th May, Kalakar will be presenting the last two concerts of the series "Umrao Jaan", a mystic tale of a Tawaif (Courtesan) in Birmingham and Manchester.
A heart breaking story narrating Umrao Jaan's life through drama, dance and world class singing, the 1981 famous Bollywood film has been enriched by creative updates from an extensive research on Indian Courtesans.
Written and Directed by the one of best Indian Classical Vocalists Vidushi Chandra Chakraborty (Founder and CEO of Kalakar Arts UK), the ensemble cast will perform on Hindustani Classical, Semi Classical as well as the popular songs from the movie to create a cultural extravaganza to remember.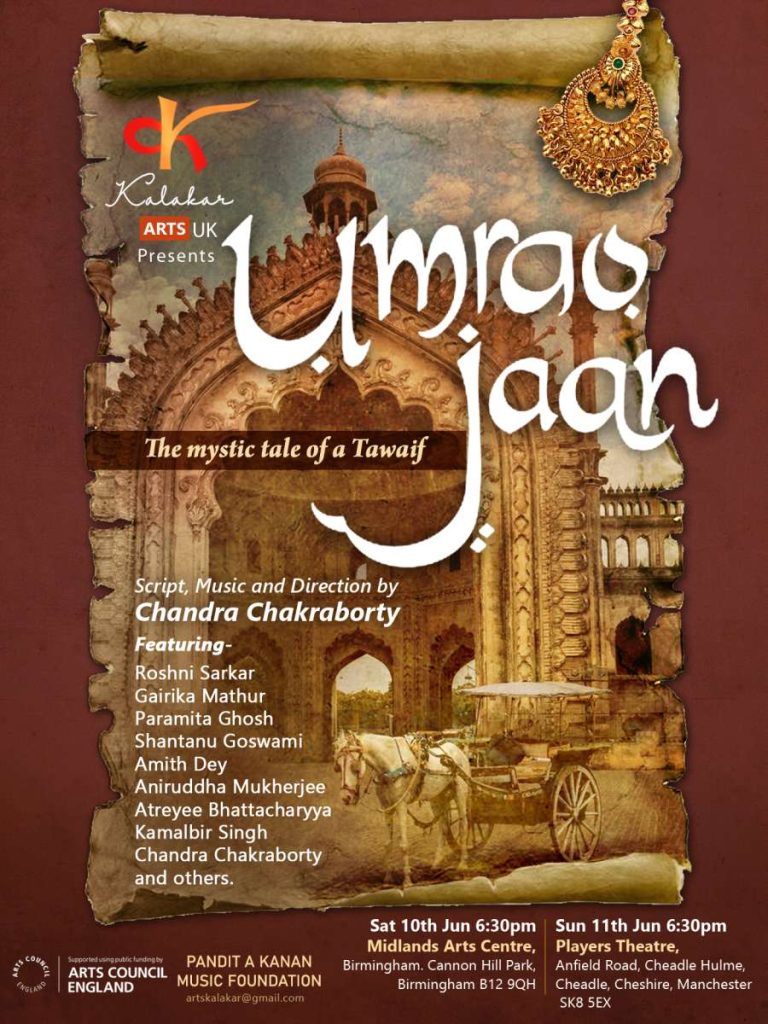 The extraordinary show also features Roshni Sarker, Atreyee Bhattacharyya, Paramita Ghosh, Gairika Mathur, Arnisha Bardhan, Kamanbir Nandra, Shantanu Goswami, Anuiruddha Mukherjee and Amith Dey.
The shows will take place on 10th June at MAC Birmingham and on 11th June at Players Theatre, Manchester.
Here are the ticket links-
Birmingham
https://www.eventbrite.co.uk/e/umrao-jaan-mystic-tale-of-a-tawaif-tickets-634250248567
Manchester
https://www.ticketsource.co.uk/whats-on?q=umrao%20jaan
ALSO READ: BTA UK and Link Hospital Gwalior forge ties to launch top-class medical educational prog