Advertisement

PM Modi dedicated the new Parliament building to the nation on Sunday by unveiling a plaque and installing the 'Sengol' in the Lok Sabha chamber…reports Asian Lite News
Congress leader Rahul Gandhi on Sunday took a jibe at Prime Minister Narendra Modi over the inauguration of the new Parliament, and said that the event is being considered as a "coronation".
"Parliament is the voice of the people! The Prime Minister is considering the inauguration of the Parliament House as a coronation," he said on Twitter.
PM Modi dedicated the new Parliament building to the nation on Sunday by unveiling a plaque and installing the 'Sengol' in the Lok Sabha chamber.
Notably, Congress and 20 other parties have boycotted the inauguration of the new Parliament building.
They have accused the government of "bypassing" President Droupadi Murmu for the event and said that they will "boycott" the inaugural ceremony.
Prime Minister Modi installed the sacred 'Sengol' in the new Lok Sabha chamber, right next to the Speaker's chair, after performing puja. PM Modi also prostrated as a mark of respect before the 'Sengol' during the ceremony.
During the ceremony, a 'sarva dharma prarthana' (multi-faith prayer) ceremony was held at the new Parliament building, where the religious leaders chanted prayers in various languages.
The newly constructed building of Parliament, which will work to further enrich India's glorious democratic traditions and constitutional values, is also equipped with state-of-the-art facilities which will help the Members to perform their functions in a better way.
The new Parliament building is designed to enable 888 members to sit in the Lok Sabha.
In the present building of the Parliament, there is a provision for the sitting of 543 Members in the Lok Sabha and 250 in the Rajya Sabha.
Keeping in view the future requirements, arrangements have been made for a meeting of 888 members in the Lok Sabha and 384 members in the Rajya Sabha in the newly constructed building of the Parliament. The joint session of both Houses will be held in the Lok Sabha Chamber.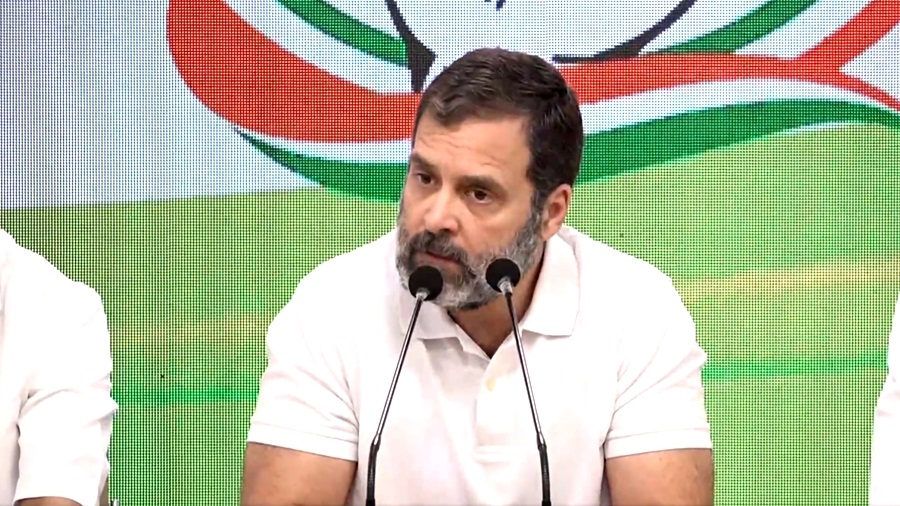 "Today is a dark day for Parliamentary democracy"
Congress General Secretary KC Venugopal on Sunday termed the inauguration of the new Parliament building by Prime Minister Narendra Modi a "dark day" for the parliamentary democracy.
Speaking to reporters in Kerala, Venugopal said, "Today is a dark day for parliamentary democracy. Has the ruling BJP given any reason for keeping the President and Vice President of India away from this function?" The Congress leader further said that former President Ram Nath Kovind was also not invited when the foundation stone of the Parliament building was laid.
Earlier today, Prime Minister Narendra Modi dedicated the new Parliament building to the nation by unveiling a plaque and installing the 'Sengol' in the Lok Sabha chamber.
"This function (Parliament building inauguration) is being carried out in violation of the constitutional values and principles. It is the reflection of upper-caste fascism controlled by Rashtriya Swayamsevak Sangh (RSS)," Venugopal alleged, taking a dig at BJP.
"The inauguration of the new Parliament building by the PM was also a mistake that should never have been made in a country like India," the Congress leader said.
Venugopal slammed the BJP-led Central government for holding such an auspicious ceremony on May 28, also the day of the birth anniversary of Hindutva ideologue Veer Savarkar.
"Why not choose Mahatma Gandhi's birthday or death anniversary to hold such an auspicious ceremony? Why not on Ambedkar's Day? All they remember is Savarkar," Venugopal lashed out at the ruling BJP.
He said that the Parliament building was built with people's money. "They (BJP) should remember that this is the Parliament building. It is not the office of the BJP to make it a zone of extreme communalism and self-righteousness," Venugopal said.
Twenty Opposition parties boycotted the opening of the new Parliament building stating that the inauguration of the building without President Droupadi Murmu "insults the high office of the President, and violates the letter and spirit of the Constitution". (ANI)