Advertisement

Esha secured a silver medal for India in the Women's 25m Pistol Individual event at the Asian Games, following her earlier contribution to the country's gold medal victory in the Team event during the morning alongside her teammates…reports Asian Lite News
Esha Singh, who took up shooting at the age of 9 after visiting a range in her hometown Hyderabad, had set winning a medal in the 19th Asian Games in Hangzhou as one of her main aims for this year besides qualifying for the 2024 Olympics.
On Wednesday, she fulfilled her first dream of winning an Asian Games medal — with a double bonanza bagging gold and silver in the Women's 25m Pistol Team and Individual events, respectively, here at the Fuyang Yinhu Sports Centre.
Esha won a silver medal for India in the Women's 25m Pistol Individual event at the Asian Games after helping the country bag gold in the Team event in the morning along with teammates Manu Bhaker and Rhythm Sangwam.
Qualifying fifth among six-shooters in the Individual event after the rapid round in which she managed only 294 points while Manu shot a brilliant 296 and continued to lead with 590-28x, Esha came up with a brilliant performance when it mattered as she finished second.
Esha, who along with the experienced Manu, had qualified for the final in the Individual, shot a score of 34 points and finished second behind China's Rui Liu, who set a new Asian Games record with a total of 38 points, improving the previous mark of 34 points set by India's Rahi Sarnobat and set in Jakarta/Palembang (Indonesia) in the 2018 edition.
Korea's Jiin Yang took the bronze medal with a score of 29 points after winning a shoot-off with China's Sixuan Feng. India's Manu Bhaker lost out on a medal and finished fifth.
"I feel very grateful and proud of myself for the way I performed. I don't think I can put into words how I feel right now because emotions are exploding. I am just very happy," Esha said after winning two medals on Wednesday.
Esha, 18, who trains at Olympian Gagan Narang's Gun For Glory Academy in Hyderabad, literally claimed glory on Wednesday by winning two medals, just like compatriot Sift Kaur Samra, the rifle shooter from Punjab, who bagged gold in Women's 50m Rifle 3-positions Individual with a world record and silver in the Team competition.
Esha was placed in joint-second position after the precision round in the Women's 25m Pistol Individual competition as Manu led with 294-14x. Esha had a score of 292-9x, the same as China's Feng Sixuan. She came up with 294 in the rapid section and was placed fifth with a score of 586-17x.
But the final was a different story altogether as Esha went from strength to strength while Manu lost her way and ended fifth.
In the first competitive stage, Esha shot 10 points and moved up to the joint third spot with China's Sixuan Feng. Another Chinese Rui Liu shot into the lead with 13 points while Korea's Jiin Yang was in second with 11 points. Manu managed a score of 9 in this stage and slipped to fifth.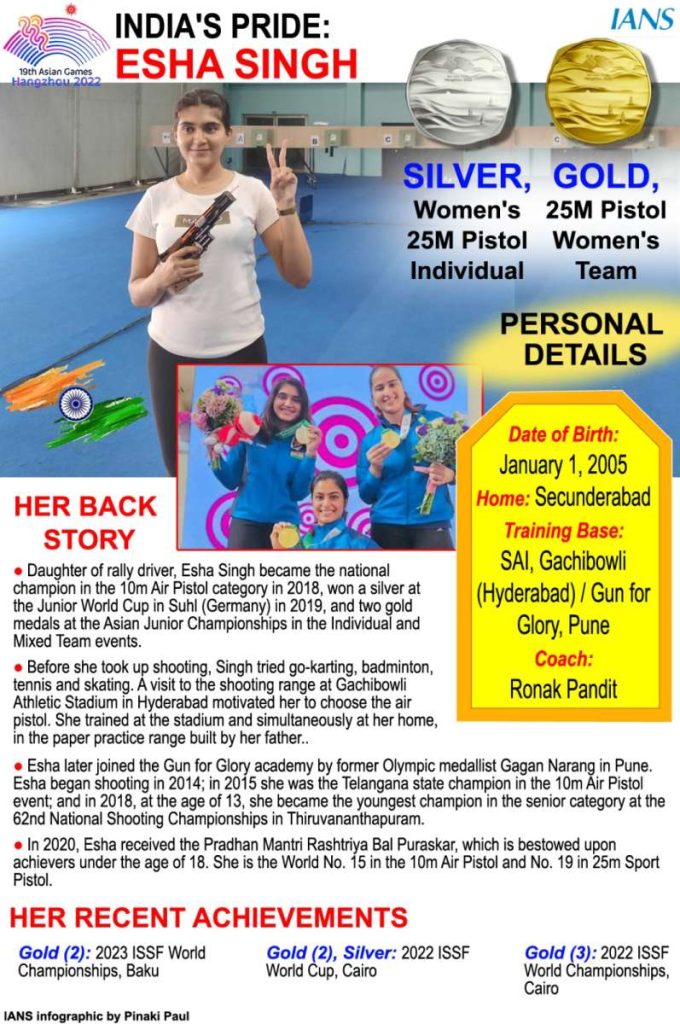 Competitors from Taipei and Singapore were eliminated while a shooter from Iran went out next as Rui Liu, Esha and Jiin Yang maintained their top three positions.
In the next round, Manu was eliminated as she ended with a score of 16 points. There was a tie between Korea's Yang and China's Feng Sixhuan and the Korean emerged on top in the shoot-off, to set off a fight for the second spot with Esha. However, the Indian shooter maintained her composure and eventually finished with the silver medal.
The young shooter from Hyderabad said she made some technical mistakes she should have avoided. "There were a few technical things that I should have done (better) but overall I feel I did a very good performance."
Having fulfilled her first dream, Esha will now be looking forward to getting the next target — the Paris Olympic Games. For that, she or any of the other pistol shooters will have to bag a quota place for India. That's now is the 18-year-old's next target.
Advertisement