Advertisement

Harsh Vardhan Shringla, Chief Coordinator, G20 on Monday said that around 20 million tourists are expected to visit Jammu and Kashmir this year…reports Asian Lite News
The G20 third Tourism Working Group Meeting started in Jammu and Kashmir's Srinagar on Monday amid tight security in which delegates from several countries are focusing on five key priority areas: Green Tourism, Digitalization, Skills, MSMEs and Destination Management.
This is the first major international event after Jammu and Kashmir's special status was scrapped in 2019. For this three-day G20 Summit, from May 22-24, Kashmir is under a three-tier security grid for aerial surveillance drone monitoring is put in place National Security Guard (NSG) and MARCOS commandos have been deployed around the venue Jammu and Kashmir Police's special operation group (SOG) have been deployed at several places to give security cover to prevent from any terror incident.
Spain, Singapore, Mauritius, Nigeria, South Africa, Brazil and India are among seven countries to discuss the global perspective of film tourism, as well as, its economic benefits and impact in J-K.
This is the only working group meeting taking place in Srinagar as part of the G20 effort with excellent response from all the member countries, all the invited countries and the international organisations, having the highest participation registered compared to the first two Tourism Working Group Meetings at Rann of Kutch and Siliguri.
The G20 delegations were welcomed by Union Tourism Minister G Kishan Reddy, along with Amitabh Kant G20 Sherpa at Srinagar Airport. An ethnic and magnificent display of traditional dance forms by local Artists, showcasing Jammu and Kashmir's cultural heritage, was also done.
India's G20 Sherpa Amitabh Kant on Monday said that there cannot be a better place than Kashmir for shooting movies. He made the remarks at the third G20 Tourism Working Group (TWG) meeting in Srinagar.
"You will see a vast number of films being shot here. Much like many Indian films are being shot abroad. But, in India, let me tell you, having travelled across the world, there is and I can tell you very sincerely that there is the finest destination anywhere in the world to shoot a movie and to shoot a romance that it cannot be a better place than Kashmir," Amitabh Kant said.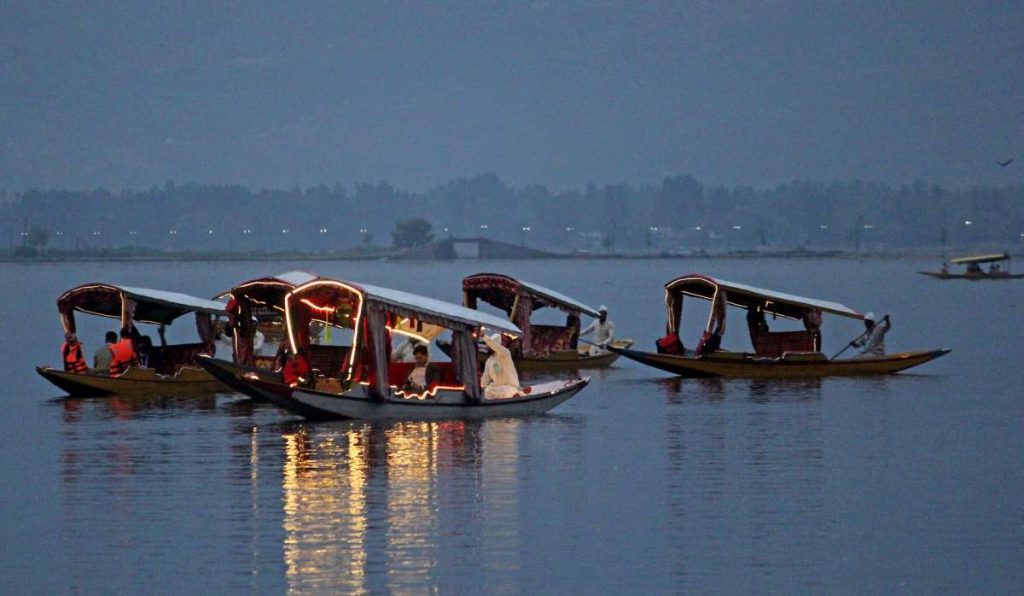 Amitabh Kant said that the government of India and the government of Kashmir will make efforts to assist the filmmakers in film shoot locations and help them with shifting their film destination from other parts to Kashmir. He said that the government of India will help filmmakers in creating great stories in Kashmir.
"The government of Kashmir, the government of India will all go out of the way to assist you in your film shoot location. Help you to shift your film destination from any other part to Kashmir. We will help you to bring more and more romance in your films. We will help you to bring more and more glamour to your films. We will help you to bring more and more nature to your films. And we will help you to really create great stories from this great destination. I am truly delighted to be here on this and welcome you all to this great session this wonderful session on film tourism. Film tourism is something which has led to great destinations being created," Amitabh Kant.
He said that a particular dance sequence in the Natu Natu song of RRR movie was shot in Ukraine's presidential palace. He said that India believes in the world of globalization in the world, where they want the flow of ideas and creativity.
"We will soon be joined by a very legendary film actor from India, Mr Ram Charan. And Mr Ram Charan, his Natu Natu dance on which the South Korean ambassador danced and became a big hero because the prime minister also tweeted his dance, retweeted his dance. That film was actually shot that particular dance sequence was shot in the presidential palace of Ukraine. So there is always a two-way process," Amitabh Kant said.
As the 3rd Tourism Working Group Meeting kicked off here with the participation of 61 delegates from 29 countries, Union Minister Jitendra Singh said the event will create job opportunities for the youth of Jammu and Kashmir as the new and peaceful Union Territory is attracting the filmmakers not only from India but across the world due to its pristine beauty.
Speaking at the side event on 'Film Tourism for Economic Growth and Cultural Preservation' during the 3rd Tourism Working Group Meeting at Sher-i-Kashmir (SKICC), Singh said, "The youth of Kashmir is highly aspirational, sensitive and forward-looking who can see the enormous opportunities unfolded by Prime Minister Narendra Modi for the people of this country."
"This is the best thing happening in Jammu and Kashmir as such events will have a multifarious enrichment for the erstwhile state. Under Prime Minister Narendra Modi, Kashmir is going to be the most profitable, cost-effective and economically viable film destination," Singh added.
Harsh Vardhan Shringla, Chief Coordinator, G20 on Monday said that around 20 million tourists are expected to visit Jammu and Kashmir this year.
Shringla said that the idea is to increase the number of foreign tourists visiting J-K. (ANI)
ALSO READ-G20 meeting in Kashmir will spread message of peace, says Kant