Advertisement

EAM Jaishankar and Maldivian counterpart exchanged nine new MoUs under Phase II of the High Impact Community Development Projects Scheme…reports Asian Lite News
External Affairs S Jaishankar held delegation-level talks with Maldives Foreign Affairs Minister Abdulla Shahid at Hyderabad House on Tuesday.
India and Maldives signed various agreements and Memorandum of Understanding at Hyderabad House on Tuesday. "A warm and productive meeting today with FM Abdulla Shahid of Maldives. Encouraged to learn of the steady progress in our development partnership. It is directly contributing to the economic growth and social welfare of our neighbour. Shared perspectives on the stability and prosperity of the Indian Ocean region and how our collaboration advances those goals. A good day for Neighborhood First and SAGAR outlook," EAM Jaishankar tweeted.
Maldives Foreign Affairs Minister Abdulla Shahid informed via Twitter that Maldives and India exchanged nine new MoUs under Phase II of the High Impact Community Development Projects Scheme.
Various MoU on the development of a Volley Court, Mental Health Unit, School Digitalization Project, upgrading Hospitals and schools and preserving culture were signed between India and Maldives on Tuesday.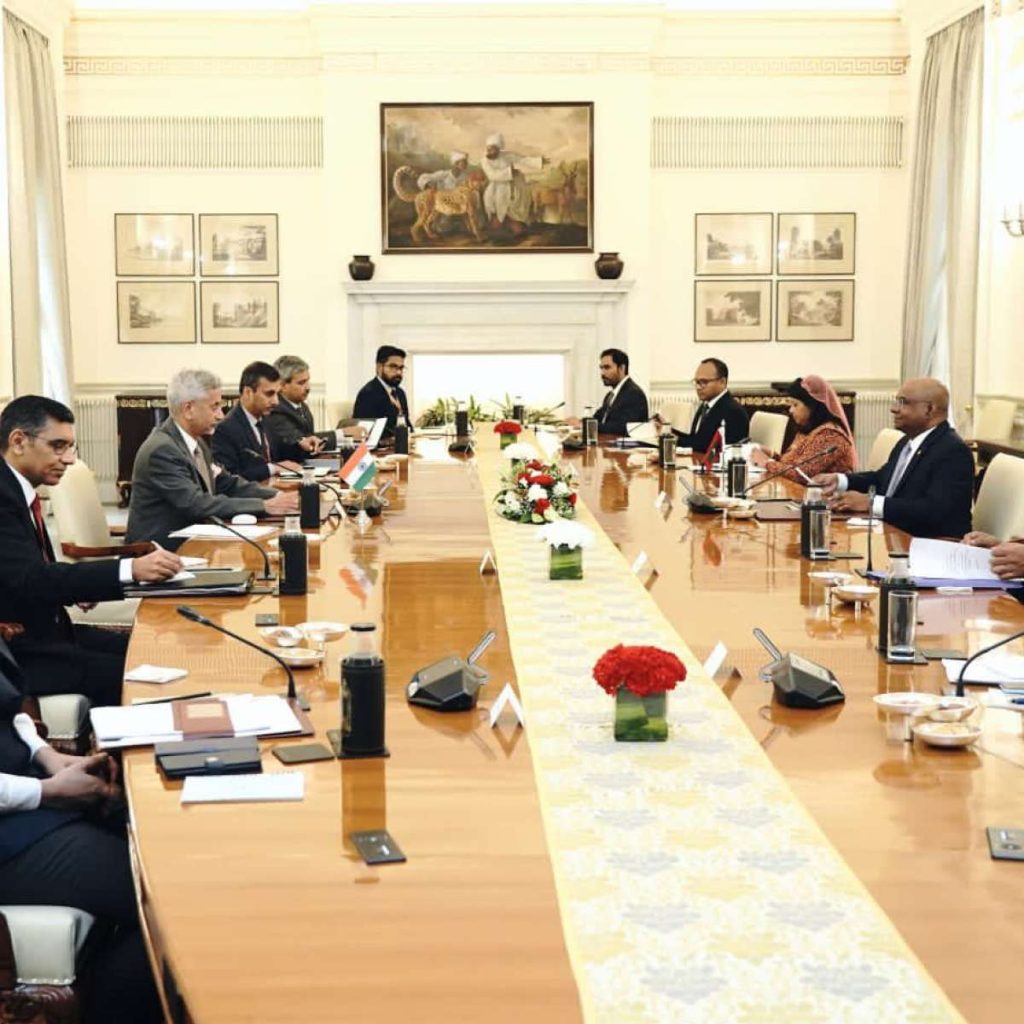 "The MoU on Development of a Volley Court in Sh. Kanditheemu, will promote play and healthy competition among the community," Shahid wrote on Twitter.
Mentioning the benefits of various MoUs, Shahid further wrote on Twitter, "Once completed, the new Mental Health Unit at the R.Ungoofaaru Hospital under Indian Grant Assistance will ensure the psychosocial environment for individuals and assist in our strides for improved community health."
"The MoU on Establishment of Geydhoshu Mas Plant in M. Dhiggaru, is a priority project for the Government. This will address many issues faced by the local community in processing the sustainably caught fish," Maldives Foriegn Minister informed.
"Pleased with the exchange of the MoU on School Digitalization Project in Th. Vilufushi. This will enable our children to receive a modern, 21st century, education to prepare them for the future," The Foreign Affairs Minister of Maldives wrote on Twitter.
He further informed that the Memorandum of Understanding exchanged on Upgrading F.Nilandhoo Hospital is an important project of the Government which will ease the burden of travelling to Male' for dialysis requirements.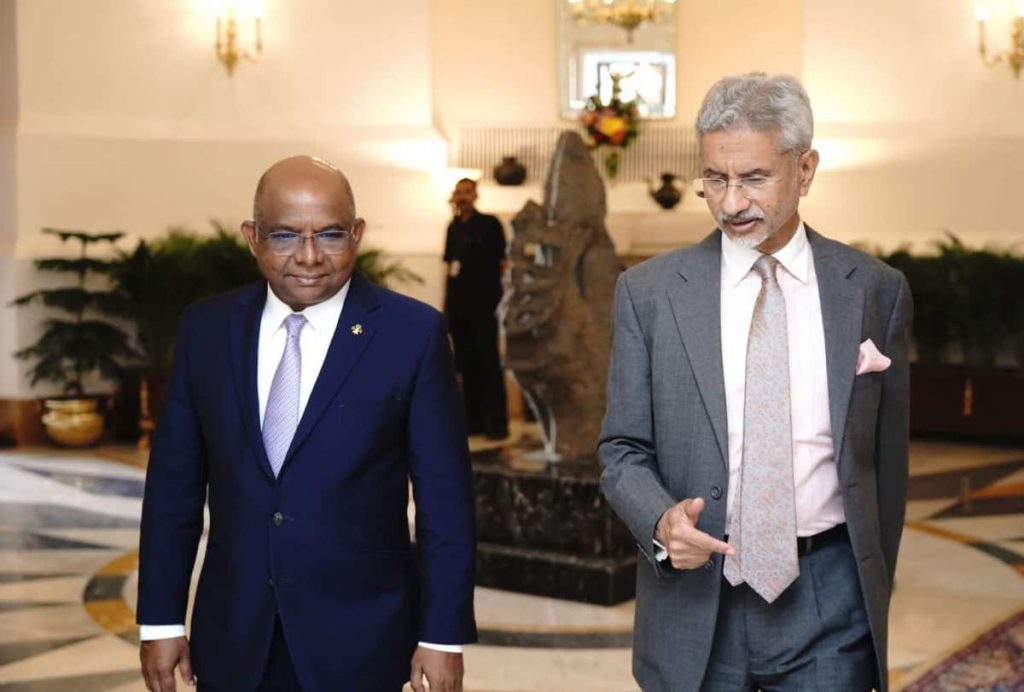 "The MoU on Upgrading School Computer Lab exchanged today will upgrade the existing Computer Labs of Government schools," he wrote.
MoU promoting and preserving culture was also signed between Maldives and India.
"The MoU signed on Utheemu Palace Roof Preservation and Development of Palace Surroundings Project will promote Maldivian culture. This signifies the cultural cooperation between both countries," Maldives' Foriegn Minister wrote on Twitter.
Maldives' Foreign Minister is also expected to deliver the 43rd Sapru House Lecture at the Indian Council of World Affairs (ICWA) in New Delhi.
Maldives is India's key maritime neighbour in the Indian Ocean Region (IOR) and occupies a special place in the Prime Minister's vision of 'SAGAR' (Security and Growth for All in the Region) and the 'Neighbourhood First Policy'.
"The Maldives Foreign Minister's visit is in continuation of the series of high-level visits from both sides and is expected to lend further momentum to the substantive bilateral cooperation between the two countries," the Ministry of External Affairs said in an official release.
Last month, Union Minister of State for External Affairs V Muraleedharan and Abdulla Shahid attended the ceremony for the exchange of 10 Memorandum of Understanding (MoUs) between India and Maldives in Male.
India and Maldives' relationship is not limited to political affairs but also they have a strong military alliance. Recently, India and Maldives held a Joint Exercise Ekuverin concluded after intense validation training.
The 12th edition of the joint military exercise "Ex Ekuverin" between the Indian Army and the Maldives National Defence Force has taken place at Chaubatia, Uttarakhand from 11 to 24 June 2023, reported the Ministry of Defence.
Ekuverin meaning 'Friends' is a bilateral annual exercise conducted alternatively in India and Maldives.
A platoon strength contingent from Indian Army and Maldives National Defence Force has participated in a 14-day long exercise.
The exercise aimed at enhancing interoperability in Counter Insurgency/ Counter Terrorism Operations under the UN mandate and carrying out joint Humanitarian Assistance and Disaster Relief operations. The focus was to share best practices and enhance coordination and cooperation between both the forces at tactical level, according to the Ministry of Defence. (ANI)
Advertisement