Advertisement

Mansukh Mandaviya was addressing global conference on Digital Health, a co-branded event under India's G20 Presidency….reports Asian Lite News
Union Health Minister Mansukh Mandaviya on Monday said that India aims to launch a global initiative on digital health as an institutional framework to converge the global efforts for digital health and scale up digital solutions with use of cutting-edge technologies.

He was virtually addressing 'Global Conference on Digital Health – Taking Universal Health Coverage to the Last Citizen' a co-branded event under India's G20 Presidency organised by WHO – South-East Asia Region in collaboration with Ministry of Health & Family Welfare, Government of India.

"Digital solutions hold the capacity to revolutionise the healthcare delivery systems. Under the visionary leadership of Prime Minister, India aims to launch a global initiative on digital health as an institutional framework. This framework aims to converge the global efforts for digital health and scale up digital solutions with use of cutting-edge technologies. It is time to move from 'Silos to Systems' with collaboration of all countries for enhanced coverage and quality of healthcare services," said Mandaviya addressing the conference.

Addressing the challenges in universalisation of digital health and enabling of equitable access to healthcare services across the world, particularly for low-and middle-income countries, the Health Minister added, "Aligned with the ethos of Vasudhaiva Kutumbakam, India provided Co-Win, E-sanjeevani and Aarogya Setu applications as digital public goods exemplifying our commitment to global health and our role in driving equitable access to critical health solutions."

Reiterating India's commitment towards Universal Health Coverage, Mandaviya cited digital interventions have become the foundations of many crucial health programmes such as reproductive child healthcare, Ni-kshay, TB control programme, integrated disease surveillance system, hospital information system among many others.

Citing the examples of e-Sanjeevni, a tele-consultation platform which has crossed 100 million teleconsultations, the vaccine management drive achieving administration of more than 2.2 billion doses, and of Prime Minister Arogya Yojana (PMJAY) that provides health insurance to 500 million citizens free of cost in a cashless and paperless manner, he added that India's adoption of digital health as a critical intervention from the onset of the pandemic became a defining juncture as it enabled healthcare services to a wide range of services with ease, reaching the innermost regions of the nation.


"While Governments around the world are already making significant investments to leverage technology to improve health outcomes, there is still a long way to go in order to achieve sustainable and scalable outcomes. India accordingly under its G20 Presidency has prioritised Digital Health as a specific priority in its Health Working Group namely- 'Digital Health Innovation and Solutions to aid UHC and improve Healthcare Service Delivery' that aims to align, support, and converge efforts, investments and promotes the concept of digital public health goods to aid Universal Health Coverage," he further added.

The global leaders and health development partners, health policy makers, digital health innovators and influencers, academia and other stakeholders from around the world were also present at the conference.

Dr. Poonam Khetrapal Singh, Regional Director, WHO-SEARO said that digital health solutions ensure democratisation of health services & innovations with specific focus on low and low-middle income countries (LMICs). She also suggested to establish digital health infrastructure, build on institutional platform and citizen-driven digital health ecosystem.

Professor Alain Labrique, Director, Digital Health and Innovation, WHO focused on the need of people-centred digital solution taking care of equity and inclusion for marginalised community and digital divide.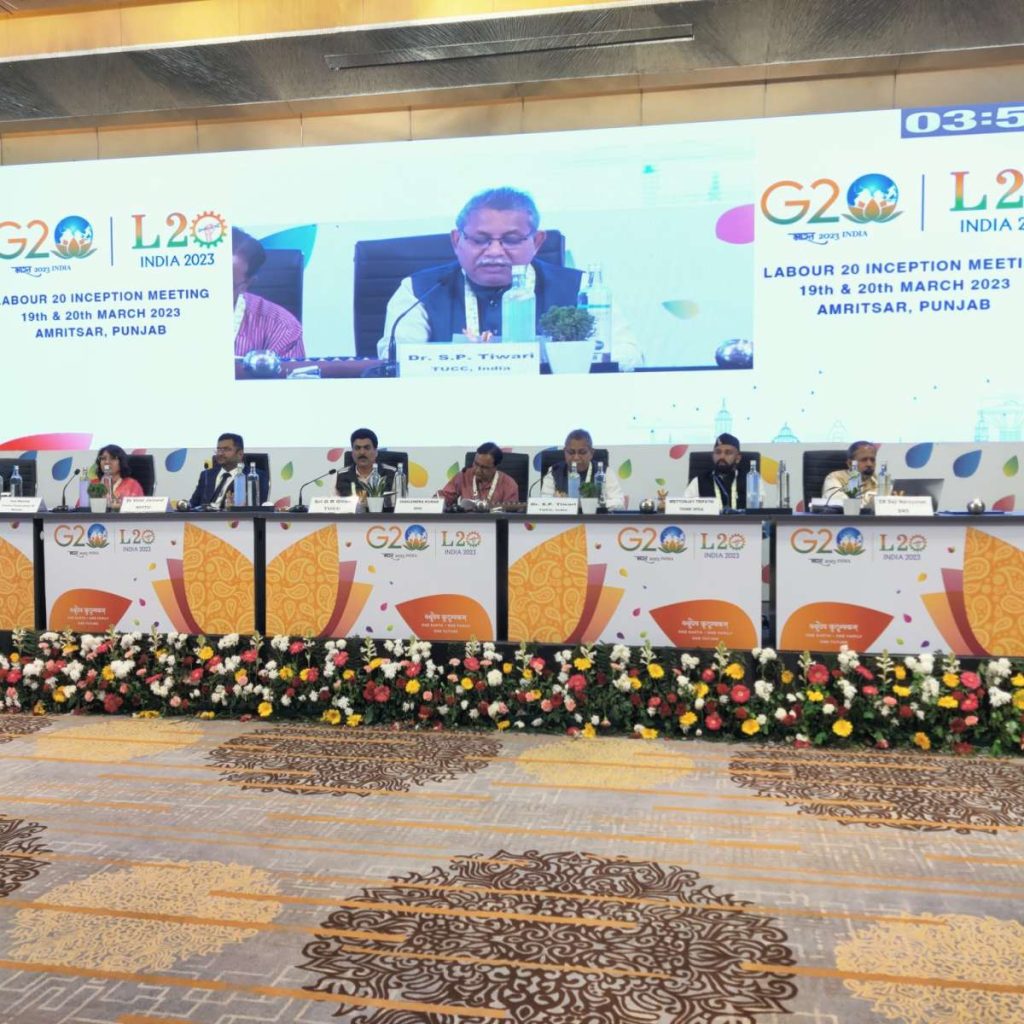 Amritsar hosts L20 inception meeting
The Labour20 (L20) engagement group's inception meeting, as part of India's G20 presidency, began deliberations in Amritsar, Punjab on Sunday on key issues concerning the global workforce to provide direction to the G20 nations and institutions to focus on development reaching to the last person.
Trade union leaders, labour studies experts and delegates from 20 nations at the Labour20 inception meeting under India's G20 presidency are preparing to call for the universalisation of social security and to put women at the centre of the future of work, informed a government release. In the inaugural session Hiranmay Pandya, L20 Chair and National President of Bharatiya Mazdoor Sangh (BMS), said that in tune with the spirit of G20 in 2023, the work force of the world is one family. He highlighted the G20 theme #OneEarth #OneFamily #OneFuture and how the concept is relevant to the labour movements globally.
The L20 event had delegates from previous presidency, Indonesia, and next presidency, Brazil, too participating, apart from Trade Union representatives from other G20 nations. The L20 meet will conclude tomorrow with a joint statement on Universalisation of Social Security and Woman and Future of Work, both subjects being debated in detail at the event, said BMS former National President C. K. Saji Narayanan.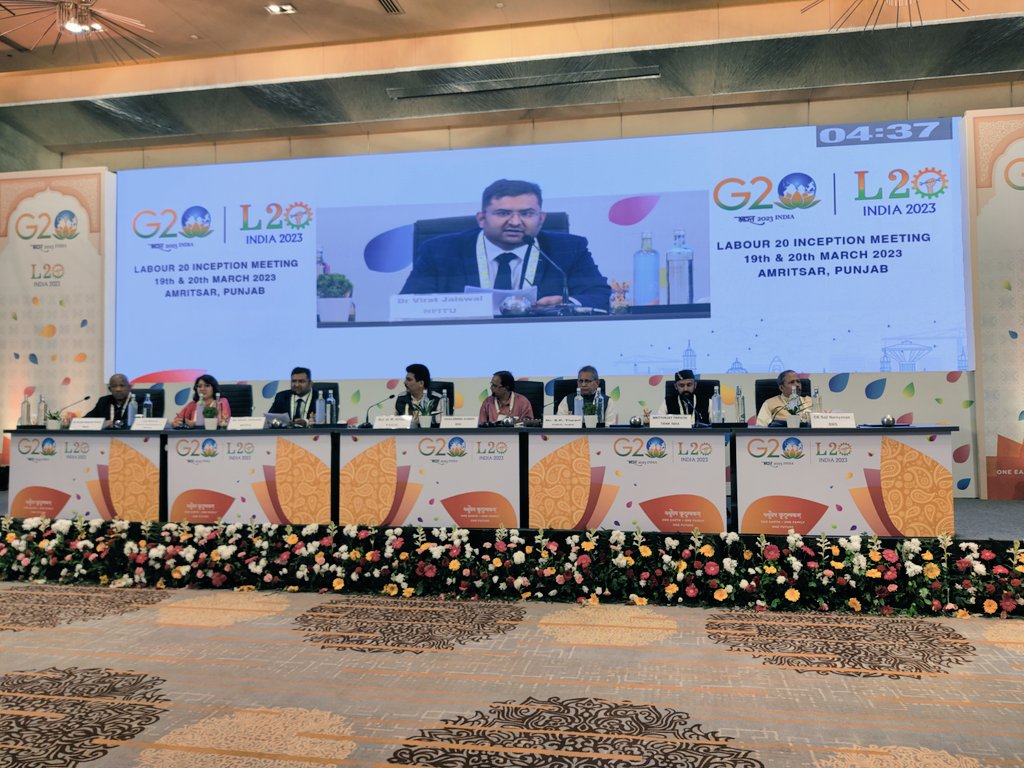 He said, the economic crisis adversely impacts women the most, and hence the future of work depends majorly on the women workforce, which needs direction globally. It is also important to evolve a global mechanism for portability of social security, in view of the latest trends in labour migration worldwide, he said.
Arun Maira, former member of the Planning Commission of India, said India seeks peace and harmony in the world, and noted that it is time to bring back the "family spirit" in economy. He said there are many communities who are concerned about their future well-being in the economy and in society. These include women, youth, farmers, factory workers, self-employed workers, and micro-enterprises. He said all of them must be listened to now.
The day saw five parallel technical sessions on International Migration of Labour and Portability of Social Security Funds; Social Protection for Informal Workers; Skill Training and Skill Upgradation and Role and Responsibilities of Employers, Employees and Governments; Changing World of Work and New Employment Opportunities in G20 Countries; and Promoting Sustainable Decent Work.
The second day of the two-day L20 Inception Meet tomorrow will importantly discuss Women and Future of Work. (ANI)