Advertisement

Permanent representative to UN Ruchira Kamboj has said Chandrayaan-3's successful landing on the Moon is a historic moment for humanity…reports Asian Lite News
India's Permanent Mission to the UN on Friday celebrated the success of the Chandrayaan-3 mission.
"Marking the triumph of the #Chandrayaan3Mission we gathered with our colleagues from the Permanent Missions in New York. We extend our gratitude for your presence and unwavering support on this occasion," the Indian Permanent Mission to UN wrote on 'X' formerly Twitter on Friday.
Meanwhile, Permanent representative to UN Ruchira Kamboj has said Chandrayaan-3's successful landing on the Moon is a historic moment for humanity as "we venture into uncharted territory near the moon's South Pole".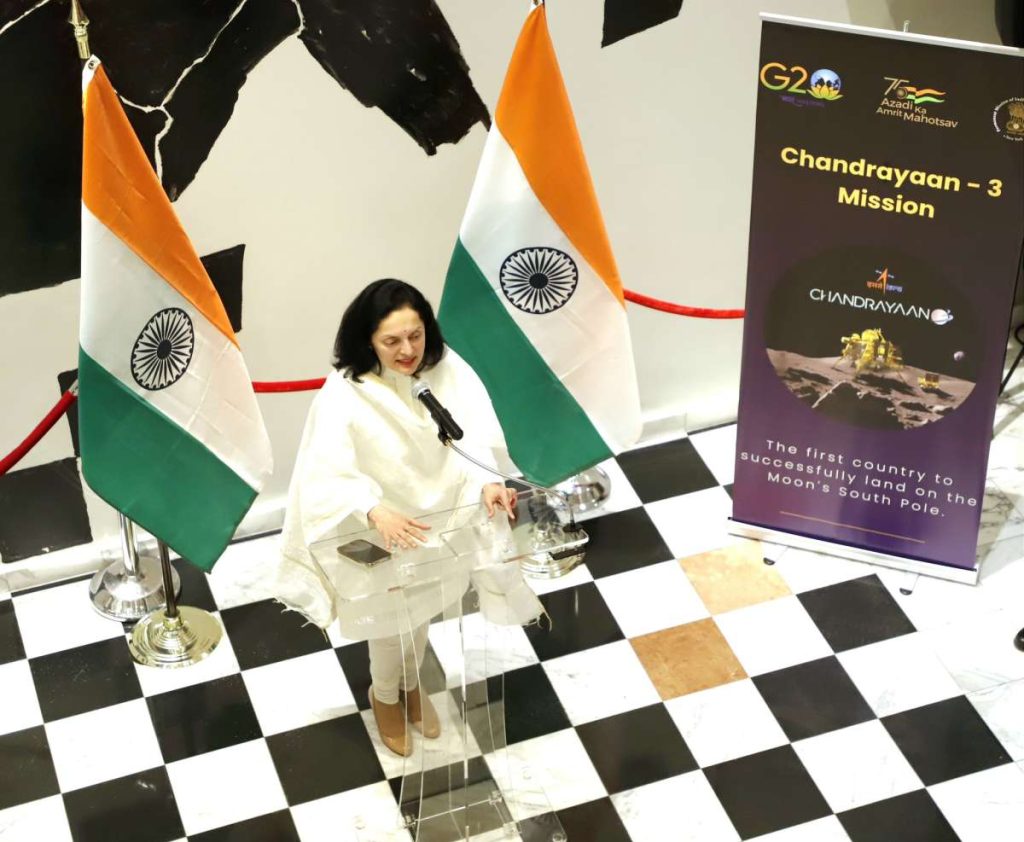 "India's Chandrayaan-3 mission successfully landed its Vikram lander module near the South Pole of the Moon. And what is significant about this is that India has reached the South Pole of the Moon which no country in the world could reach to date with the dedication and talent of its scientists," the permanent representative to the UN said during a press briefing at UN Headquarters in New York.
She said the Chandrayaan-3 mission "not only marks India's presence on the moon but also symbolizes the aspirations of 1.4 billion Indians. Beyond that, it's a historic moment for humanity as we venture into uncharted territory near the moon's South Pole."
Kamboj said that as per Prime Minister Narendra Modi, the mission's success "belongs to all of us and holds promise for future scientific achievements that will benefit humanity as a whole."
Chandryaan-3 on Wednesday successfully performed a soft landing on the Moon.
ISRO tweeted: "Chandrayaan-3 Mission: 'India, I reached my destination and you too!' Chandrayaan-3 has successfully soft-landed on the moon! Congratulations, India!"
As the Vikram lander carrying the Pragyaan rover in its belly touched down on the lunar surface, it marked a giant leap in India's spacefaring journey providing a well-deserved finale to ISRO's long years of toil.
This makes India the fourth country – after the US, China, and Russia – to have successfully landed on the moon's surface, it has earned a place in record books as the first to touchdown on the south side of Earth's only natural satellite.
Special screenings of the soft landing were organized across the country, including schools science centres, and public institutions. ISRO made the live action available on the ISRO website, its YouTube channel, Facebook, and public broadcaster DD National TV.
The spacecraft was launched from the Satish Dhawan Space Centre in Andhra Pradesh's Sriharikota on July 14. (ANI)