Advertisement

Republic Day 2023: The newly-recruited Agniveers will also be a part of the Republic Day parade for the first time…reports Asian Lite News
January 26 marks the 73rd Republic Day, celebrated annually to commemorate the adoption of the Constitution of India in 1950.
This year's grand celebrations in New Delhi will mark many firsts starting with the venue.
This year, Republic Day celebrations will be held at Kartavya Path, a ceremonial boulevard running from Rashtrapati Bhavan on Raisina Hill through Vijay Chowk and India Gate, National War Memorial to National Stadium. It was renamed last year from Rajpath.
The women officers of the Indian Army will be leading missile contingents and riding motorcycles as part of the famous Daredevils team at this year's parade. Among them, lieutenant Chetana Sharma will be leading the 'Made in India' Akash surface-to-air missile system.
Lt Commander Disha Amrith will lead a 144-member naval contingent at the parade. The naval tableau's central theme is Nari Shakti. Women soldiers guarding the desert border with Pakistan will also be a part of the Border Security Force's (BSF) camel contingent this year.
The newly-recruited Agniveers will also be a part of the parade for the first time. The Narcotics Control Bureau will also showcase a tableau for the first time.
This year, only Made-in-India weapon systems will be showcased at the Republic Day parade, keeping with the theme of "Atmanirbhar Bharat". Some of the indigenously developed weapons include K-9 Vajra howitzers, MBT Arjun, Nag anti-tank guided missiles, BrahMos supersonic cruise missiles, Akash air defence missiles, and Quick Reaction Fighting Vehicles.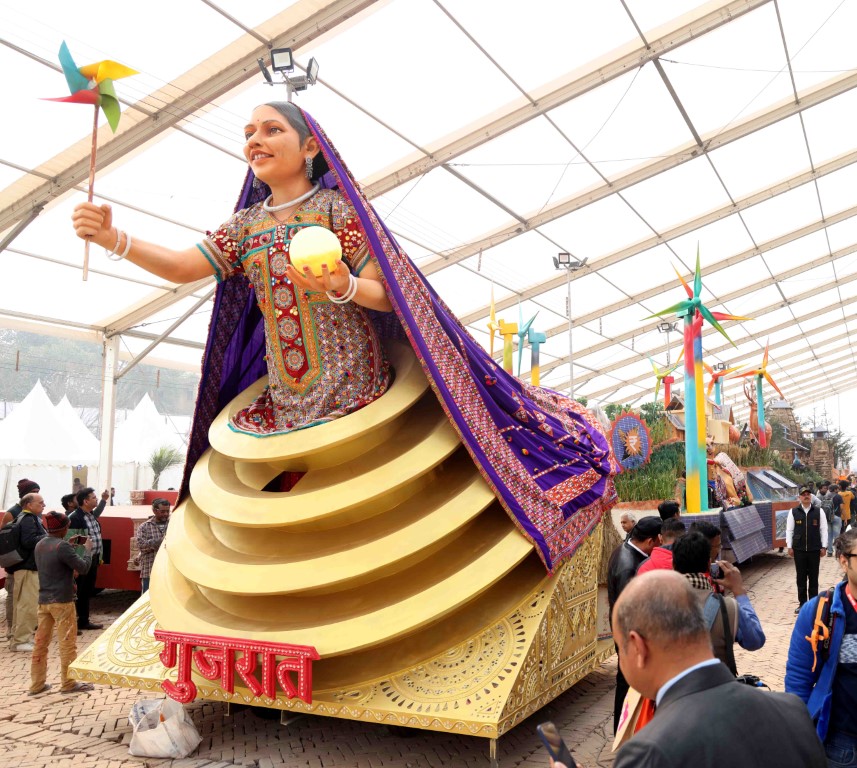 The Made-in-India 105mm Indian Field Guns will replace the British-era 25-pounder guns for the first time this year for the 21-gun salute.
A military contingent from Egypt will also be part of the parade. The chief guest this year is Egyptian President Abdel Fattah El-Sisi.
For the last time at this year's parade, the Navy's IL-38 aircraft will have its last take-off at the parade. The aircraft has served for over four decades.
Another feature of this year's Republic Day is a team of "Daredevils" Motor Cycle Riders from the Corps of Signals co-led by a woman officer who will be part of the parade.
For the first time, women will form part of BSF Camel Contingent.
The aerial show will include nine Rafale aircraft and the Navy's IL-38, which according to a senior Indian Air Force (IAF) official, will be showcased for the first and perhaps for the last time. Navy's IL-38 has served the Indian Navy for around 42 years and is a maritime reconnaissance aircraft. "It will be showcased during the Republic Day celebrations here for the first time and perhaps the last time. It will be among the 50 aircraft that will take part in the event," the IAF official said.
Besides the IL-38 aircraft, the formations like 'Bheem' and 'Vajrang' will be showcased over the Kartavya Path for the first time.
A military contingent of the Egyptian Army will march in India's Republic Day parade on January 26. The Egyptian military contingent will have 144 personnel participating in the parade. This time, Egyptian President Abdel Fattah El-Sisi will be the Chief Guest of the 74th Republic Day celebrations. He will be accompanied by a high-level delegation, including five Ministers and senior officials. Abdel Fattah El-Sisi is due to arrive in New Delhi on January 24. "This is for the first time that the President of the Arab Republic of Egypt has been invited as Chief Guest on our Republic Day. A military contingent from Egyptian Army will also participate in the Republic Day parade," the Ministry of External Affairs said in an official statement on Monday.
The Indian Army will be represented by Mounted Columns of 61 Cavalry, nine Mechanised Columns, six Marching Contingents and a fly-past by helicopters of Army Aviation. Three Param Vir Chakra and three Ashok Chakra awardees will also participate in this year's Parade.
Indigenously produced Prachand, a multi-role, light attack helicopter will also be part of the Indian Air Force flypast. "ALH Dhruv and ALH Rudra will be seen, and Indian Air Force Prachand will also be on display in this year's Republic Day," Major General Kumar mentioned.
For the first time, a 3-D anamorphic projection will be organised during Beating Retreat Ceremony 2023 on the façade of North and South Block.
There will be 16 marching contingents from the Armed Forces, Central Para Military Forces, Delhi Police, NCC, NSS, Pipes and Drums Bands. Besides, 23 tableaux — 17 from states and Union territories, and six from various ministries and departments, — depicting the nation's rich cultural heritage, economic and social progress and strong internal and external security will roll down the Kartavya Path during the ceremonial parade, the Ministry of Defence said in a statement.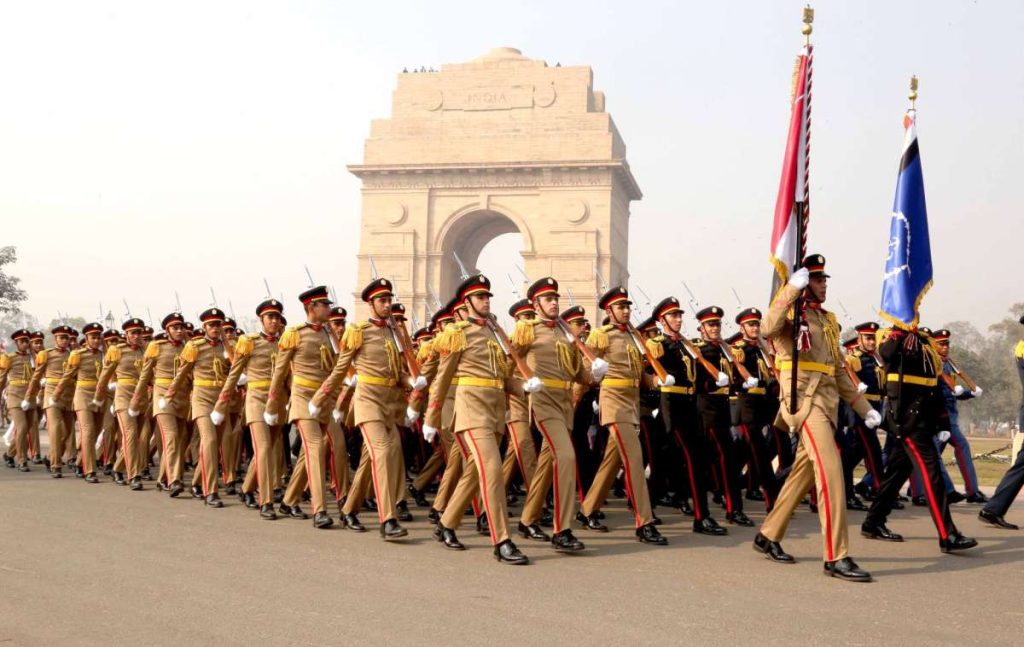 6,000 policemen deployed in New Delhi district
Delhi Police have deployed over 6,000 police personnel in and around the New Delhi district amid adequate security arrangements for the safe conduct of the Republic Day parade, an official said on Tuesday.
Deputy Commissioner of Police, New Delhi, Pranav Tayal said that the police have made arrangements for around 70,000 people and the total deployment will be more than 6,000 police personnel.
Both static and mobile Quick Response Teams will remain alert to handle any untoward situation, he said,
"We have intensified the anti-terror measures in coordination with other agencies. Teams of National Security Guard will also be deployed," the DCP said.
The city is already under a heavy security cover after intelligence agencies received inputs of a possible terror attack in the run-up to the Republic Day. Vehicles are being thoroughly checked at all the entry and exit points of Delhi.
"Delhi has always remained a target for anti-social elements. Threat perception is very high during such occasions. There are threat inputs and we have strengthened our security apparatus," the DCP said.
The police have also installed 150 new CCTV cameras with some even having a feature of face recognition to keep an eye over the movement of every unsocial element.
This time the police have also introduced a new security feature in the entry pass of the Republic Day parade. "Every pass or ticket has a QR code. The entry will only be given when that code is scanned and the person carrying it is identified and verified," the DCP said.
He said that no person without a pass or a ticket will be allowed to gain entry at the Kartavya Path.
The Delhi Police on Monday banned the flying of sub-conventional aerial vehicles over the national capital for security and safety reasons.
Delhi Police Commissioner Sanjay Arora issued the order, prohibiting the flying of aerial vehicles such as para-gliders, para-motors, hang-gliders, UAVs, UASs, microlight aircraft, remotely-piloted aircraft, hot air balloons, small-sized powered aircraft, quadcopters or even by para-jumping from aircraft till February 15.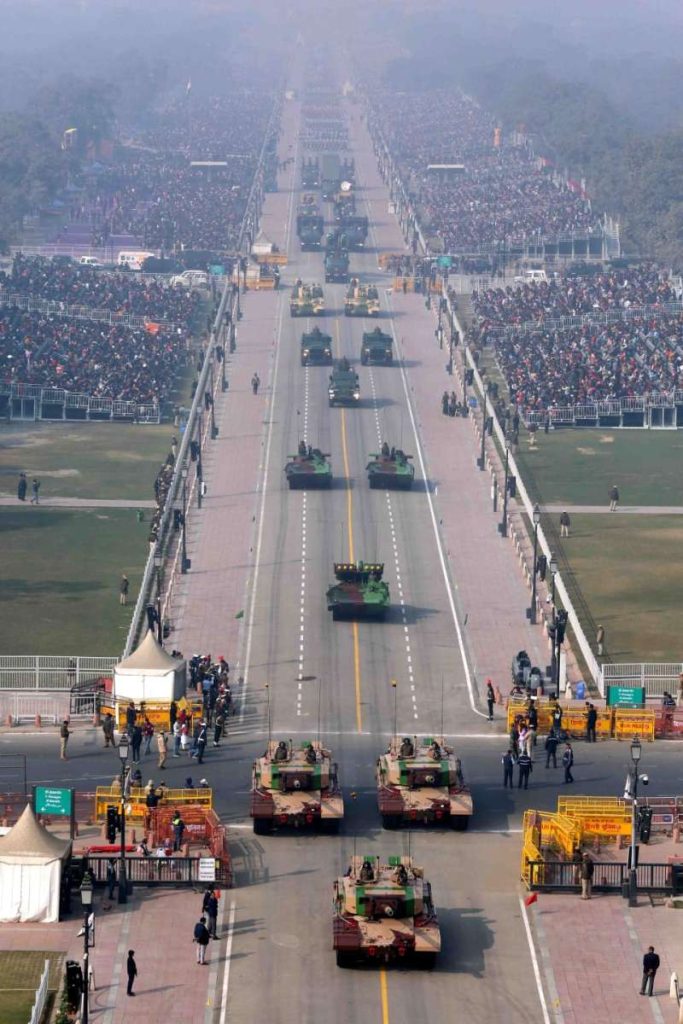 CRPF bags maximum 48 Gallantry awards
A total of 901 police personnel have been awarded medals on the occasion of Republic Day, 2023 with Central Reserve Force (CRPF) personnel selected for a maximum of 48 Gallantry Awards.
Police Medal for Gallantry (PMG) has been awarded to 140, President's Police Medal for Distinguished Service (PPM) to 93 and Police Medal for Meritorious Service (PM) has been awarded to 668 Police personnel. Among the majority of the 140 Gallantry Awards, 80 personnel from Left Wing Extremism affected areas and 45 personnel from Jammu and Kashmir region are being awarded.
Among the personnel receiving Gallantry Awards, 48 are from Central Reserve Force (CRPF) followed by 31 from Maharashtra; 25 from Jammu and Kashmir Police, nine from Jharkhand; seven each from Delhi, Chhattisgarh and Border Security Force (BSF) and the remaining from the other states and Union Territories (UTs) and Central Armed Police Forces (CAPFs).
Police Medal for Gallantry (PMG) is awarded on the ground of Conspicuous Gallantry in saving life and property, or in preventing crime or arresting criminals. President's Police Medal for Distinguished Service (PPM) is awarded for special distinguished record in Police Service and Police Medal for Meritorious Service (PM) is awarded for valuable service characterized by resource and devotion to duty. (ANI)