Advertisement

The six day-long Namasté France will present an eclectic mix of the very best of India's living cultural traditions and contemporary arts….reports Asian Lite News
The Embassy of India in Paris, with the support of the Ministry of Culture, Government of India is organising the Namasté France festival from 07 – 12 April, 2023 in order to celebrate 25 years of India-France Strategic Partnership.
Namasté France 2023 comes in pursuit of the commitment on reciprocal cultural festivals made during the joint declaration of Prime Minister of India Narendra Modi and President Emmanuel Macron of France when the former visited France in August 2019.
Namasté France 2023 is a celebration of the historic and friendly relations between India and France, and the multi-faceted India-France Strategic Partnership; and aims to celebrate this landmark moment in the history of Indo-French relations by bringing together leading performing and visual artists and artisans from India to provide an extraordinary feast of the senses through all of India's rich cultural diversity, the Embassy said in a statement.
Convinced by the formidable power of culture to bridge people together across nations and generations, Namasté France also aims to further advance people to people ties between India and France. The events of the festival have been thoughtfully curated not only to present a window into the best of this ancient culture, but also to reflect the India of today and now, it added.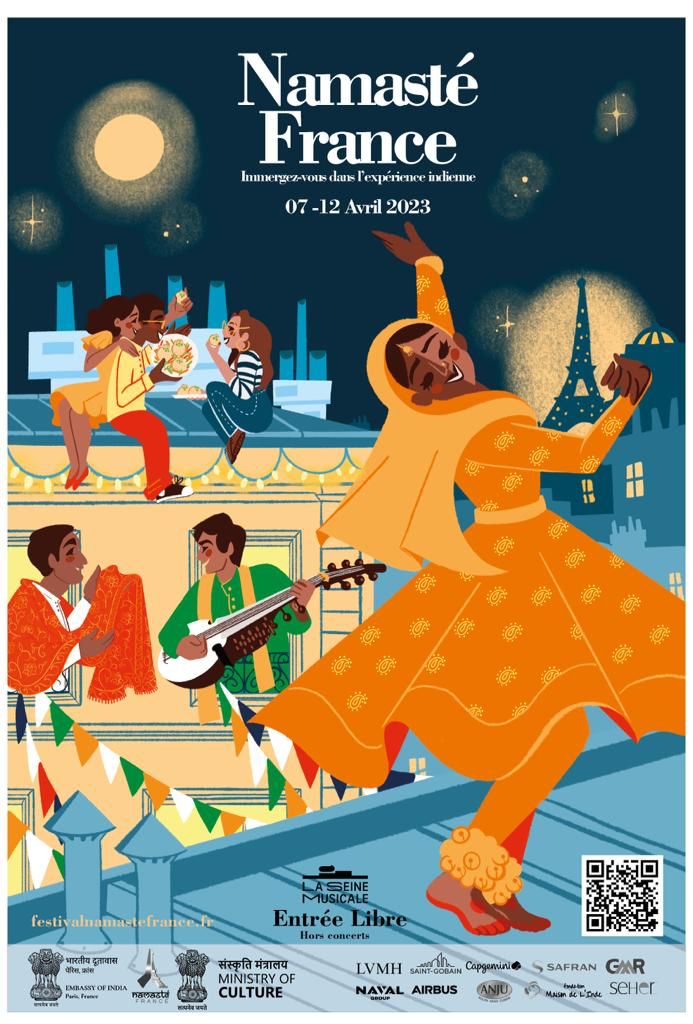 In the span of six days of the festival, Namasté France will present an eclectic mix of the very best of India's living cultural traditions and contemporary arts. Through an array of performing and visual arts – from classical to folk, from yoga to bollywood workshops and seminars, from photography and exhibitions to handicrafts and gastronomy, Namasté France promises to offer an immersive experience of the Indian cultural landscape.
A special attention has been paid to curate Namasté France 2023 with artists of international renown – with awardees of the Padma Shri, the Padma Vibhushan and the Grammy Award scheduled to perform. Veritable maestros in their respective domains, including Amjad Ali Khan, Bombay Jayashri, Ricky Kej and the Shakti band, will come together to perform for the audiences of Namasté France 2023. This edition of Namasté France has been imagined as a festival doted with an universal, intergenerational appeal.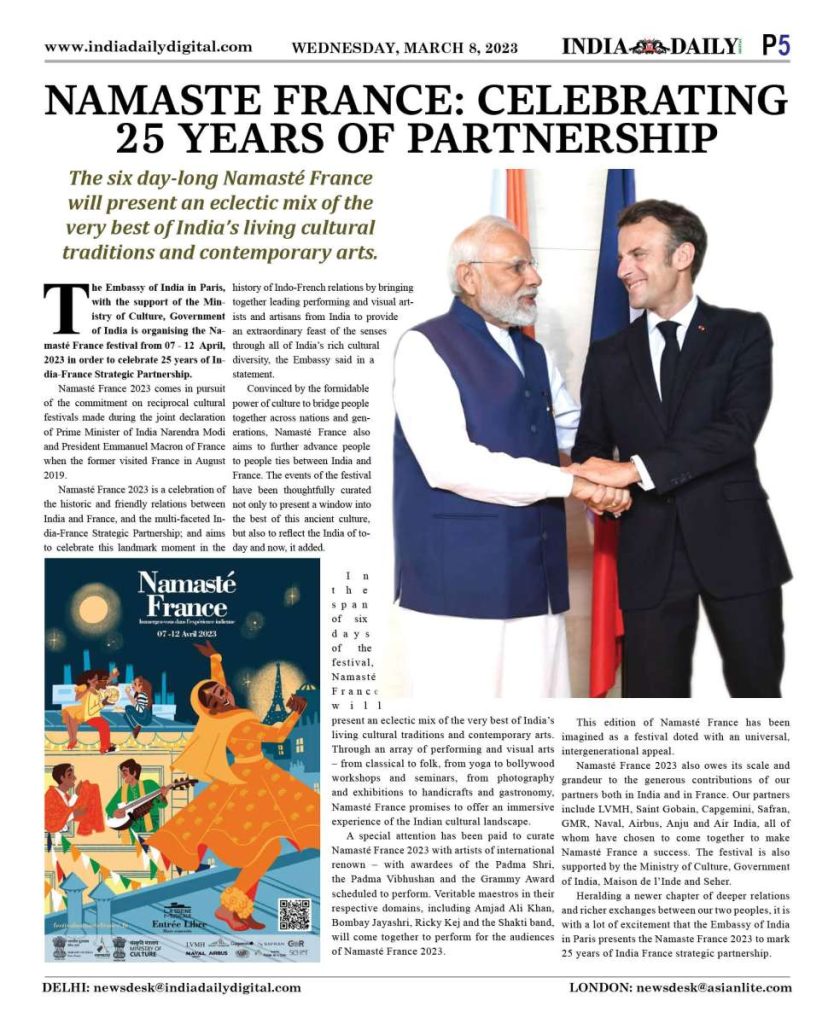 Namasté France 2023 also owes its scale and grandeur to the generous contributions of our partners both in India and in France. Our partners include LVMH, Saint Gobain, Capgemini, Safran, GMR, Naval, Airbus, Anju and Air India, all of whom have chosen to come together to make Namasté France a success. The festival is also supported by the Ministry of Culture, Government of India, Maison de l'Inde and Seher.
Heralding a newer chapter of deeper relations and richer exchanges between our two peoples, it is with a lot of excitement that the Embassy of India in Paris presents the Namaste France 2023 to mark 25 years of India France strategic partnership.