Advertisement

Australian prime minister Anthony Albanese stated that it was his great pleasure to welcome Prime Minister Modi to Australia….reports Asian Lite News
Prime Minister Narendra Modi is "The Boss", Australian prime minister Anthony Albanese said on Tuesday at a grand community event in Sydney for the Indian diaspora.
At a special community event held at the Sydney Qudos Bank Arena, Albanese compared PM Modi's mass appeal with that of the famed rockstar Bruce Springsteen, who incidentally is famed among his fans as "The Boss".
Witnessing the rousing welcome that PM Modi got from the crowd at the Sydney stadium who chanted "Bharat Mata ki Jai", "Vande Mataram" and "Modi, Modi," Albanese said that his popularity is more than American singer-songwriter Bruce Springsteen.
"The last time I saw someone on this stage was Bruce Springsteen and he did not get the welcome that Prime Minister Modi has got. Prime Minister Modi is The Boss," said Albanese.
Earlier, PM Modi and his Australian counterpart Albanese arrived at the Qudos Bank Arena in Sydney to a resounding welcome.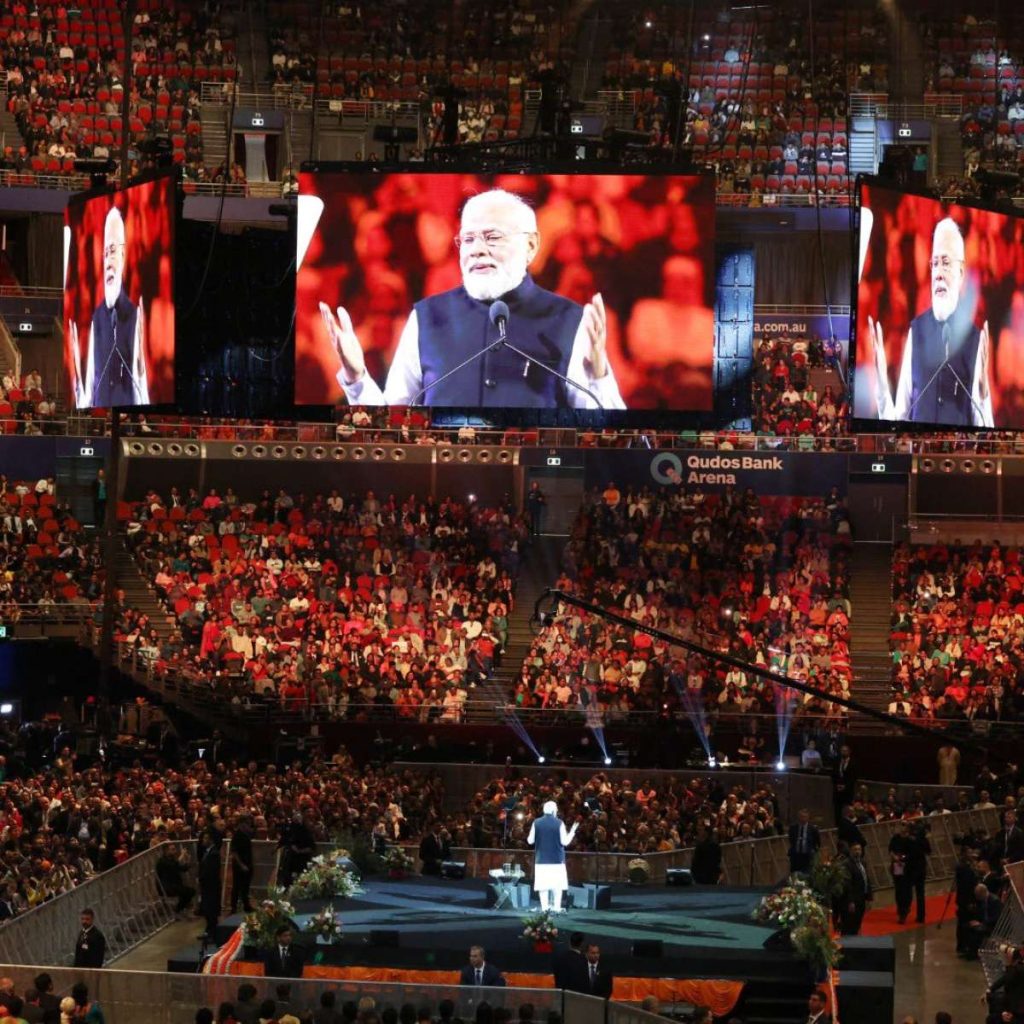 The Australian PM recalled his India visit earlier this year and how he backpacked to India in 1991, saying, "If you want to understand India..travel by train and bus."
"When I was in India in March, it was a trip full of unforgettable moments, celebrating Holi in Gujarat, laying a wreath for Mahatma Gandhi in Delhi… Everywhere I went, I felt a deep connection between the people of Australia and India. If you want to understand India, travel by train and bus," said Albanese.
He further stated that it was his great pleasure to welcome Prime Minister Modi to Australia.
"My first year as Prime Minister is what I am celebrating today. I have met my friend PM six times but there is nothing better than standing on stage with him like this, it is a pleasure to welcome PM Modi here. But I must say that the warmth and energy that is here tonight is second to none," said Albanese.
PM Modi was greeted at Sydney's Qudos Bank Arena in Sydney Olympic Park with Vedic chanting and other traditional types of welcome.
A cultural program was held at the Qudos Bank Arena. Various cultural performances were performed by various artists, Bharatnatyam, Garba and other dance forms were performed at the event.
Members of the Indian diaspora expressed their excitement at attending the event. Modi is visiting Australia for the first time in nine years. He has last visited the country in 2014.
Prime Minister Modi had arrived in Sydney on Monday as part of the third and final leg of his three-nation visit after concluding his visit to Papua New Guinea.
"India-Australia ties based on mutual trust, respect"
Noting that bilateral ties between India and Australia were earlier seen to be defined by 3Cs- Commonwealth, Cricket and Curry, then by 'Democracy, Diaspora and Dosti' and later 'Energy, Economy and Education' emerged as a key component, Prime Minister Narendra Modi on Tuesday said that he believes the relationship is "beyond this" and "it is mutual trust and mutual respect".
Addressing a community event in Sydney on the second day of his visit to Australia, PM Modi credited the Indian diaspora in Australia as being a force behind mutual respect and trust between the two countries.
"Earlier, it was said that India and Australia relationship is defined by 3Cs- Commonwealth, Cricket and Curry. Then it was said that our relationship is defined by 'Democracy, Diaspora and Dosti. Some people also said that our relationship depends on Energy, Economy and Education. But I believe that the relation between India-Australia is beyond this, it is mutual trust and mutual respect," he said to a packed arena at Sydney Olympic Park.
"Mutual trust and mutual respect have not developed only due to the diplomatic relations of India-Australia. The real reason, the real power is – all of you Indians who live in Australia," he added.
PM Modi arrived at the Qudos Bank Arena in Sydney along with his Australian counterpart Anthony Albanese to a rousing welcome.
The Prime Minister spoke about the linkages between the two countries with people repeatedly cheering his remarks.
"Our lifestyles may be different but now Yoga also connects us. We have been connected due to cricket for a long. But now tennis and films are also connecting us. We might prepare food in different manners but Masterchef is connecting us now," he said.
PM Modi also mentioned Sameer Pandey over his being elected as the Lord Mayor of Parramatta in Australia.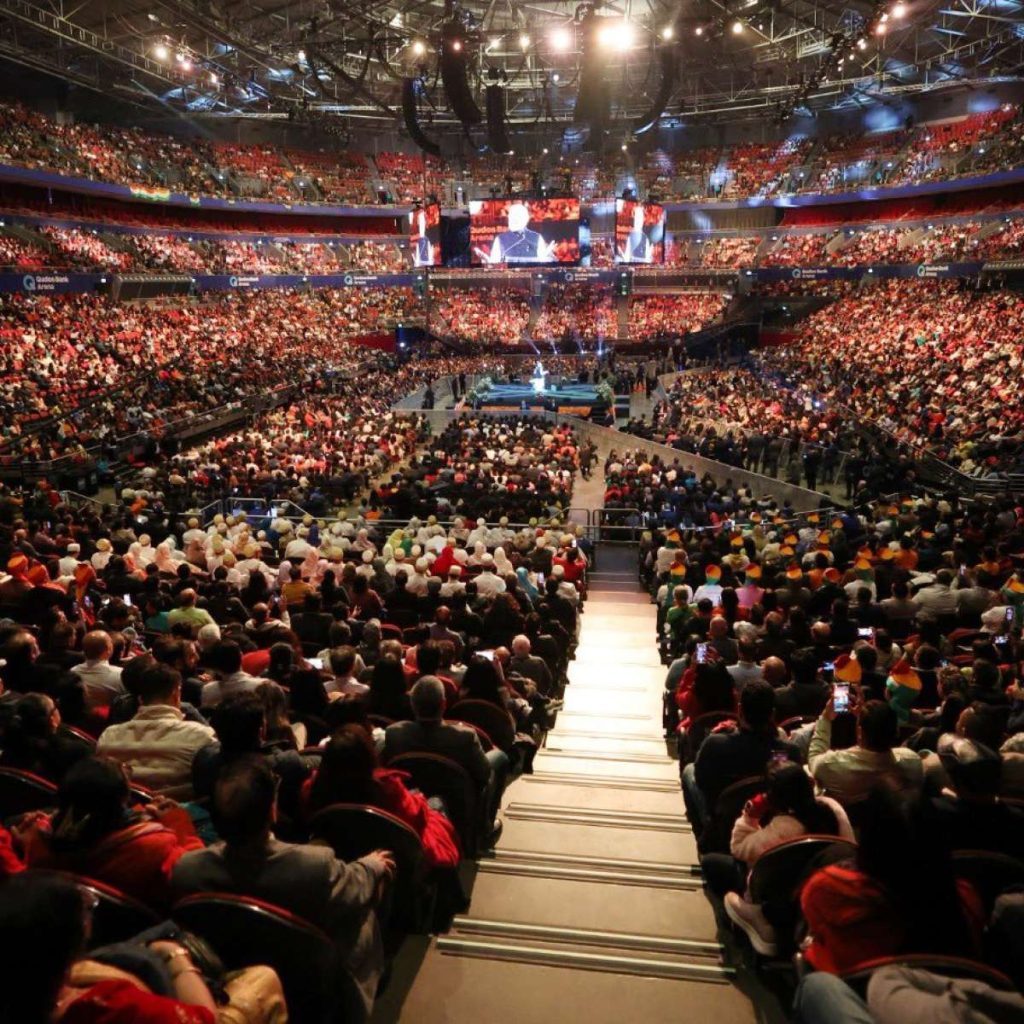 In his remarks, Anthony Albanese referred to the warm welcome accorded to PM Modi by the diaspora and people in Australia.
"The last time I saw Bruce Springsteen on this stage, he didn't get the kind of reception that Prime Minister Modi got. PM Modi is the boss," he said.
"It gives me great pleasure to welcome Prime Minister Modi to Australia. My first year as Prime Minister is what I am celebrating today. I have met my friend PM six times but there is nothing better than standing on stage with him like this, it is a pleasure to welcome PM Modi here. But I must say that the warmth and energy that is here tonight are second to none," he added. (ANI)