Advertisement

The meeting between foreign ministers of UAE and India touched on the historical friendship relations, the comprehensive strategic partnership, and the means to further develop cooperation…reports Asian Lite News
UAE Foreign Minister H.H. Sheikh Abdullah bin Zayed Al Nahyan has met with his Indian counterpart Dr. S. Jaishankar, on the sidelines of the 78th Session of the United Nations General Assembly (UNGA78) in New York.
The two ministers appreciated the rapid progress in India, UAE bilateral cooperation and valued regular exchange of perspectives on regional and global issues.
"Always a pleasure to meet FM @ABZayed of UAE, this time in New York. Appreciate the rapid progress in our bilateral cooperation. Value our regular exchange of perspectives on regional and global issues," EAM Jaishankar wrote on 'X' formerly Twitter on Tuesday.
The meeting touched on the historical friendship relations, the comprehensive strategic partnership between the UAE and India, and the means to further develop cooperation as part of the two countries' strategic partnership.
The UAE Foreign Minister and his Indian counterpart also reviewed the issue of climate change and bilateral cooperation in this regard, with the UAE hosting the United Nations Framework Convention on Climate Change (COP28) this year in Expo City Dubai.
Sheikh Abdullah stressed that the UAE and India are keen to support multilateral international action to find effective solutions to all challenges and build fruitful and constructive partnerships that benefit humanity.
He pointed out that the two friendly countries have been linked to a comprehensive strategic partnership since 2017 and a Comprehensive Economic Partnership Agreement since 2022, enabling them to accomplish many development achievements for their people. Sheikh Abdullah stressed that COP28 represents a great opportunity to highlight this exceptional UAE-India ties and the significance of international cooperation in facing all pressing challenges.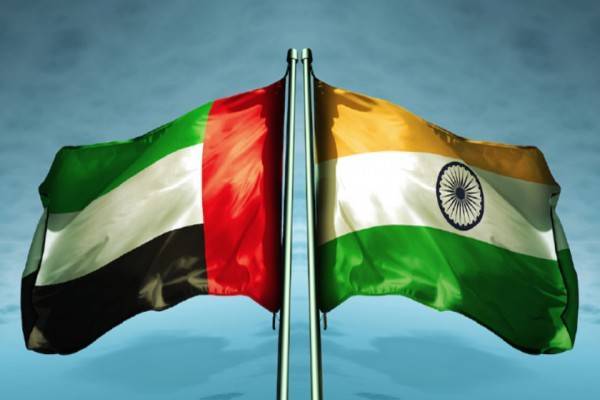 The meeting was attended by Lana Zaki Nusseibeh, Assistant Minister of Foreign Affairs for Political Affairs and UAE's Permanent Representative to the United Nation.
UAE and India along with Saudi Arabia, the US and European Union (EU), had recently announced an ambitious infrastructure plan — the 'India-Middle East-Europe Economic Corridor'. This initiative launched at the G20 summit in New Delhi, seeks to reshape the trade route between the Gulf, Europe and South Asia, connecting them by rail and sea links
Meanwhile, EAM Jaishankar will address a High-Level session of the 78th United Nations General Assembly (UNGA) today.
The EAM is in New York to lead the Indian delegation at the UNGA session.
Recently, India, US, UAE and Israel – the I2U2 partners – have launched an initiative to mobilise private sector capital and expertise to increase their potential in key areas of development.
The US on Thursday signed a memorandum of understanding with business councils from the group to set up the I2U2 Private Enterprise Partnership (PEP).
I2U2 gets its unique acronym from the four countries, India, Israel, the United States and the United Arab Emirates, that came together in a virtual summit last year form the partnership.
Two weeks ago, UAE Minister of State Noura bint Mohammed Al Kaabi met with Indian Ambassador to UAE Sunjay Sudhir and congratulated India for successfully hosting and presiding over the G20 summit in New Delhi. She commended its leading role in uniting international efforts and achieving common interests, in both economic and environmental domains.
The two sides discussed strategic relations between the countries and ways to enhance and develop them, reflecting the strong bonds of friendship between the two nations. Various initiatives in sectors such as culture, education, and others were also discussed.
Al Kaabi emphasised that relations and partnerships between the UAE and the Republic of India have strengthened significantly in recent times across various fields, including culture, renewable energy, healthcare, food security, science, technology and education, with progress attributed to the visions of the leadership of both countries and their unwavering support for collaboration that serves the interests of both countries and their key sectors.
Also, Abhishek Singh, President and CEO of the National e-Governance Division (NeGD) at the Ministry of Electronics and Information Technology of India, and MD and CEO of the Digital India Corporation (DIC), said that India is keen to work closely with the UAE in smart cities and technologies.
Singh said there are many areas for cooperation between the two countries, most notably smart cities, digital traffic systems, and technology integration in healthcare.
"We look forward to working more with the UAE, especially since there are many sectors in which it has achieved great achievements," he said, stressing that the UAE has adopted a leading digital government strategy that many Indian cities look up to.
These cities are trying to implement some of the UAE's practices in this area and are also collaborating with the UAE on sharing information, Singh further added, noting that India's technology sector accounts for some 10 percent of the country's GDP as it is a large sector.
Advertisement