Advertisement

US State Department says there has been a deepening of already extensive ties between two countries in recent times…reports Asian Lite News
The US on Thursday reiterated that India is a global strategic partner of America. In a US State Department press briefing, spokesperson Ned Price said, "our message to India and about India is consistent. India is a global strategic partner of US," while replying on US Secretary of State Antony Blinken recent visit to India and his audience with Prime Minister Narendra Modi. "Secy did have an audience with PM when he was in Delhi for G20. I'm not in a position to detail what was exchanged between them," said Price.
Blinken was in India to take part in the G20 Foreign Ministers' Meeting and the Raisina Dialogue.
"The engagements we've had with our Indian partners at the ministerial level, at the leader level, at all levels, have been in furtherance of deepening the already extensive ties between our two countries," said US State Department spokesperson.
He said that US want to deepen global strategic partnership with India.
"There are various ways in which our two societies are intertwined. So every time we have an opportunity to meet with our Indian counterparts, it is an effort to deepen what is that already a quite extensive global strategic partnership," said Price.
India-US bilateral relations have developed into a "global strategic partnership", based on shared democratic values and increasing convergence of interests on bilateral, regional and global issues.
Regular exchange of high-level political visits has provided sustained momentum to bilateral cooperation, while the wide-ranging and ever-expanding dialogue architecture has established a long-term framework for India-US engagement.
Today, the India-US bilateral cooperation is broad-based and multi-sectoral, covering trade and investment, defence and security, education, science and technology, cyber security, high-technology, civil nuclear energy, space technology and applications, clean energy, environment, agriculture and health.
Vibrant people-to-people interaction and support across the political spectrum in both countries nurture our bilateral relationship.
Under the new motto "Chalein Saath Saath: Forward Together We Go", both countries are trying to enhance cooperation. The officials of both countries are often in touch with each other at political and official levels and have organized a wide-ranging dialogue on global issues that have a direct impact on their growing economies.
Under the presidency of Joe Biden, India-US relations can prove to be a defining alliance in the days to come. Both countries are in a position where they need each other as a helping hand. The successful future of the relationship between the two countries will largely depend upon how the US engages with India. Continuing strategic cooperation between both countries will be a win-win situation for India and the US.
'Partnership with India most consequential and promising'
Calling India and US partnership most consequential, US Secretary of Commerce Gina Raimondo expressed her optimism on India and US relationship.
Raimondo, who is on a visit to India, will participate in the US-India Commercial Dialogue and CEO Forum that will be held on March 10 to discuss cooperation in various sectors that could unlock new trade and investment opportunities between the two countries. "We've been optimistic for US-India relations. Our partnership with India is one of our most consequential relationships and I think one of our most promising bilateral relationships, as we look forward. The reason for that, I think is we share a common set of values along with a commitment to promoting free open based order to both the security and prosperity and we also share opportunity to expand our economic relationship", said the Secretary in a telephonic press briefing.
"Reaffirming our role as trusted partners to each other. Creating jobs, in both of our countries, establishing more secured supply chains. We're excited to be doing that to pave the way for greater trade and investments between our two economies", she added.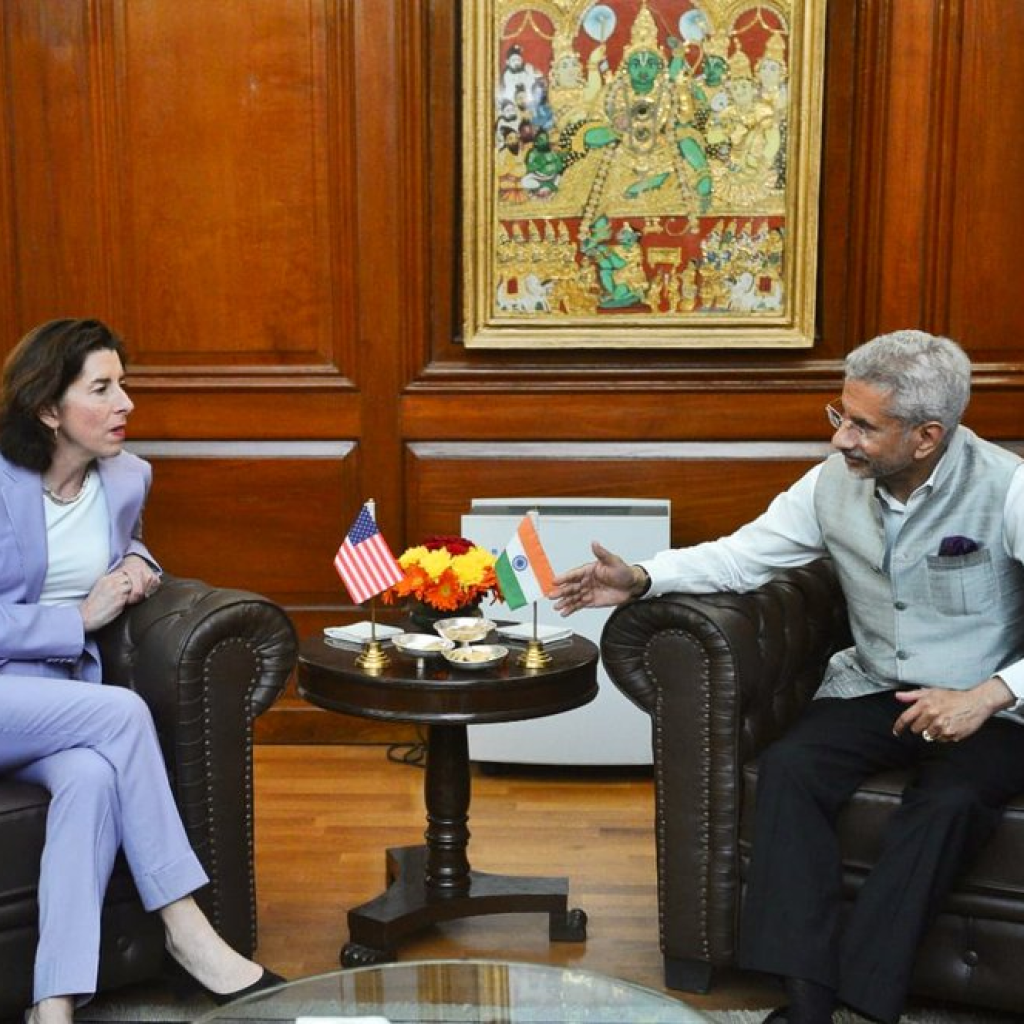 Calling the Boeing and Air India deal as historic that was signed few weeks ago, Gina Raimondo said that it reflects the strength of our economic relationship.
"This is a moment of significant opportunity for both of our countries, and we have some looks to the future. I am very encouraged by the progress that we are making, Minister Goyal and I will convene meeting tomorrow on Friday of the US- India Commercial Dialogue and the US-India CEO forum. I'm thrilled to say that 10 US CEOs of leading US companies travelled with me for the forum", she said in the briefing.
"I heard unanimous enthusiasm just a few weeks ago, Boeing and Air India announced an order for 220 aircraft, which is a historic deal that reflects the strength of our economic relationship", she added.
Further talking about her meeting with External Affairs Minister Jaishankar, the Secretary mentioned that they agreed to launch an India – US strategic trade dialogue led by the Foreign Secretary from the Ministry of External Affairs of India and Under Secretary, Bureau of Industry and Security in US Department of commerce. (ANI)
ALSO READ-Biden shames Republicans for playing down Jan 6 attack