Advertisement

The move is part of the US administration's efforts to strengthen its presence in the Nordics and the Arctic Area….reports Asian Lite News
The US will open its first diplomatic post in Tromso, a northern city of Norway, US Secretary of State Antony Blinken said.
"To deepen our own engagement in the high North, I am announcing today the US will be opening an American presence post in Tromso," Blinken told reporters on Thursday during a press conference held after a two-day informal meeting of NATO foreign ministers in Oslo, capital of Norway.
With a population of more than 77,000, Tromso is the largest urban area in Northern Norway and the third most populous city in the Arctic Circle.
The move is part of the US administration's efforts to strengthen its presence in the Nordics and the Arctic Area.
The American aircraft carrier USS Gerald R. Ford, a nuclear-powered super carrier just finished a seven-day visit to Oslo this week.
Norwegian media reported that the aircraft carrier is heading North along the nation's coast and taking part in the Arctic Challenge Exercise (ACE) 2023, which will involve nearly 2,700 personnel and more than 150 aircraft.
The US maintains an embassy in Oslo. Norway maintains an embassy in Washington D.C., along with consulates in New York, Houston and San Francisco.
Meanwhile, Norwegian Foreign Minister Anniken Huitfeldt said that Sweden should become a full member of the NATO military alliance as soon as possible.
"There is absolutely no reason for holding Sweden back," she said on the eve of a two-day NATO meeting of foreign ministers in Oslo. "Sweden fulfils all the criteria."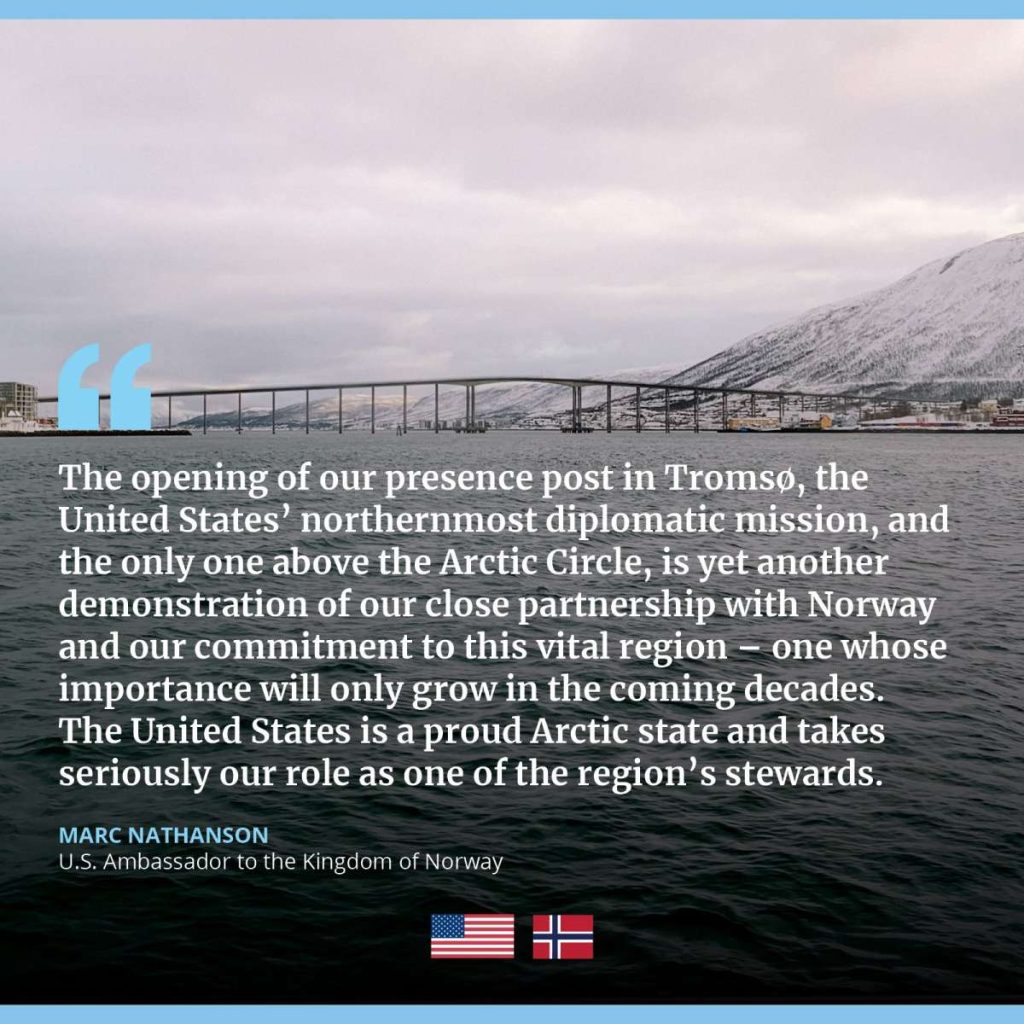 Sweden applied to join the alliance in May 2022, alongside its traditionally neutral neighbor Finland. While Helsinki's bid was ratified in April 2023, Stockholm's has been held up by Hungary and Türkiye, as all NATO member countries have a veto on any new accession.
Swedish Foreign Minister Tobias Billstrom is hoping new anti-terrorism legislation which comes into force this week should help Sweden overcome the Turkish veto.
"This new legislation will close a loophole in our already existing anti-terrorist legislation," Billstrom told reporters in Lulea, northern Sweden. "Sweden has not previously prohibited participation in a terrorist organization. We will do this now."
Türkiye says Sweden harbors members of militant groups it considers to be terrorists. The new legislation will make it illegal to arrange meetings or provide logistical or financial help or even food to outlawed groups.
The wide scope of the law has sparked concerns in Sweden about whether it could infringe freedom of speech and other fundamental rights, but the government hopes it will convince newly re-elected Turkish President Rcep Tayyip Erdogan to green-light its NATO membership before July's Vilnius summit.