Advertisement

Experts say armed groups have obtained advanced US weapons and equipment like M16 machine guns and M4 assault rifles, night-vision goggles, and military communication gear…reports Asian Lite News
Since Afghanistan's fall to the Taliban in August 2021, some of the American military gear and weapons have turned up in neighbouring Pakistan, where they have been used by armed groups, according to experts and security officials.
Observers say the influx of US weapons has boosted the military capabilities of the Tehrik-e Taliban Pakistan (TTP) terror group and ethnic Baluch separatist groups that are waging insurgencies against the government in Pakistan, which has witnessed a surge in violence over the past two years, RFE/RL reported.
"These weapons have added to the lethality of such groups," said Asfandyar Mir, a senior analyst at the US Institute of Peace, adding that a "robust and in many ways growing black market" for American weapons is thriving in Pakistan.
Experts say armed groups have obtained advanced US weapons and equipment like M16 machine guns and M4 assault rifles, night-vision goggles, and military communication gear, RFE/RL reported.
Abdul Sayed, a Sweden-based researcher who tracks the TTP, said the group's access to sophisticated combat weapons has had a "terrifying" impact, especially on the lesser-equipped police force, in Pakistan.
A police officer in Khyber Pakhtunkhwa, which has borne the brunt of the TTP attacks said that they were sitting ducks for militants, RFE/RL reported.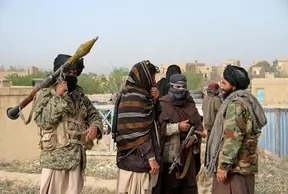 "The fact is that they can see us in the dark while we can't. That gives the terrorists an enormous advantage," said the officer, who spoke on condition of anonymity.
When the UnS pulled out its forces from Afghanistan in 2021, it left behind around $7 billion worth of military equipment and weapons, including firearms, communications gear, and even armoured vehicles.
The Taliban seized the arms following the fall of the Western-backed Afghan government during the chaotic US withdrawal, giving the hard-line Islamist group a vast war chest, RFE/RL reported.
Moazzam Jah Ansari, a former police chief of Khyber Pakhtunkhwa said in November that militants "picked up sophisticated weapons left behind by the Americans and waged war against (the province's) police".
The TTP's attacks in Pakistan have surged since the Taliban seized power in Afghanistan.
The two militant groups are ideological and organisational allies.
According to the Pakistan Institute of Peace Studies (PIPS), a think tank in Islamabad, the number of terrorist attacks in the country increased by 27 per cent last year compared to 2021.
At least 419 people were killed, while 734 were injured in 262 terrorist attacks last year RFE/RL reported.
The TTP has released numerous videos of sniper attacks on security check posts along Pakistan's western border with Afghanistan over the last two years.
Pakistani gun owners say the black market has been flooded by American weapons since the Taliban takeover of Afghanistan, RFE/RL reported.
"It's like the 1980s, but this time, many Western weapons are now available," said Gohar Bacha, a gun owner from Khyber Pakhtunkhwa.
Bacha said the new US weapons available on the black market "are of excellent quality and very lethal".
He said a US-made M4 assault rifle in good condition can be purchased for around $1,400.
American military communication gear such as Harris Engineering Falcon Three Radios, meanwhile, can be bought for around $3,500, RFE/RL reported.