Advertisement

Al Jaber also continued his calls to expand partnerships and explore all renewable energy sources…reports Asian Lite News
The world is losing the race to keep temperatures from rising 1.5 degrees above pre-industrial levels and has a small window of opportunity to make a massive course correction, and COP28 President-designate Dr. Sultan bin Ahmed Al Jaber has said.
Al Jaber was delivering the keynote speech at the Berlin Energy Transition Dialogue 2023 (BETD), during which he called on Germany and the international community to come to unite around a pragmatic and just energy transition that maintains energy security today while building the energy system of tomorrow.
Al Jaber also continued his calls to expand partnerships and explore all renewable energy sources.
The BETD is an annual international forum that enables discussion of how to deliver a safe, affordable and environmentally responsible global energy transition. This year's event was attended by government and business leaders, representatives from civil society groups, scientists, and delegations from more than 60 nations.
Citing the recent AR6 Synthesis Report: Climate Change 2023 issued by the Intergovernmental Panel on Climate Change (IPCC), Al Jaber emphasised the need for the international community to take immediate action to curb the effects of climate change.
"There is still time, but we must act now, we must act together, and we must anchor our response with a rapid, well-managed and just energy transition."
During his address, Al Jaber emphasised that, "We must triple renewable energy capacity over the next seven years and expand it six times by 2040 to 50,000 terawatt hours. Renewable energy is transforming the power sector – providing almost 90 percent of all new generating capacity last year. We need to build on that growth."
During his address, Al Jaber highlighted Germany and the UAE's "shared vision for the future of renewable energy."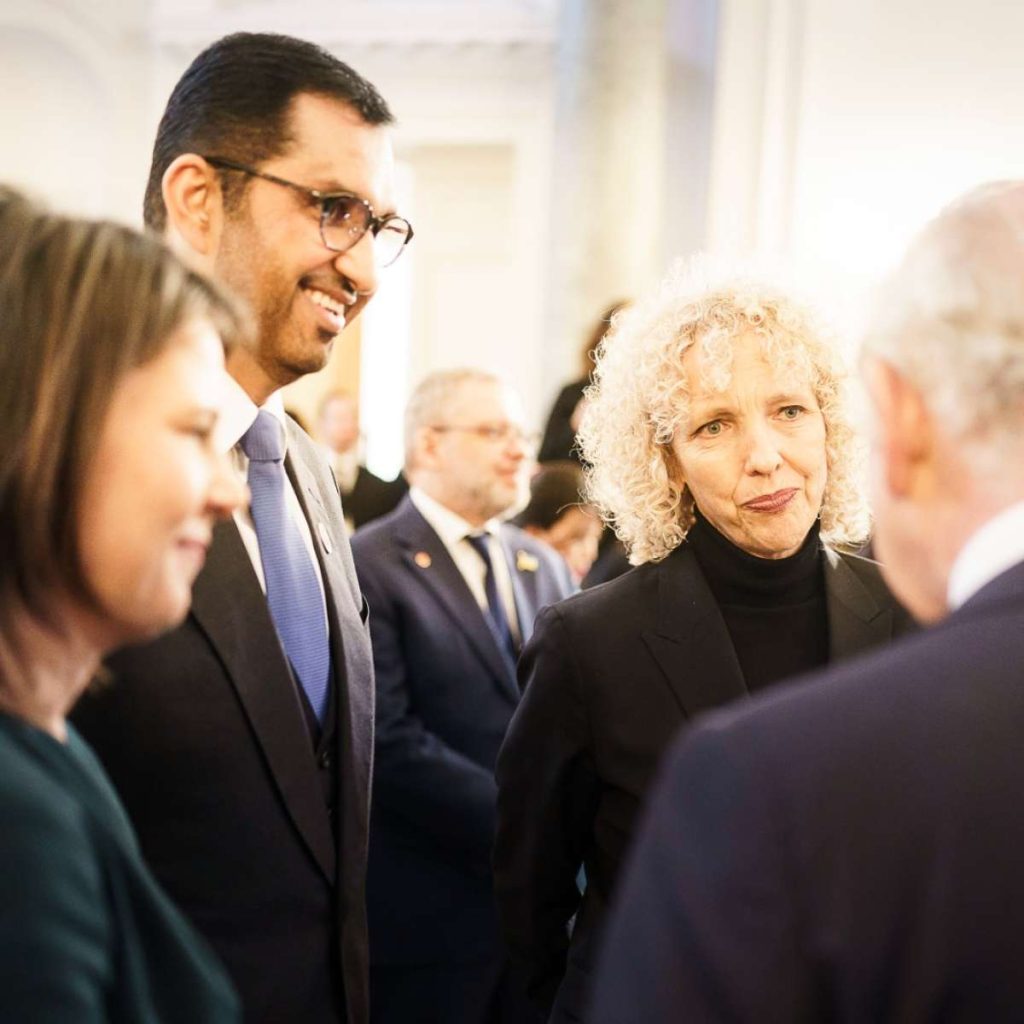 According to Al Jaber, "Both our countries have embedded wind and solar into our energy mix. In Germany, renewable energy has grown to 40 percent of power generation in 30 years. In the UAE, we have built the three largest and lowest cost single-site solar plants in the world. And through Masdar, we will grow our renewable energy portfolio four times in the next 7 years – from 25,000 megawatts of operational renewable power to over 100 gigawatts."
Emblematic of this shared vision for a just energy transition, Al Jaber also highlighted the pivotal role Germany played in the founding of the International Renewable Energy Agency (IRENA), which opened its Innovation and Technology Centre in Bonn.
Al Jaber praised the German-UAE relationship as a model of cooperation towards a clean energy transition: "For over fifty years, the UAE and Germany have enjoyed a close strategic relationship that cuts across energy security, sustainable industrial development and climate action.
As home to the UNFCCC secretariat –and the host of three COPs – Germany plays an essential role in addressing the climate challenge." Al Jaber called for increased collaboration across the international community: "I invite our German partners – and all our global partners – to work with us to deliver commercial renewable projects in every region of the world."
Al Jaber stressed that to reduce global emissions by 43 percent the world will need an 'all of the above' approach. Al Jaber called on climate leaders to pursue a variety of renewable energy sources. "We need to explore every available option. It is not renewables or hydrogen or nuclear or carbon capture or only using the least carbon intensive oil and gas. It is all of the above, plus new technologies yet to be invented, commercialised and deployed." Al Jaber also underscored the importance of hydrogen to support hard-to-abate industries like steel, cement, and aluminum. Al Jaber praised the bi-lateral efforts between Germany and the UAE to pursue hydrogen production.
Al Jaber emphasised need to utilise proven technologies while the hydrogen value chain matures. For this, Al Jaber pointed to carbon capture as an "essential enabler for curbing emissions."
According to Al Jaber, "there are still only 44 million tons per annum of operational carbon capture worldwide. That's nowhere near enough. We need to multiply that amount 30 times to over 1286 million tons. The main barrier is cost. We need smart, progressive government regulation and subsidies to lower cost and attract private sector investment. We need to explore emerging carbon capture technologies like direct air, mineralisation and osmosis."
Al Jaber emphasised the need for the energy sector to work closely with all industrial sectors on the decarbonizing economies at scale. He said, "carbon emissions are an industrial size problem that require an industrial scale solution. You may have heard my call to action earlier this month for the oil and gas industry to up its game, align around net zero by 2050 and eliminate methane emissions by 2030. We need to reimagine the relationship between the energy sector and all other sectors. A relationship where the energy sector partners with heavy emitters, technology companies, the finance community and civil society to find the breakthrough solutions we need."
Al Jaber continued his call for reforms across the international financial architecture to ensure developing economies are not left behind as the world pursues clean energy solutions. "These institutions were established almost eighty years ago to solve post-war inequity and drive reconstruction. We need to modernize their mandate and update their operating model for the 21st century. Concessional finance needs to be scaled up, made much more available and much more affordable to lower risk and attract private finance at a multiple. If we make the right moves today, we can create a low carbon pathway to a high growth destination."