Advertisement

External Affairs Minister S Jaishankar noted that the India-China issue is independent of Quad and with China there are two issues that still continue to exist between both countries….reports Asian Lite News
External Affairs Minister S Jaishankar has said that the onus is on China to live up to the written commitments that have been made and reiterated time and again in order to resolve the border tension between both sides.

Speaking at the Qatar Economic Forum, Jaishankar noted that the India-China issue is independent of Quad and with China there are two issues that still continue to exist between both countries.

"Now, the India-China border issue, it has pre-existed upon, in many ways, it's a challenge, a problem, which is quite independent of the Quad. And there are two big issues there right now. One of course is that the close up deployments still continue, especially in Ladakh. The issue there is whether China will live up to the written commitments which are made about both countries not deploying a large armed force at the border. And the larger issue really, whether we can build this relationship on the basis of mutual sensitivity, mutual respect and mutual interest," he said.

The Quad, on the other hand, brings together four countries with a common agenda that includes maritime security, connectivity and vaccines. "They have their own agenda, what I would say is a set of convergence, a world view. They meet and they talk about a whole lot of things," the Minister said.
Asked about the G7's approach towards China – which includes cooperation on issues such as climate change, competition in trade and disagreement on matters such as human rights – Jaishankar said India shares the G7's views on the importance of resilient and reliable supply chains.

"And when you look at the specific issues you mentioned, for example, climate change, obviously there is a G7 and China conversation if we would, but we are actually in a very different position, because we are at a much earlier stage of our development. So, leave alone a net zero. Here, we are not even there in terms of identifying a year of peaking. So our positions are much closer to many of the other G77 countries, the developing world countries," he said.
"When it comes to an issue, like supply chains, I think there obviously we share with G7 the importance of having more resilient and reliable supply chains. But we also feel that we can contribute to it by expanding our own manufacturing capabilities. And in fact, one of the big initiatives for the Modi government is something called the PLI scheme, which is designed to attract more manufacturing into India," the EAM added.
On issues such as open societies and democratic freedoms, there is "much stronger convergence" between India and the G7. "It is a far more issue-based relationship that we are seeing in world politics," he remarked.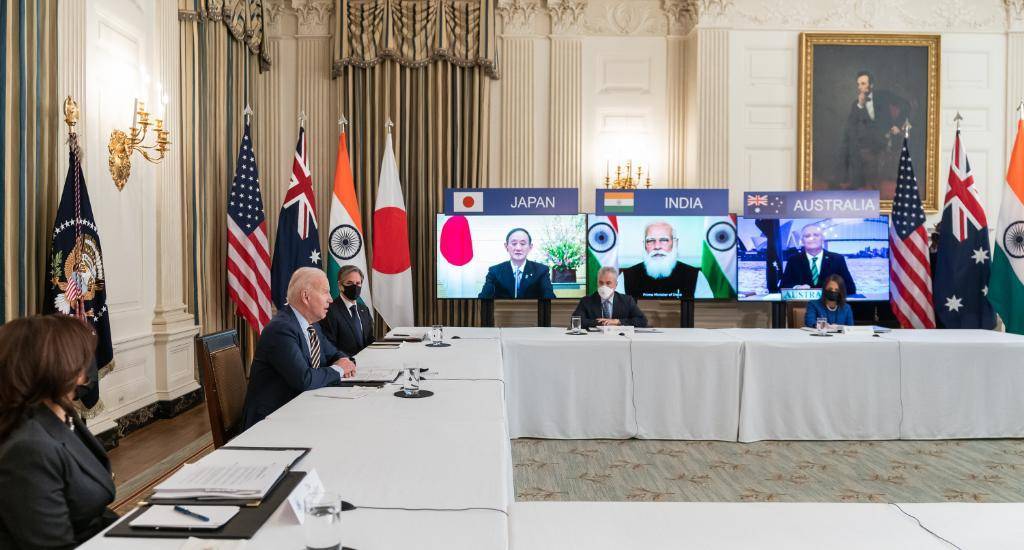 Replying to a question on India's possible participation in the G7's Build Back Better World or B3W initiative that is aimed at countering China's Belt and Road Initiative, Jaishankar said the country has a history of its own connectivity and infrastructure projects in 62 countries.

"But what we share with the G7 is that today, it's important to have broad principles that such projects should be viable, they should be transparent, they shouldn't contribute to debt, they should be environmentally friendly. Most of all, they must be a priority of the community, where they are located," he said.

"So it's an area where we do feel there's a lot of convergence with the G7. We look forward to working with them. But as I said, we have a substantial portfolio of projects, which we have already done in the last years and which I expect to see us continue to do more in the coming years," he added.

Answering a separate question on vaccines, EAM Jaishankar said that if India has to ramp up its own production, the United States and Europe needs to step forward.

"The challenge in vaccine production is that if you are looking at the kind of scale, which the world needs, which is not just to vaccinate now, but plan to do it regularly, look at booster shots when they come, you're not going to get that kind of scale without India scaling up. So the particular point of discussion for me was how do you keep the supply chain going so that we actually can ramp up production to the kind of level that the world needs. Now, why was it important for me to do that in Washington because a lot of the supply chain originates in the US. A lot of it comes from Europe as well. So I think the US and Europe need to step forward if India has to ramp up its own production," he said. (INN)