Advertisement

Actor Vikram Prabhu, grandson of Tamil cinema legend Sivaji Ganesan, on Sunday reveals the close ties between the acting legend and Lata Mangeshkar, reports Asian Lite News
Actor Vikram Prabhu, grandson of Tamil cinema legend Sivaji Ganesan, on Sunday expressed deep shock and sadness on learning about the demise of Lata Mangeshkar.
Taking to Twitter, Vikram, who shared pictures of the Nightingale with his grandfather, said: "The legend Lata Mangeshkar ji. Heartbroken family. At a loss for words." The actor also shared a series of broken heart emojis in the tweet.
The news of her passing away has visibly shocked the Sivaji Ganesan household, for Lataji regarded the 'Lion of Tamil Cinema' as her brother. The two legends shared an abiding affection for each other. In fact, whenever Lata Mangeshkar would visit Chennai, she would either stay at Sivaji Ganesan's place, or at least have a meal at the actor's residence.
The singer, in one of her earlier interviews, had talked about the special brother-sister bond she had shared with Ganesan. She recalled how the Tamil film icon would never forget to send new clothes for every member of the Mangeshkar family on the occasion of Deepavali every year.
One of the greatest hits of Lata Mangeshkar in Tamil was a song in the film 'Anand', which featured Prabhu, Sivaji Ganesan's younger son, in the lead. The song, 'Aararo Aararo', which was set to music by Ilaiyaraaja, is considered to be a classic.
Talking about the song, Lataji, in an earlier interview, had said it was the first song she had sung for Ilaiyaraaja. "The moment Sivaji saab's elder son called me, I rushed to sing the song," she had said.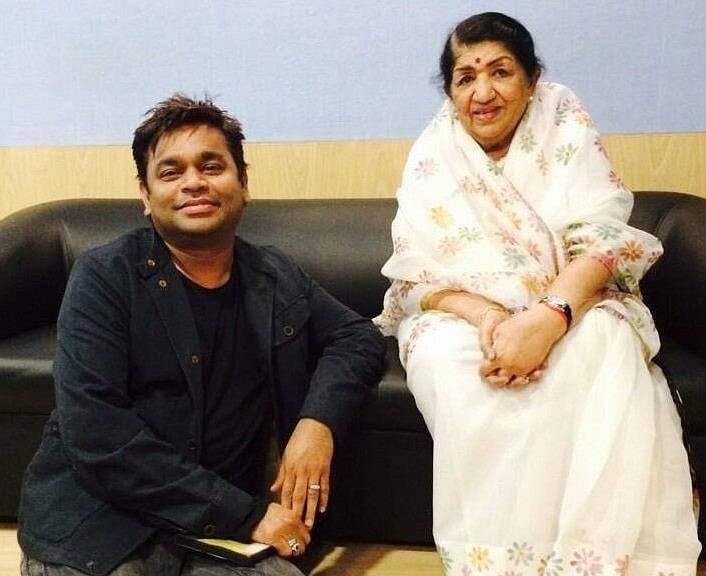 Rahman's picture with terse tweet speaks a thousand words
Oscar-winning 'Mozart of Madras' A.R. Rahman wrote just four words in his tribute to Lata Mangeshkar, "Love, respect and prayers", on Sunday, but posted a picture that said a thousand words — of him sitting at the Nightingale's feet.
Rahman has collaborated with the Nightingale for some of his most-remembered tracks, including 'Jiya Jale' picturised on SRK and Preity Zinta in Mani Ratnam's 'Dil Se'.
Lata Mangeshkar and Rahman shared a mutual bond of love and respect.
In an interview some years ago, Lataji, talking about the music maestro, had said: "A.R. Rahman is very talented. I have sung very few songs for him. I love 'Jiya Jale'. Rahman and I came together for the first time for this evergreen number from Mani Ratnam's 'Dil Se'. It became such a rage. And I'm asked to sing that song at every concert that I go to.
"I think he was a little intimidated by me when we did 'Jiya Jale' in Chennai. But he allowed me to do it my own way. And when I started humming an impromptu 'alaap' at the end of the tune, he told me to just go on. He recorded that as well.
"Subsequently I recorded other songs with Rahman. My duet 'Luka Chuppi' with Rahman for 'Rang De Basanti' became so popular. It's rare nowadays to get a good song like it."