Advertisement

The biggest and most diverse World Art Dubai sees over 300 artists from more than 50 countries display 4000+ pieces and last night announced winners from six categories…reports Asian Lite News
World Art Dubai, the eighth edition of the region's most accessible and affordable art fair, has announced the winners from their yearly sought-after awards ceremony, with two new categories added to the line-up for the 2022 event.
The art fair, which ran from 16th – 19th March at Dubai World Trade Centre (DWTC), hosts the awards to support the creative industry across the region by advocating established and emerging artists, photographers, and the next gen of artists from eight schools.
Featuring 4000+ artworks and 300 artists from more than 50 countries, the annual show features an eclectic mix of innovations from a variety of artistic divisions, including mixed media, fashion, music, dance, sustainability, digital art, photography, graffiti, sculptures and more.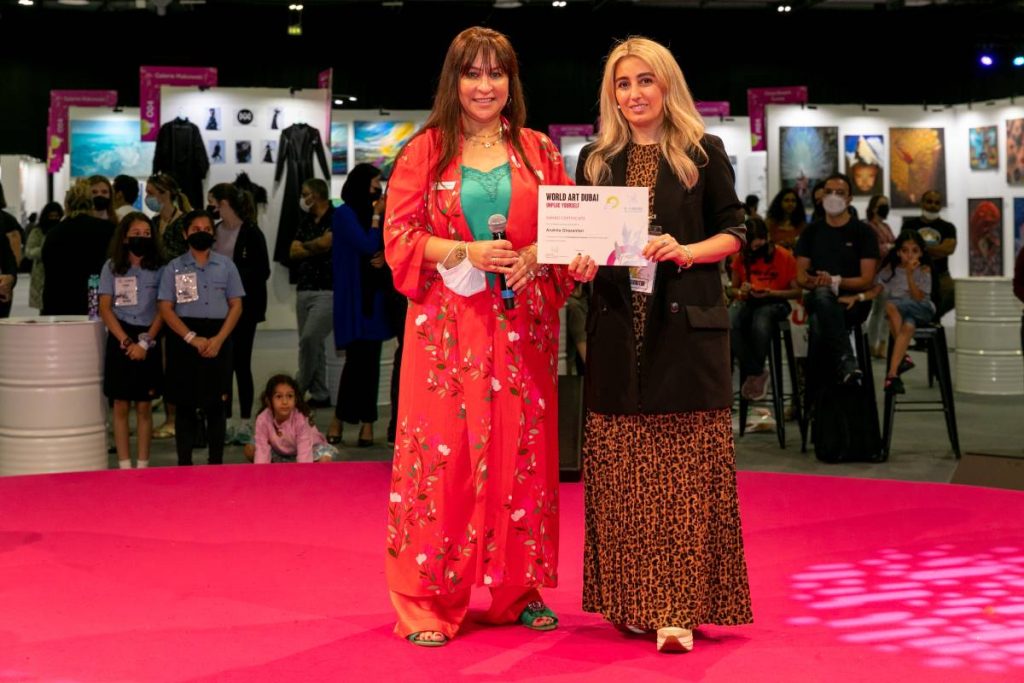 World Art Dubai Awards
The World Art Dubai Awards revealed four creative winners selected by event specialist curators, Batool Jafri, the 'Emirates Woman of the Year 2018'; Samar Kamel, an Egyptian artist, curator and author; and Petra Kaltenbach, a fine artist, videographer and graphic designer.
Shakila Abossedgh took home the Outstanding Art Award, commenting; "Winning this award is incredible, and to be honored amongst all these other amazing artists is as exciting. The World Art Dubai experience has allowed me to meet so many curators, buyers, and customers from all over the world and has really widened exposure to my work."
This year's Best Gallery Award was presented to Champop Gallerie from France. Accepting the award was Deborah Szpica, who is exhibiting for the first time; "This is a real surprise for us! This is our first time exhibiting at World Art Dubai and I am so happy for the recognition, as well as the recognition for all artists taking part in my booth. World Art Dubai is a melting pot of different art and is amazing to see so much artwork that represents Dubai."
The Emerging Artist Award was won by Anahita Ghazanfari, who has been working for over three years on her award winning collection; "To be recognised like this after so much hard work is amazing. I have been working on this collection for three to four years, and for it to start winning awards is something I couldn't have imagined. World Art Dubai allows artists to communicate and express themselves, and is the perfect platform for new enthusiasts to come and purchase their first piece. Art shouldn't be scary or unapproachable and this event proves just how approachable art really is. I love it."
And finally, the Best Artist Award went to Zakir Hussein, whose creations this year are dedicated to women that revolve around 'Bint-E-Hawa', which in Arabic means both 'daughter' and 'the first woman to step on the earth'.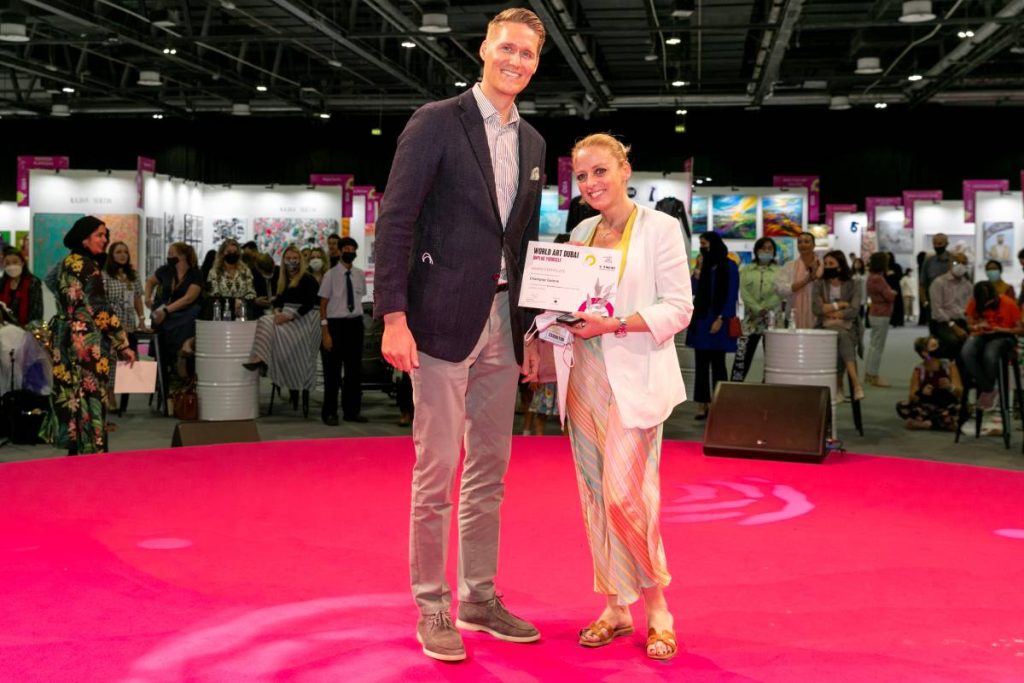 NFT Awards
Making its debut as a new feature of the event, the W.A.D Next Area saw 19 artists showcasing 60 of their pieces. The new feature displays the digital future of art and was recognised with a special NFT Award. Scooping up this inaugural award was Sandiqya Kumar from the Morrow Collective; "To win the very first NFT Award at World Art Dubai with my very first NFT creation is unbelievable and feels truly amazing. I can't wait to keep creating in this new and exciting space and see what happens next.
Another brand new award this year is the Indigo Hotel Awards, which enables the recipient to showcase their art in the hotels on a complimentary basis. Rising star of the Middle Eastern art world, Kristel Bechara, won the award, commenting; "I am so happy to have been selected as the winner of this award, and I am looking forward to my collaboration with Indigo Hotels and exploring what we can create together using their amazing spaces."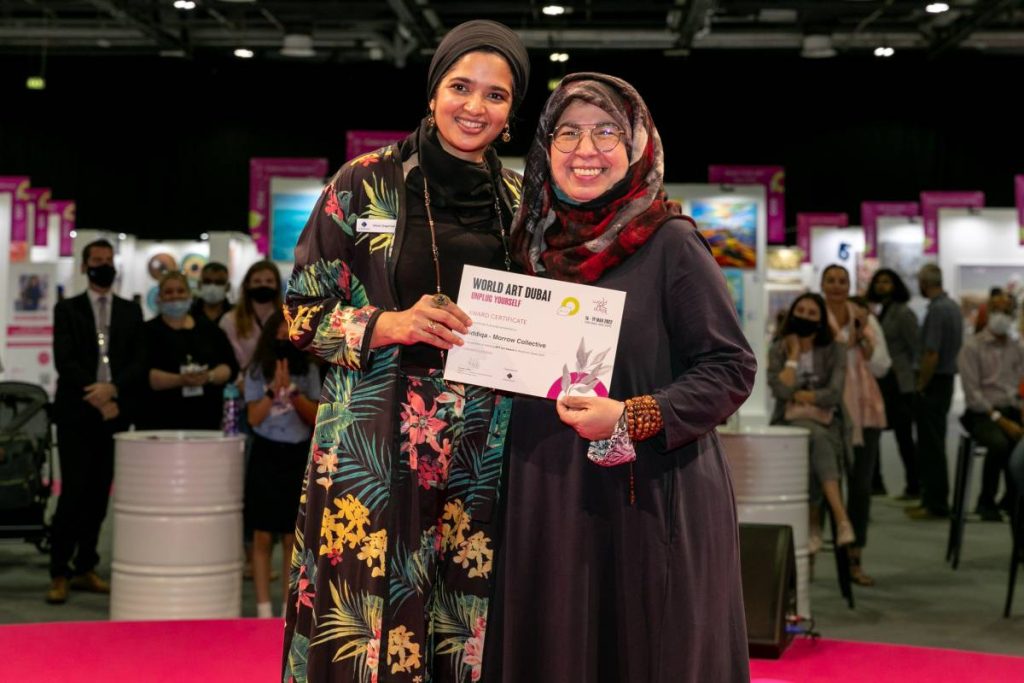 Rove Hotels Hotel's Emerging Artists Competition
Running for its fourth year, Rove Hotels awarded Mario Bejaran Cardenas as winner of the Emerging Artists competition, with the accolade entitling him with a complimentary exhibition space at World Art Dubai 2023.
Rove's Public Choice winner for 2022 is UAE based freelance artist Meera Chokshi.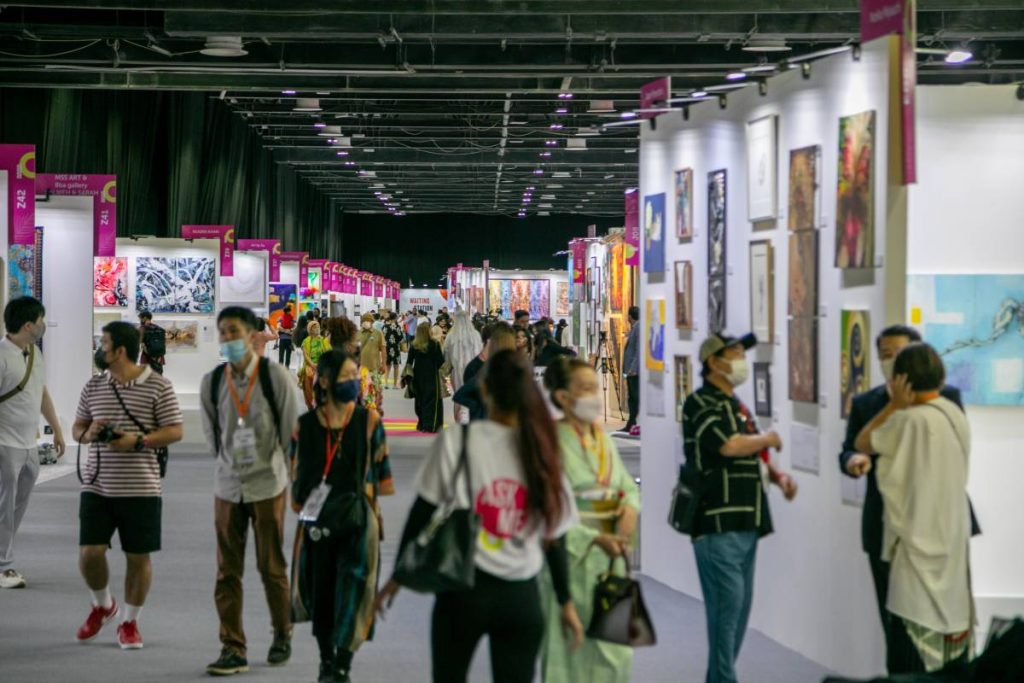 School Awards
Recognising the future of the industry, World Art Dubai's annual school award allows artists to exhibit at their first ever exhibition, submitting collaborative pieces with their classmates. Eight Dubai based schools entered this category in efforts to showcase their artistic flair and presented pieces from both junior and senior school children underpinning the theme 'Identity'.
The winner of the Primary School Award was Repton Dubai, with runner up going to Horizon International School. For the Secondary School Award, first place went to Nord Anglia School Dubai, with the runner up position going to GEMS New Millenium School.
ALSO READ: Her Excellency Hala Badri opens the eighth edition of world Art Dubai
INFO: World Art Dubai is being held at the Dubai World Trade Centre, Halls 1-3 from 16-19 March 2022 between 1-9pm each day, except Friday and Saturday which runs until 10pm. Tickets cost AED 20 for adults, AED 10 for children, with family packages also available. Buy online to enjoy 20 per cent off ticket cost.